'The man who put the GOP on TV': How Roger Ailes weaponized network news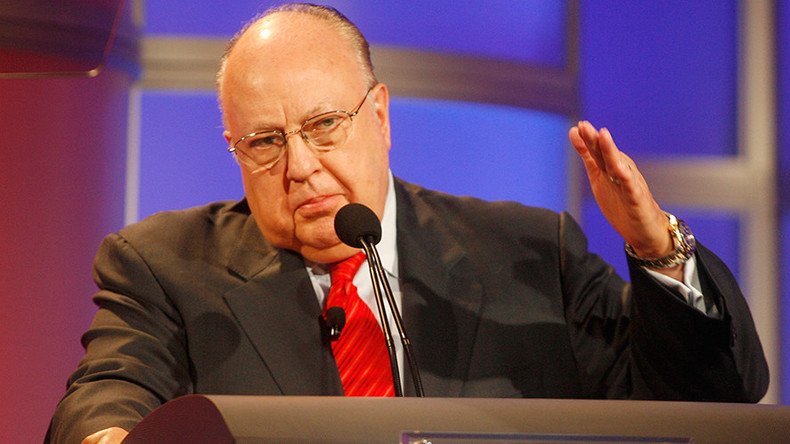 'The most powerful man in cable news' for more than two decades took just 16 days to fall from grace. In the summer of 2016, amid a maelstrom of sexual harassment allegations, Roger Ailes parted ways with the company he built.
The founder and former chairman and CEO of Fox News (1996) and the Fox Television Stations Group (1986), he had left an indelible mark on the US political landscape and TV news.
Ailes rose to power and grew in influence by shadowing and counseling a slew of conservative presidents. In between advising Richard Nixon and helping Donald Trump, he was headhunted by Rupert Murdoch in 1996.
He was widely regarded as the most powerful man in news media, responsible for transforming television news in the late 20th century.
"Television is not a gimmick, and if you think it is, you'll lose again," Ailes reportedly told former President Nixon, according to a memo entitled 'A Plan for Putting the GOP on TV News.' It was discovered in the Nixon libraries, The Washington Post reported in 2011.
Ailes served as a senior media consultant for Nixon in 1968 at a critical point in media history, with the onset of television news providing an entirely new platform with which to engage the American electorate.
In the 1960s & 1970s Roger Ailes and Richard Nixon plotted to implement what they called "A Plan for Putting the GOP on TV News." It worked. pic.twitter.com/8K20hjaJML

— John Nichols (@NicholsUprising) May 18, 2017
The memo details Ailes' contempt for the general public and his cynical approach to television news.
"Today television news is watched more often than people read newspapers, than people listen to the radio, than people read or gather any other form of communication. The reason: People are lazy. With television you just sit – watch – listen. The thinking is done for you."
Ailes is widely credited with the rebranding of the Republican party and the rise of Modern Conservatism in the United States political sphere.
He helped revive Reagan's 1984 re-election campaign following a disastrous debate with Walter Mondale. Reagan's remarkable turnaround in the second presidential debate is widely credited to be the work of Ailes.
"I will not make age an issue of this campaign. I am not going to exploit for political purposes my opponent's youth and inexperience," Reagan famously said.
Ailes once again displayed his unique flair for managing televised presidential debates in 1988 when he warned then-Vice President George Bush Snr that the Iran contra scandal would be the weapon of choice for CBS anchor Dan Rather to rattle the White House hopeful.
Bush Snr infamously said, "It's not fair to judge my whole career by a rehash on Iran. How would you like it if I judged your career by those seven minutes when you walked off the set in New York?" The quote displayed all the hallmarks of Ailes' abrasive, pugilist approach to political discourse. That same style would later become synonymous with the so-called 'GOP TV' network Fox News from the moment of its inception in 1996.
Ailes is widely credited as the mastermind behind Bush Snr's infamous 'Revolving Door' attack ad.
He also advised Rudy Giuliani with his first electoral campaign when he ran for mayor of New York City in 1989.
He officially resigned as a political adviser in 1992 but reportedly offered George W. Bush similar counsel on the campaign trail.
"He gave Bush the same kind of pointers he used to give George H.W. Bush – delivery, effectiveness, political coaching," an anonymous source close to Fox News told Rolling Stone in a 2011 interview.
Murdoch's job offer at Fox News proved too hard to resist with Ailes reportedly saying, "I quit politics… because I hated it," as cited by Rolling Stone.
Ailes' shadow loomed large over the network to such an extent that Michael Wolff, a Murdoch biographer who spent nine months embedded within the company while conducting research for his book had this to say:
"People are afraid of Roger. Murdoch is, himself, afraid of Roger. He has amassed enormous power within the company – and within the country – from the success of Fox News."
Ailes' power-hungry nature led him back towards the spotlight and, when Donald Trump threw his hat in the ring for the 2016 US presidential election, he couldn't resist the opportunity.
The debate-whisperer struck again and advised Trump, in his debates against Hillary Clinton, reported the New York Times.
Ailes helped to craft "memorable one-liners that [would] stay in voters' minds, drive headlines," which would eventually turn the tide in his favor, alleged one unnamed source close to the Trump campaign when speaking with CNN.
His controversial legacy was all but obliterated following his ignoble ouster amid a slew of sexual harassment allegations made against both him and a cadre of male senior anchors and executives at Fox News.
You can share this story on social media: