Bill O'Reilly sacked from Fox amid sexual harassment accusations (PHOTO, VIDEO)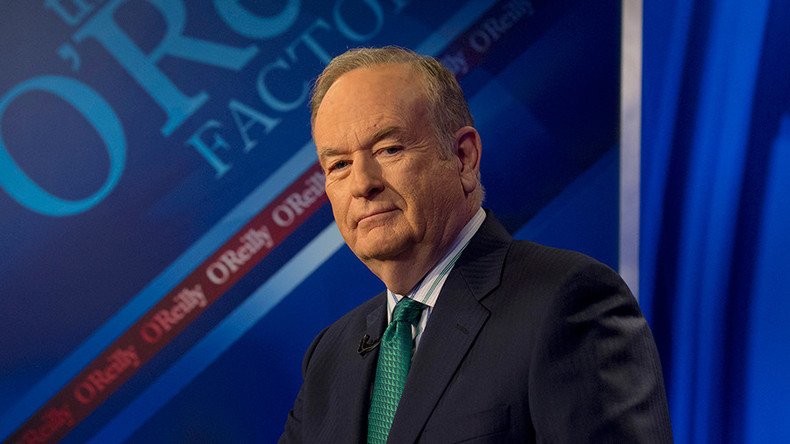 Fox News Channel has confirmed that its hugely popular political commentator Bill O'Reilly will not be returning to the network. The announcement comes after fresh allegations of sexual harassment were levelled against the TV host.
"After a thorough and careful review of the allegations, the Company and Bill O'Reilly have agreed that Bill O'Reilly will not be returning to the Fox News Channel," a statement from parent company 21st Century Fox said Wednesday, according to Variety.
Responding to the announcement, O'Reilly said it was "tremendously disheartening that we part ways due to completely unfounded claims," adding that it's "the unfortunate reality many of us in the public eye must live with."
Detailing the latest accusation, attorney Lisa Bloom, who is representing women allegedly harassed by O'Reilly, said the 67-year-old conservative commentator used to leer at an African-American clerical worker and call her "hot chocolate".
READ MORE: Bill O'Reilly show down to just 7 advertisers amid growing sexual harassment scandal
The woman, who worked in the same office as O'Reilly, but for a different channel, has come forward to report the alleged harassment dating back to 2008.
"He would never talk to her, not even hello, except to grunt at her like a wild boar," Bloom told The Hollywood Reporter. "He would leer at her. He would always do this when no-one else was around and she was scared."
"She's not asking for any money," the attorney said. "She just wants them to know her story." Bloom says the allegations are backed up by three other people.
"She was afraid if she told him to knock it off she'd get fired… Now that she's aware this is all in the news, she's decided to phone in a complaint to the Fox News hotline."
Bloom has now helped two women report the harassment to the Fox's hotline and she says another woman will come forward shortly. The scandal has seen more than 60 companies remove their ads from O'Reilly's show.
An attorney for O'Reilly said the host has "been subjected to a brutal campaign of character assassination that is unprecedented in post-McCarthyist America." The attorney also claimed that he has "evidence that the smear campaign is being orchestrated by far-left organizations bent on destroying O'Reilly and Fox News for political and financial reasons."
Bloom tweeted a "victory statement" after the news was confirmed on Wednesday. "This is what happens when women speak our truth: we can slay dragons," she said. "Fox News should have fired him in 2004 when the first complaint was made, but at least they did it now."
During a protest Tuesday outside the Manhattan HQ of the TV station, owned by the Australian media magnate Rupert Murdoch, hundreds of thousands of petitions calling for his firing were delivered to Fox.
The host, who reportedly recently signed a new contract worth $20 million a year, has denied any wrongdoing and is away on holidays until April 24 but the Rupert Murdoch-owned Wall Street Journal is reporting that Fox is preparing to drop him. The report is backed up by New York Magazine which says Murdoch has decided to part ways with O'Reilly and it will be announced later this week.
The latest allegations come after revelations in The New York Times that O'Reilly and 21st Century Fox, the station's parent company, has paid out $13 million in sexual harassment settlements against O'Reilly since 2002. The reported sexual harassment allegedly includes unwanted touching and lewd comments.
The O'Reilly Factor host joined Fox shortly after it was founded in 1996. His show drew some 4 million viewers a night and was among the highest rated programs across US cable.
The allegations come hot on the heels of another sexual harassment scandal at Fox News which led to the departure of Chairman and Chief Executive Roger Ailes. He resigned last July after being accused of sexual harassment by multiple women.
You can share this story on social media: