'ISIS is good' sex chant spurs 911 call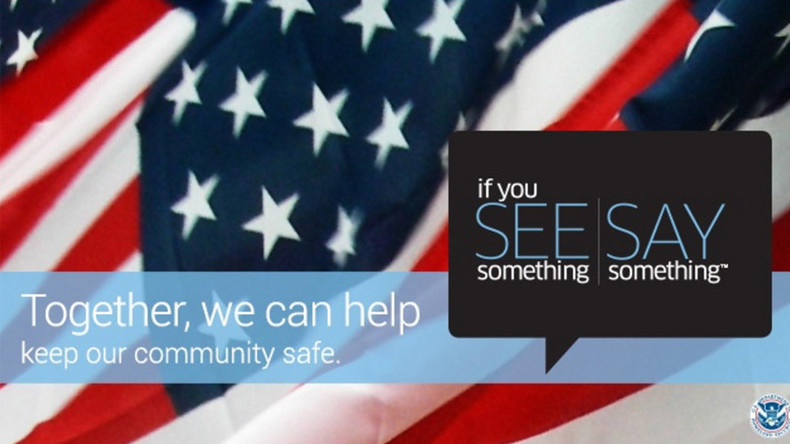 An elderly woman in suburban Milwaukee, Wisconsin alerted local police to a suspicious mantra – "ISIS is good, ISIS is great" – allegedly chanted by a woman during sexual intercourse. The claim did not result in arrests, police said.
An 82-year-old woman in Brown Deer called police on Sunday upon hearing a neighbor chant "ISIS is good, ISIS is great," during sex, according to WDJT.
Police did not act on the 911 report, but told the elderly woman to call back if she heard the chanting again, WDJT reported.
In response to a reporter's prompt for comment, Brown Deer Police Department Chief Michael Kass quipped on Twitter, "maybe taking see something say something a little to far?"
WDJT's tweet about the incident has more than 1,000 retweets in less than 24 hours.
Despite the humor many found in the 911 call, the report is in line with what top US officials, including President Barack Obama, have called for in the wake of attacks perpetuated by Muslims in the West that – rightly or wrongly – have been associated with jihadist group Islamic State (also known as ISIS or ISIL).
Islamic State's ongoing efforts to violently seize and retain territory in Iraq, Syria, and beyond have been the impetus for US airstrikes aimed at the group since September 2014.
The large-scale attacks in Paris last month, as well as the mass shooting in San Bernardino, California weeks ago, have highlighted anti-Islamic sentiment in the US and Europe. This atmosphere is stoked by presidential candidates such as Donald Trump and official government warnings of the supposed unique dangers posed by potential politically-motivated violence conducted by Islamic terrorists.
In a public address following the Paris attacks, Obama attempted to reassure Americans "that the combined resources of our military, our intelligence, and our homeland security agencies are on the case," and are "continually monitoring threats at home and abroad, continually evaluating our security posture."
Imploring Americans to be wary of their fellow citizens' actions in public, he added: "We do think it's useful for people, as they're going about their business, to be vigilant. If you see something suspicious, say something. That's always helpful."
Speaking before a congressional committee this month, the US Department of Homeland Security's deputy assistant secretary for counterterrorism policy echoed Obama's statements.
"To address the home-grown violent extremist, we must also emphasize the need for help from the public," said Tom Warrick. "'If You See Something, Say Something™' is more than a slogan," he added in a nod to the Department of Homeland Security's post-9/11 "public awareness" campaign.
Meanwhile, since taking office in 2009, President Obama has ordered bombing campaigns in at least seven Muslim-majority nations. In 2015 alone, the US has deployed special operations forces to 135 countries around the world, according to a recent report.