7 days of shame: Wave of islamophobic attacks follow San-Bernardino massacre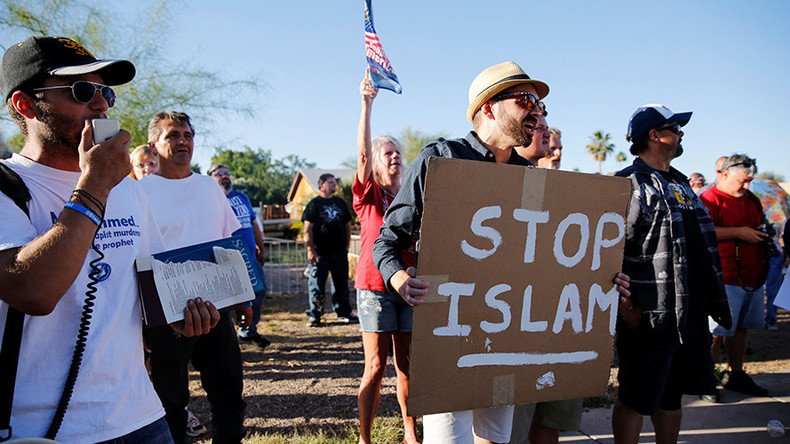 Anti-Muslim attacks have taken place across the US every day this week. Islamophobic crime and anti-Muslim rhetoric have been on the rise since the California attacks on December 2.
Saturday
A shopkeeper in Queens was punched in the face last Saturday. A man entered Sarker Haque's store and looked a newspaper cover featuring the San Bernardino killers. He then asked if everything was free in the store, before punching Haque in the face. "I kill Muslims," he said. The man continued to beat Haque as he tried to call for help. Haque estimated that the beating went on for seven to eight minutes. A customer entered and held the attacker while they waited for the police to arrive.
Sunday
On Sunday, Denise Slader, a California government correctional facilities worker, threw coffee and an umbrella at a group of Muslims in a California park. The woman ranted at the group, accusing them of being terrorists who tortured Christians.
#Islamophobia After praying, this lady approached us and started yelling at us that we're brainwashed for believing in Allah, "Allah is evil" she said. I started video taping her, I ,also, was hit by an umbrella before taking a shower of coffee right on my face. And what happened next was this..

Posted by Rasheed Albeshari on Monday, December 7, 2015
Monday
A pig's head was found outside a building housing a mosque, school and community center in Philadelphia on Monday. The mosque had received a threatening voicemail after the Paris terror attacks.
READ MORE: Pig's head found outside Philadelphia mosque (VIDEO)
A customer in Salt & Pepper restaurant in New York burst into an anti-Muslim rant, breaking glass partitions and slapping a member of staff on Monday.
Robert Murio shouted at the employees, asking if they were Muslim and, "how do you feel about ISIS?"
When one employee, Tahir Mahood, tried to calm Murino down, Murino slapped him. Murino was escorted outside, but returned. He threw a chair through two glass partitions at the counter. Police charged him with attempted assault as a hate crime and criminal mischief as a hate crime.
Tuesday
Early on Tuesday morning, a Somali coffee shop in North Dakota was the site of an arson attack, days after being targeted with racist graffiti. Juba Coffee House was sprayed with "SS" a nazi reference, and the words "go home."
Wednesday
A woman in Brooklyn was kicked and verbally abused on Wednesday. "I can't wait for the US to get rid of you trash," the man told her.
Thursday
Two women were attacked in Florida on Thursday. One woman was chased and cut off as she drove away from her mosque in Hillsborough County, with the man throwing rocks at her. At one point, he got out of the car, shouting, "I'm gonna cut her!"
A second woman was shot at as she drove away from a mosque in eastern Tampa.
Also on Thursday, the Council of Islamic Relations in Washington received a hate message and white powder in the post. "Die a painful death, Muslims" the note read.
.@CAIRNational evacuated by DC Fire Dept after receiving envelope with suspicious powdered substance w/ hate message

— Nihad Awad نهاد عوض (@NihadAwad) December 10, 2015
Friday
A southern California mosque was damaged in an arson attack on Friday. The fire was reported at the Islamic Center of Palm Springs around lunch time. It was contained to the lobby. The sheriff's department called the fire an "intentional act" and said it would investigate.
The attacks provide a snapshot of islamophobic attacks taking place around the US in one week. Other countries like Germany and the UK have also reported a rise in anti-Muslim sentiment in recent months.
You can share this story on social media: