Muslims face attacks on the wave of anti-Islamic sentiment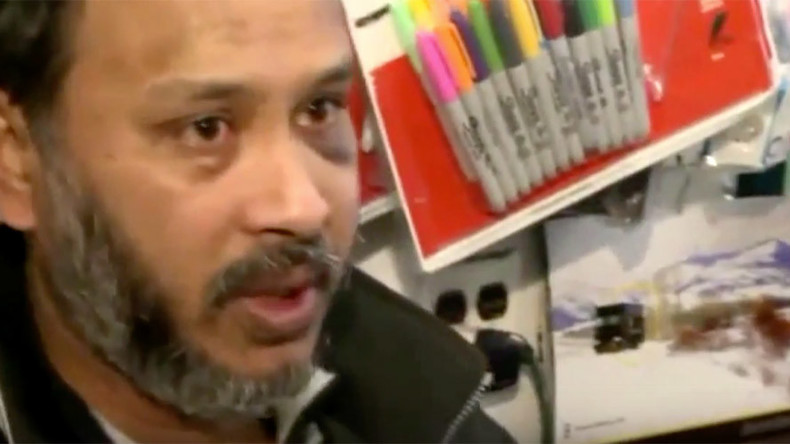 A woman attacking praying Muslims and a shop owner being beaten are just some of the anti-Islamic attacks that have occurred in the US since the shootings in San Bernardino, California.
On Sunday a woman attacked Muslims with anti-Islamic slurs and then hot coffee when she saw them praying in a park.
Rasheed Albershari captured the footage of his friends confronted by the woman at Lake Chabot in Alameda County, according to Arab American News.
In the recording, the woman can be heard saying:
"The people you tortured, they're going to spend eternity in heaven. You are very deceived by Satan. Your mind has been taken over — brainwashed — and you have nothing but hate, nothing but hate."
#Islamophobia After praying, this lady approached us and started yelling at us that we're brainwashed for believing in Allah, "Allah is evil" she said. I started video taping her, I ,also, was hit by an umbrella before taking a shower of coffee right on my face. And what happened next was this..

Posted by Rasheed Albeshari on Monday, 7 December 2015
When Albershari says she insulted his god, the woman hits him with her umbrella and tosses her hot coffee in his face.
In another incident this week a Muslim store owner in Queens, New York, was also attacked over the weekend by a man who said he wanted to "kill Muslims."
Sarker Haque teared up as he told WPIX about how the customer punched him repeatedly until a passer-by stopped the assault. Police identified the attacker as Piro Kolvani and are investigating the incident as a hate crime.
"It doesn't matter what color or nationality you are. We are in America. Everybody came from somewhere," said Haque.
Shortly after the Paris attacks a Muslim sixth grader was attacked by three classmates at her New York middle school.
READ MORE: 'Sick of being targeted': French authorities conducting warrantless raids on Muslims

During recess, three boys, also in sixth grade, allegedly put the girl in a headlock and repeatedly punched her as they tried to pull off her hijab and called her ISIS. Police were called to the school and the attack is being treated as a "bias incident."
"Since August of last year… we've seen a cycle of Islamophobia that's had a much more violent tinge to it than we've seen in many, many years. I would've argued that it was calming down, until Paris followed by San Bernardino," said Corey Saylor, spokesperson for the Council on American-Islamic Relations.
Samer Shalaby, a civil engineer from Virginia, was harassed during a Spotsylvania County community meeting he called to propose plans to replace the town's aging Islamic center.
The meeting was cancelled after the crowd became hostile, with one member reportedly shouting "Nobody wants your evil cult in this town!".
According to U.S. News and World report from February this year, there has been over 300 American deaths from political violence and mass shootings since 9/11, and only 33 of them have come from Muslim-Americans.
READ MORE: 'We wish to respond to evil with good': Muslims raise funds for San Bernardino victims
"Islamophobia is the accepted form of racism in America," said human rights lawyer and author, Arsalan Iftikhar, in the Islamic Monthly. A sentiment that appeared to be backed up by presidential candidate Donald Trump's suggestion that all Muslims should be banned from entering the country.
Many Muslims say Americans, and Europeans, often don't differentiate between radical Islamic militants and the religion of Islam. Just a few of the most recent anti-Islamic attacks show the confusion in full effect.