'We wish to respond to evil with good': Muslims raise funds for San Bernardino victims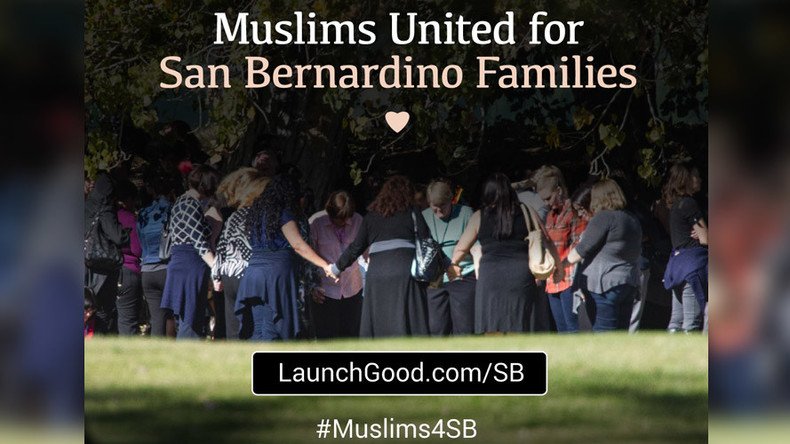 Muslims around the US have donated over $135,000 to help the victims of the San Bernardino, California terrorist attack that killed 14 people and injured 21 more. Authorities say the mass shooting was perpetrated by a radicalized Muslim couple.
The fund, Muslims United for San Bernardino, was founded by Faisal Qazi, president of the MiNDS Network, a charitable organization that caters to the economic, medical and educational needs of underserved families in three Southern California counties.
"We wish to respond to evil with good, as our faith instructs us, and send a powerful message of compassion through action," the founders of Muslims United for San Bernardino said in a press release. "Our Prophet Muhammad, peace be upon him, said: 'Have mercy to those on earth, and the One in the Heavens (God) will have mercy upon you.' And the Quran teaches to 'Repel evil by that which is better' (41:34)."
The original goal, set on December 3, was to raise $50,000 on LaunchGood, but the fund reached that goal in only 48 hours, WATE reported. It was then raised to $100,000, which was surpassed by Wednesday morning. Their new goal is now $140,000 by December 30. They have already raised over $135,000 from more than 1,100 donors.
Another $10,000 or had been raised through the MiNDS website and from offline checks by Monday evening, Qazi told the Los Angeles Daily News.
"The American Muslim community has had extensive and intense conversations in the last decade about our role in society," Qazi, a Muslim neurologist from Pomona, told the Los Angeles Times. "What you're seeing is the coming of a new generation of American Muslims being emotionally and physically invested in whatever transpires in society."
The initiative was founded by Qazi and Tarek El-Messidi, founder of Celebrate Mercy, a Muslim-based non-profit. El-Messidi is managing the campaign from his home base of Knoxville, Tennessee, he told WATE.
"All fundraising proceeds will help with the immediate, short-term needs of the grieving families," the fundraising page said. "No amount of money will bring back their loved ones, but we do hope to lessen their burden in some way."
The money will be disbursed through San Bernardino County and the United Way to assist victims and their families with funeral expenses and other needs, including medical expenses, rent and mortgage payments.
"We sincerely appreciate the support of Dr. Qazi and his organization and we look forward to working with him to distribute these funds," Doug Rowand, president of the Arrowhead United Way, told the LA Daily News. The two men are also working with San Bernardino County public health officials to figure out how to best distribute the funds raised.
The Council on American-Islamic Relations, Muslim Family Foundation and the Islamic Shura Council of Southern California are among the local, regional and national organizations that have endorsed the fundraising effort.
"This is something that affects all of us; it affects us as [US] citizens," Shaykh Mohammed Faqih, religious director of the Islamic Institute of Orange County, told the LA Daily News. "This particular incident affected us as Muslims. This is the response that everyone, especially Muslim Americans should [have] in every case, regardless of who the perpetrators are."
"Since 9/11, we've felt we need to come out of our cocoons," he told the LA Times. "We're as American as anyone else... but if society is not feeling it, it means I'm not doing enough."
Chris Blauvelt, a Detroit resident who converted to Islam three months before the 9/11 terrorist attacks, started LaunchGood two years ago. Muslims-Americans have given generously to the site's campaigns, accounting for 80 percent of the $5 million raised for 473 projects in 39 countries, the LA Times reported.
"After 9/11, we had a rude awakening," Blauvelt said. "We realized we had to do more than get good jobs as doctors and engineers and buy houses in the suburbs. We have to give back to the communities we live in, the American community."
LaunchGood campaigns have raised money to help rebuild eight historically black churches that burned down in the aftermath of a deadly attack on an African Methodist Episcopal church in Charleston, South Carolina over the summer, as well as to support students interested in science and technology after the arrest of a Muslim teen in Texas for bringing a homemade clock to school.
"This is an actual, tangible action we can do to show non-Muslims that we have your back," Marya Ayloush, a 20-year-old student at Santa Monica Community College who gave $50, told the LA Times. "In every situation where the terrorist happens to be a Muslim, every person, whether they admit it or not, is afraid they'll be lumped in with these guys."
"Those families almost feel like neighbors, and they cannot go unassisted," she said.


You can share this story on social media: