World Cup winner Mario Götze's boots to go under hammer to help refugees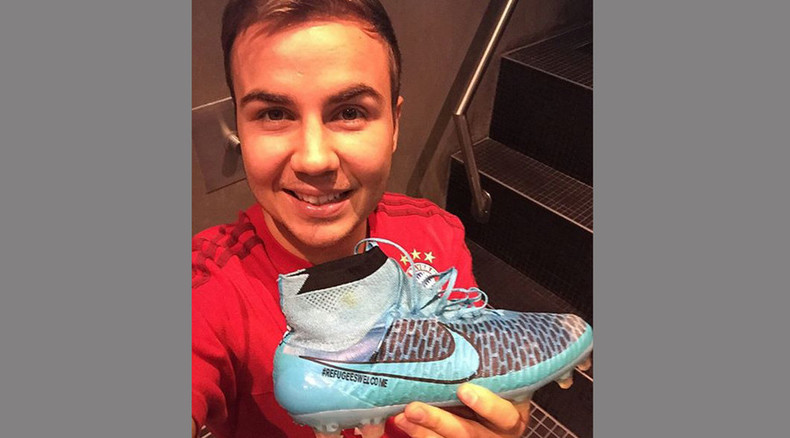 Bayern Munich's Mario Goetze, whose extra-time goal gave Germany victory over Argentina in last year's World Cup final, will raise funds to help Germany's refugees and migrants by auctioning his boots embroidered with the hashtag '#refugeeswelcome'.
The 23-year-old scored Bayern Munich's second goal while wearing the embroidered lucky boots in Wednesday's 3-0 win over Olympiakos in Group F of the Champions League. Goetze wore the same boots again in Saturday's Bundesliga match, in which Bayern Munich beat Darmstadt 3-0.

"Away game at unbeaten Darmstadt and we want three points," Goetze wrote on his Facebook and Twitter.

"I'm gonna play with my #refugeeswelcome shoes again, which will be auctioned at the end of September," he added.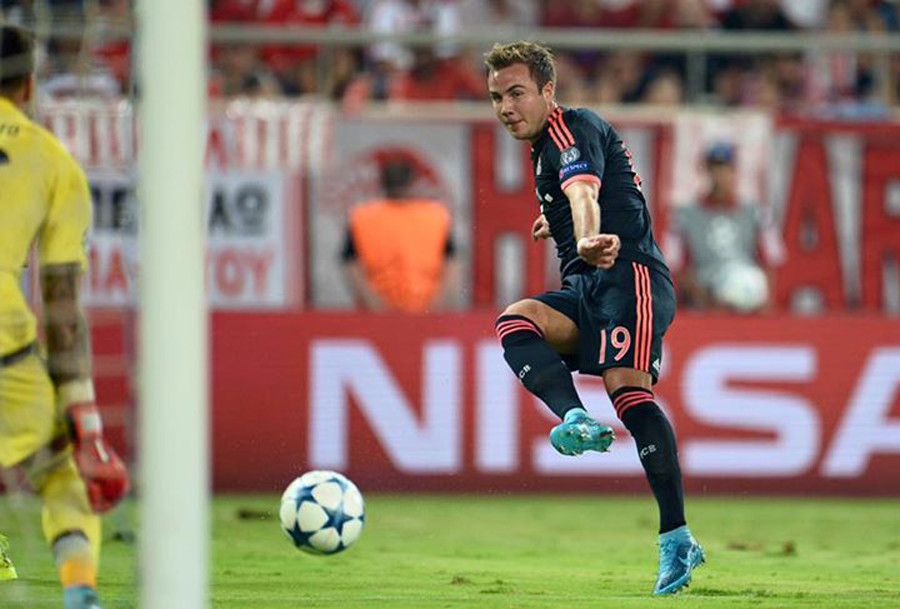 As Europe's refugee crisis looms large, dubbed the worst since WW2, Germany's biggest football club has generously offered help. Earlier this month, Bayern Munich promised to host training camps for kids, providing them with food, German lessons and football equipment. The German champions have also pledged €1 million ($1.1 million) to help ease the plight of asylum seekers flocking to Germany.
READ MORE: Bayern Munich to provide refugee children with food, German lessons, football equipment
Other German teams have also reached out. Arminia Bielefeld offered 500 tickets for a match on September 12. The tickets were reportedly sold out within two hours. Borussia Dortmund invited 220 asylum seekers to watch a Europa League match in late August, while Mainz gave out 200 free tickets for their home match against Hannover.
Last week, the German Football Association (DFB) announced a three-year extension to their "1-0 for a welcome" program, which sees some 600 clubs involved in projects to integrate immigrants through football, AFP reported.
All 36 teams in Germany's top two leagues decided to wear "We're helping! #refugeeswelcome" logos on their shirts this weekend to encourage fans to help asylum seekers.
Over 410,000 people have registered on Germany's initial registration system since January, and over 100,000 asylum seekers were accepted in August alone. The country (population 80 million) has accepted more asylum applications than any other European country. It expects to take in a total of 800,000 refugees from war-torn countries such as Iraq, Syria and Afghanistan in 2015 – four times the amount in 2014.
The crisis has driven a wedge between those who support asylum seekers and those against them. Around 10,000 members of PEGIDA (Patriotic Europeans against Western Islamization) marched through Dresden earlier this month. The crowds decried the wave of refugees and migrants coming to Europe and, in particular, the arrival of Muslim asylum seekers en masse in Germany. Scuffles with police erupted during similar marches in Berlin.
"We don't see the refugees as bad, we blame politicians for flooding Germany with large number of mainly young Muslim males. The government is taking irresponsible risks, since no one can predict how they will behave in the future," a protester in Berlin told RT.
"They allow people without papers, without anything, by the thousands to come into this country. They could be murderers, could be criminals, it should be forbidden," another protester from Munich added.