Muslim couple branded 'terrorist' on social media after police ask them to leave mall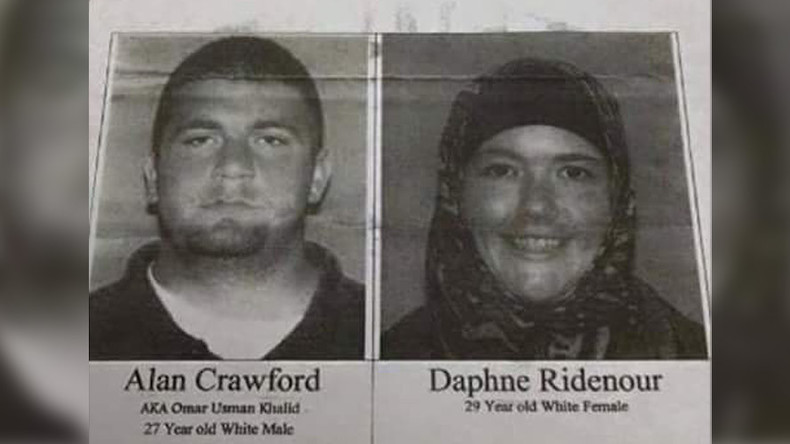 Rattled by the San Bernardino shooting, many Americans seem to be jumping at shadows. A Muslim family in Arkansas was escorted out of a mall and accused of terrorism on social media. They say they were only doing some holiday shopping.
Police in Fort Smith, Arkansas responded to a complaint that a man in a Muslim robe was filming the stores at Central Mall on Saturday. Several officers showed up to escort the man and his family out of the shopping center. People took photos and uploaded them to social media, captioning the family as "terrorists."
"I had two unknown subjects come up to me and advise me that a male subject wearing a thobe was video recording everyone in the mall and he was video-taping the entrances of several stores," said a police report by Fort Smith, Arkansas officer Anthony Cox, as cited by KFSM-TV, a local CBS affiliate.
Identified as Alan Crawford and Daphne Ridenour, the Muslim couple was dressed in traditional Arab clothing. Alan wears a thobe, also known as dishdasha, a tunic common to the Arabian Peninsula and Iraq. Daphne wears a headscarf. They reside in nearby Muldrow, Oklahoma.
Crawford says he went to the mall with his wife and son to do some holiday shopping and hand out cards for a local charity. He says the sign on the mall door, prohibiting filming inside, escaped his attention – and in any case, the police response was disproportionate.
"What crime I committed, I don't know," he told KFSM. "I wasn't aware that police officers show up five at a time to enforce mall law. If you want me to leave, I will leave happily."
Speaking to the TV station, Crawford also joked about his fondness for bacon cheeseburgers – consuming pork is prohibited in Islam – and said the local community was harassing his family for being Muslim.
Muldrow happens to be the hometown of Master Sergeant Joshua Wheeler, a US Special Forces member who was killed in October fighting Islamic State (IS, formerly ISIS/ISIL) in Iraq. Crawford, who says he served in the Army himself, says flyers identifying him and his wife as terrorists began showing up in town around the time the memorial service for Wheeler was being held.
The flyer, apparently an internal document issued by the Muldrow police and then leaked to the general public somehow, suspects Crawford and Ridenour of threatening to do something to "make national news." The pair are identified as converts to Islam, and Crawford's alias is given as Omar Usman Khalid.
On December 11, the Facebook group 'Arkansas/Oklahoma terror watch' posted that they had spoken to the Muldrow police, who "verified that the poster is no longer valid." That post is no longer available, however.

Other social media posts, likewise deleted, claimed that there was an actual law enforcement lookout (BOLO) notice for Crawford and Ridenour, on suspicion of terrorism, issued by the Sequoyah County Sheriff's department. Sheriff Ron Lockhart told RT by phone that no such notice existed, though.
The flyer "broke my heart. It absolutely destroyed me," Crawford told KFSM. "That's how our country rolls. I couldn't even go to my own brother's funeral. If I had, I would have been treated like a terrorist. This shouldn't be happening in America."