Anti-Muslim attacks occurring in record numbers across US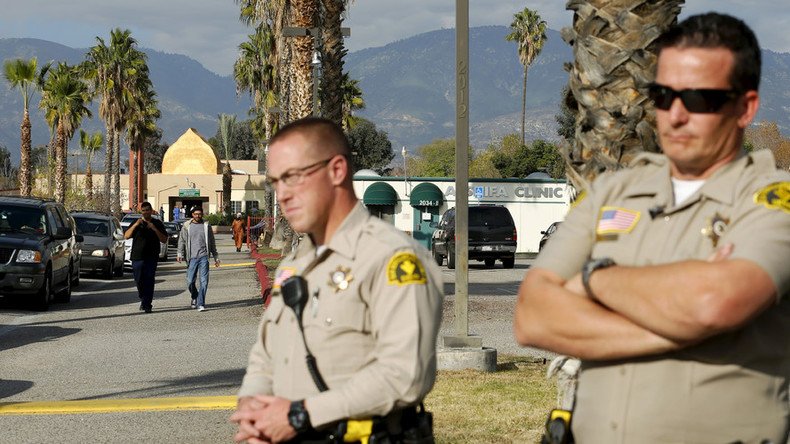 Crimes against Muslims and mosque attacks have hit an all-time high since the terrorist attacks in France and California. Some places of worship have hired armed guards or asked the federal government for help.
On Sunday, two mosques in Hawthorne, California became the latest targets in a rising number of anti-Muslim attacks following the terrorist shootings on a holiday party in San Bernardino when a radicalized Muslim couple killed 14 people and injured 21.
"A few of our members went to early morning prayer at about 5 a.m. and they found graffiti on the outside wall and 'Jesus' was written on the fence," Zahid Mian, a member of the Ahmadiyya Muslim Community Baitus-Salaam Mosque, told the San Bernardino Sun. "As Muslims we don't really find [the crosses] very offensive, but the act of vandalizing is disturbing."
A grenade was found inside the building, as well. Police cordoned off the area, but later determined that the weapon was a plastic replica.
The Islamic Center of Hawthorne was also vandalized Sunday, with the phrase "Jesus is the way" scrawled on the building.
On Thursday, a knife-wielding man made threatening comments to a Muslim woman at a car wash in Chino Hills, California. Daniel Senteno, 40, was arrested on suspicion of making criminal threats and brandishing a weapon, but investigators are likely to pursue hate-crime charges in the case, Cindy Bachman, a San Bernardino County sheriff's spokeswoman, told the Inland Valley Daily Bulletin. Senteno's bail has been set at $75,000. He remains in custody and is expected to be arraigned this week, Bachman said.
Record number of anti-Muslim incidents
So far in 2015 ‒ through December 8 ‒ American mosques and Islamic centers have been the scene of vandalism, harassment and anti-Muslim bigotry at least 63 times this year, according to preliminary data for a study that the Council on American-Islamic Relations provided to CNN. The report was compiled using media accounts and reports from the group's regional chapters, Corey Saylor, a CAIR spokesman, said, adding that the number of incidents at mosques is likely higher than has been reported thus far. According to the Justice Department, hate crimes are often drastically under-reported.

The previous high of 53 such incidents came in 2010, when controversy arose in New York City over whether or not to build a mosque near"ground zero" of the September 11, 2001 terror attacks, CNN reported.
There were 17 anti-Muslim incidents at mosques in November alone, most of which were vandalism or harassment, the CAIR study found. On November 13, terrorists in Paris, France carried out coordinated attacks that killed 130 people and injured 368 more. Islamic State (IS, formerly known as ISIS/ISIL) has claimed credit for the attack. The year also began with a terrorist attack in Paris on satirical newspaper Charlie Hebdo on January 7, followed by related attacks in the city. The gunmen identified themselves as members of Al-Qaeda's branch in Yemen.
At least 14 threats and attacks on Muslims and mosques occurred between December 8 and 12, according to news reports compiled by the Intercept's Glenn Greenwald. The incidents include arson at a mosque in Coachella, California; a pig's head found at a mosque in Philadelphia, Pennsylvania; the evacuation of the CAIR headquarters in Washington, DC after it received an envelope filled with a suspicious substance; and a Georgia teacher asking a 13-year-old black Muslim student whether she had a bomb in her backpack.
RT's own compilation shows that at least 10 anti-Muslim attacks took place across the US every day between December 5 and 11.
Late Friday, hours after firefighters were called to a blaze at the Islamic Society of the Coachella Valley in California that was described as a possible "fire-bombing," Carl James Dial was arrested and charged with multiple felony offenses including: commission of a hate crime, two counts of arson, one count of maliciously setting a fire, and a count of second-degree burglary, the Palm Springs Desert Sun reported. Dial, 23, remained jailed in lieu of $150,000 bail. He is scheduled to appear in court on Wednesday, according to jail records.
Saylor believes the number of anti-Muslim incidents at mosques plays into the hands of IS.
"Daesh wants Americans to turn on each other, and with November seeing the highest number of mosque incidents since [CAIR] started keeping data, it seems they are getting their wish," Saylor said, using an alternative name for the IS.
Stepping up security
Mosques are increasing security around their buildings, with at least two ‒ one in Phoenix, Arizona and one in Northern Virginia ‒ requesting help from the US Department of Homeland Security, Reuters reported. The All Dulles Area Muslim Society outside of Washington, DC took the step after the security guards they hired quit.
"Security guards resigned because they were fearful of getting hurt in the backlash" after the San Bernardino attacks, Rizwan Jaka, the society's chairman, said. "People were concerned."
"Our fear is at a pretty high level at this time, given the anti-Muslim rhetoric going on," CAIR attorney Maha Sayed told the newswire.
The East Plano Islamic Center near Dallas, Texas, hired an armed security guard after the Paris attacks, Imam Nadim Bashir told Reuters.
"We're just trying to ramp up our efforts in the community and get a better name," he said.
The Islamic Society of Corona-Norco in California has spent $10,000 over the past two weeks to increase security. It is now asking for donations from the congregation to defray that expense, Imam Obair Katchi told Reuters. It has faced increased scrutiny after it was reported that Enrique Marquez Jr., who supplied the two rifles used in the San Bernardino shooting, had once attended the mosque.
A silver lining for Muslims?
It's not all bad news for the Muslim community, however. A Muslim-led fundraiser for the victims of the San Bernardino terrorist attacks blew past its first three goals in days. It has now raised nearly $210,000 from almost 2,000 supporters since December 3, and is closing its campaign overnight on Tuesday, 15 days ahead of schedule, according to its LaunchGood page.
A high school in Chicago, Illinois is battling Islamophobia with an initiative called 'Walk a Mile in Her Hijab', in which non-Muslim girls are encouraged to wear the traditional headscarf to better understand life as a woman in the Muslim faith, the Siasat Daily reported.
"This event is to hopefully denounce negative stereotypes," Vernon Hills High School senior Yasmeen Abdallah, the president of the Muslim Students Association (MSA) and who coordinated the event, said. "You can't really understand or judge a person and their beliefs until you understand why they do it and what it's like for them to do what they're doing."
Over a dozen female students have participated, according to the Siasat Daily.
"I wanted to learn more about the religion, considering my uncle is also Muslim," Charli Mosley, said, wearing a red hijab. "With more people wearing a hijab around school, it could bring more acceptances to the religion and have more people become more aware."
You can share this story on social media: