Hate mail: NY postal worker arrested for harassing, spitting on Muslim woman with baby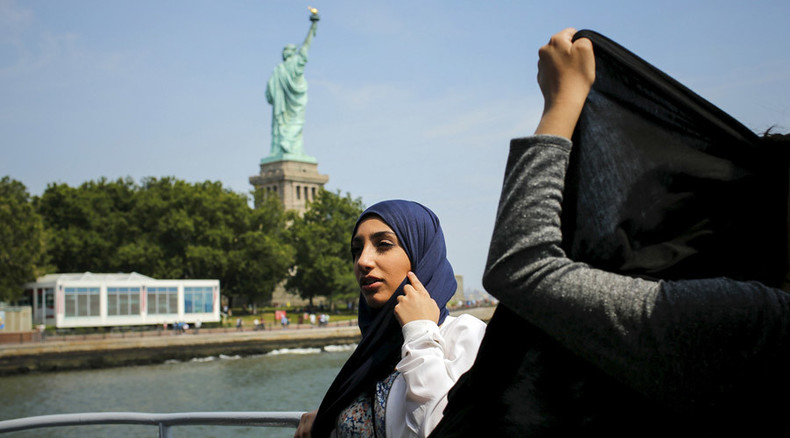 A postal worker in New York City has been accused of a hate crime after harassing a Muslim woman with an infant in a stroller. He was arrested by Brooklyn police after launching an anti-Muslim tirade and reportedly spitting at the woman.
"I'm not crazy, I work in the post office," Dinaton Coley, 33, told the Muslim woman whom he had attacked on Friday. This was after threatening to burn down her mosque, according to the NY Daily News.
He was arrested early Tuesday on charges of aggravated harassment, and menacing actions, as well as actions endangering a child – for exposing the infant to hate speech. The Postal Office helped the police identify the attacker, who worked at the Atlantic Ave. branch.
Coley is quoted in police documents as saying "You bumbaclot Muslim," a phrase containing a Jamaican expletive. "I'm going to burn your Muslim temple down," he added, before spitting on the woman several times.
The woman's sister was around when she later went into the store to get away from her harasser, who followed her there. The sister called Coley crazy; he replied that he couldn't be, because he worked for the post office.
This may not come as a surprise to the cops, who had already run into Coley earlier in April, at his home in Canarsie. At the time they deemed him emotionally disturbed, allegedly for his heavy drinking and claims that he hears voices, police say.
Despite an overall rise in anti-Muslim sentiments, latest NYPD data claims that anti-Muslim hate crimes are actually down 43 percent from this time last year, although this specific crime represents only 5 percent of the total for hate crimes in 2015, according to statistics.
Still, the recent Paris terrorist attacks and the ongoing refugee crisis have combined to make their mark. Several incidents of anti-Muslim violence or intimidation have been reported in the US since the attacks, which took place on November 13.
Compounding this is a rise in right-wing sentiment seen among some Republican presidential nominees this year, most notably Donald Trump, who recently suggested overarching surveillance on mosques.