Anti-Muslim sentiment grows in US after Paris attacks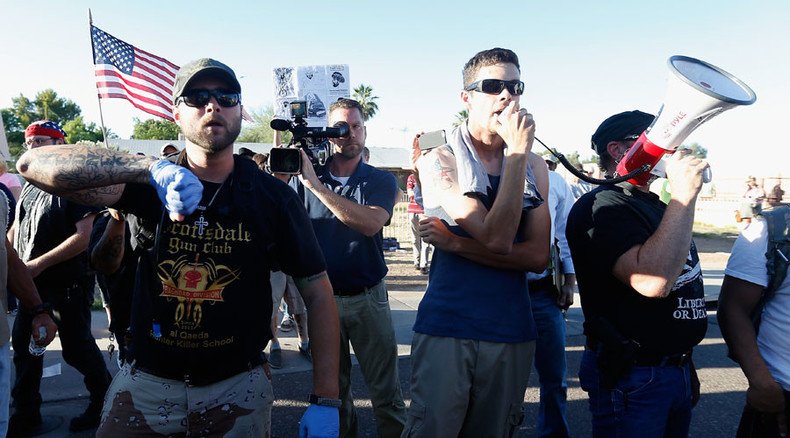 Fueled by opportunistic rhetoric from politicians, an increase in hostility towards Muslims in the US following the terror attacks in Paris and amid the ongoing Syrian refugee crisis has created a climate worse than post-9/11, Muslim-Americans say.
Several incidents of anti-Muslim violence or intimidation have been reported in the US since the attacks in Paris on November 13. Meanwhile, several contenders for the Republican party's presidential nomination in 2016, including Donald Trump and Ben Carson, have stoked anti-Muslim suspicions.
"In the last week or so, we've witnessed about a half dozen mosque attacks, a number of assaults on women, men, and in one case, a pregnant woman in California, and reports that a mosque has been burned down in Canada," Robert McCraw, with the Council on American-Islamic Relations (CAIR), told RT. "We're seeing a level of Islamophobia and violence that we haven't seen since post-9/11," referring to the terror attacks in the US in 2001.
Such incidents in the US include at least three instances in which Arabic speakers or "suspicious" passengers, some of "Middle Eastern descent," were thrown off commercial flights in the US; assaults, including on a pregnant woman in San Diego, a man attending a movie in Manhattan, an Uber driver in North Carolina, and a woman on the campus of San Diego State University; threats of violence to Muslims in general; campus harassment in Connecticut; and a targeted shooting at a Florida residence.
At a county town hall meeting in Fredericksburg, Virginia last week, a man speaking on behalf of an Islamic center was berated by two men who said Islam is "an evil cult," and that "every Muslim is a terrorist."
Furthermore, several mosques around the nation have been defaced or vandalized, threatened with violence and shot at with multiple rounds. On Saturday, a group of armed protesters gathered outside a mosque in Irving, Texas. They came to "Stop the Islamization of America," as one protester's sign read.
"They're mostly for self-defense or protection," said protester David Wright of his 12-gauge shotgun, according to the Dallas Morning News. "But I'm not going to lie. We do want to show force. … It would be ridiculous to protest Islam without defending ourselves."
The protest and other acts of intimidation aimed at Muslims come days after Trump suggested that, as president, he would advocate vast surveillance, if not outright closure, of mosques in the US.
"I would certainly implement that [keeping a register of Muslims]… absolutely," Trump said last week, adding that there are "a lot of systems, beyond databases" that could be implemented. "We should have a lot of systems. And today you can do it."
Referring to the Muslim population in the US, the billionaire previously said, "We're going to have to do certain things that were frankly unthinkable a year ago."
Carson, Trump's top rival, suggested a comparison between some of the refugees and migrants coming into the US from the Syrian conflict zone and "rabid dogs" that should be vetted before being released.
"If there's a rabid dog running around in your neighborhood, you're probably not going to assume something good about that dog," Carson said.
"That doesn't mean that you hate all dogs," Carson added, explaining later that his statement referred to terrorists only.
Other presidential candidates, including Ted Cruz and Jeb Bush, have said Syrian refugees should pass a "religious test" in addition to security checks before entry to the US, with Christian applicants being a priority over Muslims.
In Congress, at least two "reckless" bills, according to CAIR, have been introduced in the wake of the Paris attacks. The American Security Against Foreign Enemies (SAFE) Act of 2015 halts the Obama administration's plan to resettle 10,000 Syrian refugees in the US. It passed the House of Representatives last week, and is now in the hands of the Senate. The Countering Violent Extremism Act of 2015 would add $40 million to the already hefty sum of money and effort spent on counterterrorism by the US Department of Homeland Security.
Muslim and Arab advocacy groups see the current situation as more hostile than events that followed 9/11 in the US, a frightening time for American-Muslims in its own right.
READ MORE: Journalist who returned from Islamic State HQ tells RT how jihadists can be defeated
"If (then-president) George W. Bush was running today and saying the things he said about Muslims, he would be an outcast in the Republican Party," Abed Ayoub, national policy director at the American-Arab Anti-Discrimination Committee, told CNN.
Heidie Beidrich, director of the Southern Poverty Law Center's Intelligence Project, agreed, saying "anti-Muslim situation right now is so much hotter, in fact, than it was after 9/11 that it's a little bit astounding."
In addition, McCraw told RT that these anti-Muslim sentiments are a delight for jihadist extremists like Islamic State (also known as ISIS or ISIL), who like to exploit hatred across the globe.
"ISIS' main game plan is to create division among Muslim and non-Muslim communities," he said. "Here in America, too, we're playing right into ISIS' game plan if we, in fact, create mistrust of Muslims who are already in America and if we restrict the movement of Syrian refugees coming into the United States."
Speaking from Malaysia on Sunday, President Barack Obama expressed a similar opinion.
"We will not give in to fear, or start turning on each other, or treating some people differently because of religion or race or background," Obama said. "That's precisely what terrorists like ISIL want, because, ultimately, that's the only way that they can win."
You can share this story on social media: