Trump hints at deep surveillance, special IDs for Muslims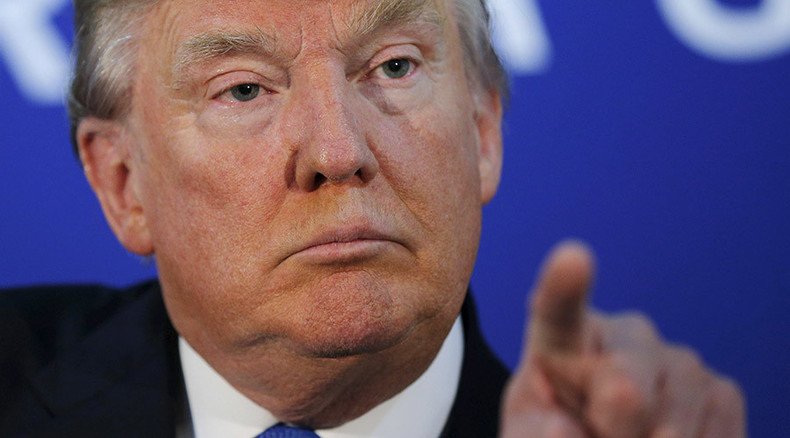 Republican presidential candidate Donald Trump says the Paris terror attacks mean that "we're going to have to do certain things that were frankly unthinkable a year ago" in the US, including creating databases of Muslims and closely monitoring mosques.
Trump said he is concerned about the large Muslim population in the United States, and that, if he had his way, there would be increased surveillance, including warrantless searches, of American Muslims.
"We're going to have to do things that we never did before. And some people are going to be upset about it, but I think that now everybody is feeling that security is going to rule," Trump told Yahoo News.
"And certain things will be done that we never thought would happen in this country in terms of information and learning about the enemy. And so we're going to have to do certain things that were frankly unthinkable a year ago."
He did not rule out requiring Muslims to register in a database or demanding Muslims carry a special form of identification.
"We're going to have to look at a lot of things very closely," Trump said of such measures. "We're going to have to look at the mosques. We're going to have to look very, very carefully."
Prior to a rally in Worcester, Massachusetts, on Wednesday, Trump said the US may have to close some mosques linked to extremism, adding that he has confidence in his appeal to Muslim voters.
"I'm going to do great with the Muslims," said Trump. "They understand what I'm saying... We're talking about safety. We're talking about security. We need it."
Meanwhile, Trump hinted to Yahoo News that former New York Police Department Commissioner Ray Kelly ‒ who ran the NYPD's unprecedented Muslim surveillance program in the New York City area after the attacks of September 11, 2001 ‒ would have a place in his presidential administration.
"Ray's a great guy," Trump said. "Ray did a fab job as commissioner and, sure, Ray would be somebody I'd certainly consider."
The NYPD's Muslim surveillance program, first exposed in a series of articles by the Associated Press and said to have been in operation for more than a decade, is known to have included spying on 20 mosques, 14 restaurants, 11 retail stores, two grade schools, and two Muslim Student Associations in New Jersey alone. The monitoring included video surveillance, photography, community mapping, and the infiltration of places of worship.
The NYPD's so-called Demographics Unit, an inner-agency group with ties to the Central Intelligence Agency, put plainclothes cops in mosques, Islamic centers, and other Muslim-majority businesses and locales throughout the New York City region during the program's existence.
Importantly, the NYPD has admitted that in more than 10 years of operation, the spy program failed to produce a single lead.
The NYPD said in April 2014 that it disbanded one of the main units conducting Muslim surveillance, yet attorneys that challenged the program said there is no evidence that the department has abandoned the unlawful targeting and profiling of Muslims.
"By creating a Muslim exception to the bedrock principles of equality and religious freedom, the lower court opinion signals that Muslims are to be second-class citizens," said Baher Azmy, a lawyer with the Center for Constitutional Rights who has represented Muslim groups that sued New York City over the surveillance.
"The Constitution prohibits singling out an entire faith for discriminatory policy, simple because a handful of totally unrelated adherents committed criminal acts. Painful historical lessons remind us that courts should not sanction such over discrimination by law enforcement, even in times of fear."
In the interview, Trump also supported US governors who have said they want to deny Syrian refugees access to their states following the Paris attacks, which left more than 100 dead and more than 300 injured. The jihadist group Islamic State, also known as ISIS or ISIL, has taken credit for the attacks. Some planners of the attacks may have traveled as refugees from Syria into France, but most appear to have been citizens of European Union countries, according to EU officials.
"They're going to be gone," Trump said of refugees who have already arrived in the US. "They will go back… I've said it before, in fact, and everyone hears what I say, including them, believe it or not. But if they're here, they have to go back, because we cannot take a chance. You look at the migration, it's young, strong men. We cannot take a chance that the people coming over here are going to be ISIS-affiliated."

The US has agreed to take in 10,000 Syrian refugees fleeing the country's civil war, which has resulted in large swaths of the nation controlled by Islamic State. Half of the 2,000 refugees that have come to the US so far have been children, while another quarter have been older than 60, according to Yahoo News.
You can share this story on social media: