Backlash: US governors reject migrants because Paris terrorists used refugee status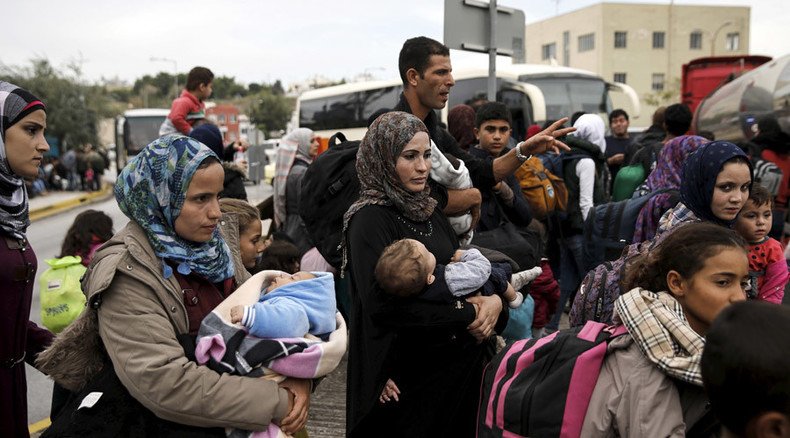 Nearly 20 US governors announced they would block the acceptance of thousands of migrants into their states, after at least two perpetrators of the Paris terrorist attacks were revealed to have entered France posing as refugees.
The terrorist attacks in France that killed at least 129 people and injured over 350 more came as Europe has been accepting hundreds of thousands of migrants fleeing the violence in Syria. Islamic State (IS, formerly known as ISIS/ISIL) claimed responsibility for the coordinated attacks on Friday.
Citing concerns that some of the attackers have posed as refugees to gain access to Europe, mostly Republican governors of at least 19 US states have said that they will do whatever they can to stop the relocation of Syrian refugees into their jurisdictions.
Governor Greg Abbott of Texas even sent a letter to President Obama informing him of the move. He said Texas had dealt with IS-affiliated attempted terror attacks within the state, and that allowing Syrian refugees to settle in his state "irresponsibly exposes our fellow Americans to unacceptable peril."
Michigan governor Rick Snyder had originally welcomed the proposal to locate refugees into his state, which already has a large Muslim population. After Friday's attacks in Paris, however, he said his first priority was "protecting the safety" of Michigan residents until security procedures assessing incoming refugees have been fully reviewed at a federal level.
"Michigan is a welcoming state and we are proud of our rich history of immigration," Snyder said in the statement. "But our first priority is protecting the safety of our residents."
Louisiana's Bobby Jindal, the son of Indian immigrants and a GOP presidential hopeful, announced his decision on Monday via Twitter.
"As governor, I will oppose Syrian refugees being relocated to Arkansas," said Republican Asa Hutchinson. He later tweeted his full statement regarding the decision:
Governor Rick Scott of Florida made public his letter to Speaker of the House Paul Ryan (R-Wisconsin) and Senate Majority Leader Mitch McConnell (R-Kentucky), informing the two that Florida would be not be supporting the requests to locate Syrian refugees.
"More importantly, however, it is our understanding that the state does not have the authority to prevent the federal government from funding the relocation of these Syrian refugees to Florida even without state support," Scott's letter said, urging Congress to take "immediate and aggressive action" to prevent President Obama from using any federal tax dollars to settle Syrian refugees in the US.
Ohio Governor John Kasich, who is running for the Republican presidential nomination and is considered the moderate in that race, also said that he would resist the relocations of refugees in his state.
Other Republican governors who called for keeping refugees from their states in fear of terrorists abusing the system include Indiana's Mike Pence, Mississippi's Phil Bryant, Bruce Rauner of Illinois, Charlie Baker of Massachusetts, North Carolina's Pat McCrory, Arizona's Doug Ducey, and Wisconsin's Scott Walker.
Nikki Haley, the Republican governor of South Carolina, broke from the chorus, saying that she would not block the settlement of migrants. No Syrian refugees have been brought to South Carolina as of yet.
"These are people who have protected our troops, these are people who have been persecuted for being Christian, these are people who have been hurt because of their political beliefs, these are people who we took in because they were unsafe where they were," Haley said.
Maggie Hassan of New Hampshire is the first Democratic governor to push back against the acceptance of refugees.
"Protecting the safety and security of our people is the first responsibility of government," her spokesman William Hinkle told the New Hampshire Union Leader. "And the Governor has always made clear that we must ensure robust refugee screening to protect American citizens, and believes that we must know more of the facts about those who carried out the Paris terrorist attacks and have strong assurances of safety from our intelligence officials before we admit refugees from Syria into the United States."
Senator Rand Paul (R-Kentucky), who is currently running for president, is answering the call of some governors by introducing a bill that would suspend the issuance of visas to refugees from Syria and other countries except those who go through strict background checks.
Despite state governors' political posturing, they have no legal authority to contradict the president's wishes over immigration. Under the Refugee Act of 1980, the US president has "explicit authorization to accept foreign refugees into the United States," according to Think Progress.
Under the act, the president may admit refugees who face "persecution or a well-founded fear of persecution on account of race, religion, nationality, membership in a particular social group, or political opinion" into the United States. The president's power to do so is particularly robust if they determine that an "unforeseen emergency refugee situation" such as the Syrian refugee crisis exists.
The Obama administration already has plans to accept 10,000 Syrian refugees over the next fiscal year. In September, 72 House Democrats wrote to the administration suggesting the country settle as many 130,000 Syrian refugees, a figure 10 times that proposed by the White House.
The fear of extremism among Syrian refugees is not unfounded. A poll published in November 2014 by the Arab Center for Research and Policy Studies found that 13 percent of Syrian refugees have positive or "positive to some extent" feelings towards Islamic State, the terrorist group that claimed responsibility for the Paris attacks.
Some members of the public have reacted to the attacks in a manner that made the politicians sound almost cordial.
Green Bay Packers fans at Lambeau Field interrupted a moment of silence for victims of terrorism in Paris before the team's game on Sunday by shouting "Muslims suck!"
Packers' quarterback Aaron Rodgers later blasted the fans over the incident.
"It's that kind of prejudicial ideology that puts us in the position that we're in today as a world," Rodgers said at a post-game press conference.
Meanwhile, the FBI is investigating multiple threats made against mosques across the US following the attacks in Paris.
"This act in France is the last straw. You're going to f***ing die," said a voicemail left at the Islamic Society of St. Petersburg, a Florida mosque.
Similar threats were reported at mosques in Pinellas Park, Florida and Peterborough, Ohio.
"I personally have a militia that's going to come down to your Islamic Society of Pinellas County and firebomb you, shoot whoever's there on sight in the head. I don't care if they're f***ing 2 years old or 100," said another message.
Even some non-Muslims weren't spared the backlash. Jubbal Vereender, a Canadian journalist and Sikh, had his selfie modified to look as if he were an Islamic terrorist. A Koran was put in place of the iPad in the original photo, and a suicide vest was added on top of his plaid shirt.
The photoshopped image was subsequently published by the Spanish newspaper La Razón, which named Vereender as "one of the terrorists" behind Friday's attacks in Paris.
You can share this story on social media: