Texas shooting suspect known to FBI since 2006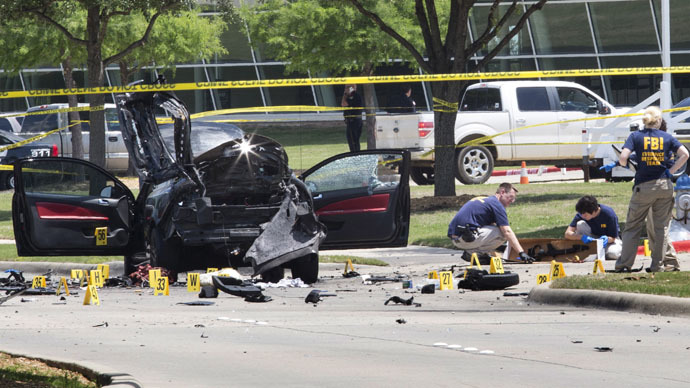 From 2006 to his arrest in 2010 before an alleged trip to Somalia, Elton Simpson, a suspect in the shooting at the Muslim prophet Muhammad drawing contest in Texas, was monitored by the FBI via an informant. Terror charges against him were later dropped.
Simpson and alleged accomplice Nadir Soofi were killed by law enforcement in the Dallas suburb of Garland, Texas, on Sunday after the men shot a school district security guard in the leg outside the Curtis Culwell Center. The American Freedom Defense Initiative -- deemed by some as an anti-Muslim "hate group" -- was holding a contest for drawings of Muhammad at the facility. Depictions of the prophet are offensive to many Muslims.
Simpson and Soofi, who were roommates living in Phoenix, Arizona, allegedly carried rifles and were wearing body armor. Garland police and SWAT officers were on the scene. Garland police said it was still unknown who fired the lethal shots.
Born in Illinois, Simpson converted to Islam at an early age. According to court documents cited by news reports, Simpson attracted the attention of the Federal Bureau of Investigation based on his ties to Hassas Abu Jihaad, a former US Navy sailor accused of leaking details of his ship's movements to a jihadist website. Jihaad was eventually convicted of terror charges.
FBI tracking
In 2006, the FBI sent an informant to monitor Simpson. Dabla Deng, a Sudanese immigrant, was told to introduce himself as a recent Muslim convert. Deng recorded more than 1,500 hours of conversation over the next few years, according to court records.
In January 2010, Simpson was arrested the day before he was to leave for what he said were religious studies at a madrassa in South Africa. Authorities alleged he was actually planning to travel to Somalia. The accusation was based on comments Simpson had made during his monitoring.
"It's time to go to Somalia, brother," he allegedly told the FBI's informant in May 2009. "It's time," he added. "I'm tellin' you, man. We gonna make it to the battlefield. … It's time to roll."
In one recording, Simpson supposedly said the studies in South Africa were "just a front" and that he would "bounce" if he needed to, the Dallas Morning News reported.
During his trial, recordings were played that featured Simpson speaking of taking the fight to non-Muslims, or "kuffar."
"Allah loves someone who is out there fighting [non-Muslims] and making difficult sacrifices such as living in caves, sleeping on rocks rather than sleeping in comfortable beds and with his wife, children and nice cars," Simpson said in an informant-taped recording. "If you get shot, or you get killed, it's [heaven] straight away…That's what we here for…so why not take that route?"
In another recording, Simpson seemed to reference US wars in Iraq and Afghanistan.
"They trying to bring democracy over there man, they're trying to make them live by man-made laws, not by Allah's laws. That's why they get fought. You try to make us become slaves to man? No we slave to Allah, we going to fight you to the death."
Despite the multitude of recorded conversations, federal prosecutors could only get him on one charge, lying to a federal agent. A judge dismissed the other terror charges based on insufficient evidence. Simpson was given three years of probation and $600 in fines and court fees, according to the Washington Post. He was likely on a no-fly list following the trial, the Morning News reported.
"I have to say that I felt like these charges were completely trumped up, that they were just trying to cover up what had been a very long and expensive investigation and they just couldn't leave without some sort of charges," Kristina Sitton, Simpson's attorney, told the Associated Press.
Sitton said she never thought he was capable of violence and assumed he "snapped" before his actions in Garland.
"I never had an inkling that he was dangerous at all," she told the Dallas Morning News. "I can tell you when he was my client he was nothing but respectful. He was very kind and was a very devout Muslim."
More recent, Simpson was active on social media, garnering the FBI's attention for his private Twitter messages.
"Soon you won't be able to live in America as a Muslim. The noose is tightening," he wrote in a March 14 message tracked by the FBI and obtained by ABC News.
Islamic State
He wrote in early April about plans to travel to Syria to join the jihadist group Islamic State (IS, formerly ISIS or ISIL) and recruited others to join him.
"Bring your passport. If you have $4,000, that's enough to travel with."
Those travel plans were curbed, however, when the FBI arrested people in San Diego and Minneapolis who wanted to go with him, he said.
In late April, he referenced the Muhammad drawing contest, writing: "When will they ever learn?"
Islamic State took credit for Simpson and Soofi's actions in a statement aired Tuesday on its Al-Bayan radio station, according to SITE Intelligence Group.
"Two soldiers … of the caliphate attacked an exhibit in Garland in American Texas, and this exhibit was holding a contest for drawings offensive to the Prophet Muhammad," the extremist group said, adding that future attacks will be "worse and more bitter, and you will see from the soldiers of the Islam State what will hurt you."
William McCants, an expert on Islamic militants at the Brookings Institution, told the Post it is "a little tricky" to determine Islamic State was related to the Garland attack.
"They could have very loose ties to someone via Twitter. It's tough to know if this is something that someone high up in the leadership reached out and activated them, or if they did it on their own and gave someone in the [Islamic State] media orbit a heads up just beforehand, or if it's more after the fact," McCants said. "It's hard to parse."
The first American to be convicted of trying to join the Islamic State was sentenced to four years in federal prison in January, though the teenage Muslim convert said she was manipulated. Three other female teenagers from Colorado were caught late last year attempting to join Islamic State.
Late last summer, two Minnesotans were reportedly killed fighting alongside Islamic State.
Reactions
Simpson and Soofi attended the Islamic Community Center of Phoenix, according to reports. The mosque's leader said Simpson curtailed his visits following his arrest.
"He was always nice to others. He always had a smile on his face," said Usama Shami, president of the mosque. "That's why it was shocking, unbelievable that he changed and that he would even be thinking of killing people."
Shami also said that most people knew Deng, the FBI informant, was working for law enforcement, as he showed little interest in Islam.
In a statement released late Monday, Simpson's family said they were "struggling to understand" how the attack came to be.
"We are sure many people in this country are curious to know if we had any idea of Elton's plans," the statement says. "To that we say, without question, we did not."
The family added it is "heartbroken and in a state of deep shock" and that it sends prayers to those affected by this "act of senseless violence," especially the wounded security guard.
Soofi's mother, Sharon Soofi, called the incident a "punch in the gut."
"He was raised in a normal American fashion," she told the Morning News. "Yes, he was very politically involved with the Middle East. Just aware of what's going on. I don't know if something snapped or if Elton Simpson was just working on him."
She said she last spoke to him last month when she wished her grandson a happy birthday.
"He put his son above everything, I thought," she said. "The hard thing to comprehend is why he would do this and leave an 8-year-old son behind."
The American Freedom Defense Initiative created the 'Mohammed Art Exhibition and Contest' after the Charlie Hebdo attacks in Paris in January following depictions of Muhammad that appeared in the satirical newspaper.
The organization's head, Pamela Gellar, blamed Islamic State for the attack.
"This incident was obviously related to our event, as evidenced by the ISIS supporters on Twitter taking credit for and praising the gunmen," she told the Post. "The Islamic jihadis are determined to suppress our freedom of speech violently. They struck in Paris and Copenhagen recently, and now in Texas."
You can share this story on social media: