3 Denver girls escape from home to join ISIS, stopped in Germany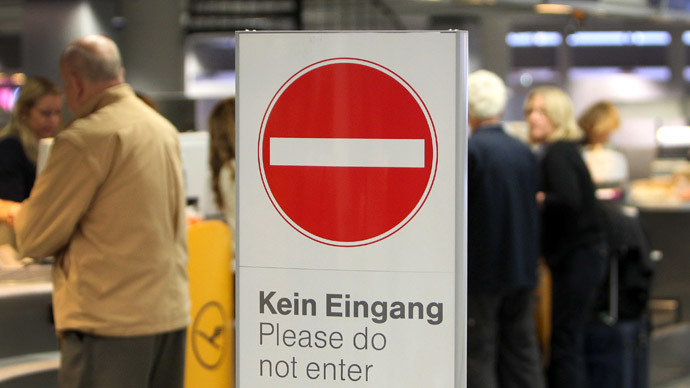 Authorities suspect three teenage girls from suburban Denver, who stole money from their parents and flew to Germany over the weekend, were attempting to reach Syria to join Islamic State, the extremist group now being targeted by US-led airstrikes.
The young women - two sisters, ages 17 and 15, and a 16-year-old friend - were stopped in Frankfurt, Germany and returned to their families in Colorado, said FBI spokeswoman Suzie Payne, according to AP.
Speaking anonymously about an ongoing investigation, a US official said, according to AP, that the teens were on their way to Turkey, then Syria. Investigators are reviewing evidence, including the girls' computers.
Another US official said evidence clearly indicated their destination was Syria, but that investigators have yet to determine their contacts there. The official added that investigators are also attempting to determine if they have "like-minded" friends or acquaintances at school or elsewhere.
The teenagers were reported missing by their families after they were absent from school on Friday, according to Glenn Thompson, of the Arapahoe County Sheriff's Department.
The sisters' father said he took action upon realizing that the girls' passports were gone, along with $2,000, according to police reports.
According to the missing person's report, the girls said they stayed in the Frankfurt airport for a day before they were detained, questioned, and sent home. The FBI questioned them again upon their return.
The trio said they were in Germany for "family."
Meanwhile, their families back in Colorado had not reported any previous problems with the girls. The sisters' family refused to comment to AP about the incident.
As juveniles, it's not clear if the teens will face charges. Criminal acts by minors are seen as "delinquency" in the federal justice system.
Last month, 19-year-old Shannon Conley, also of the Denver metropolitan area, pleaded guilty to charges that she conspired to aid extremists in Syria. She told authorities she had planned to marry someone she met online claiming to be a Tunisian man fighting with Islamic State in Syria. The group, also known as ISIS and ISIL, has come to control large swaths of territory in Syria and Iraq during its rise to power amid Syria's civil war.
Once in Syria, Conley said she thought she could use her US Army Explorers training to fight or her nurse's aide background. She was arrested in April as she boarded a flight on the way to Syria. She could face as much as five years in federal prison and a $250,000 fine upon sentencing in January.