Denver teen convicted of trying to join ISIS gets 4 years in prison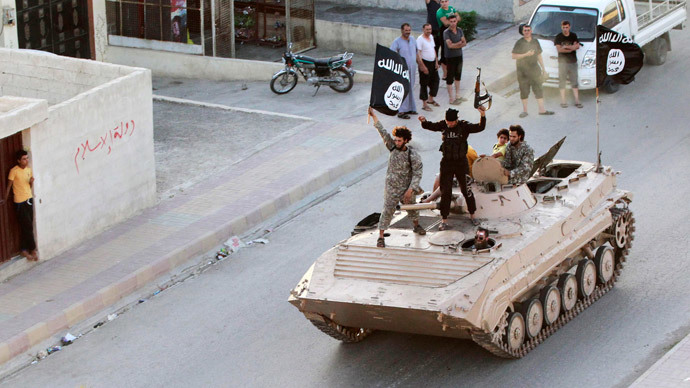 ​The first American to be convicted of trying to join the Islamic State was sentenced to four years in federal prison on Friday, though the teenage Muslim convert said she was manipulated and does not support violent jihad.
The sentence which was handed down on Friday follows the arrest of the 19-year-old Shannon Maureen Conley by FBI agents at Denver International Airport in April 2014. Conley had been boarding a plane bound for Germany with the intention of joining the Islamic State effort. She told agents she was going to Turkey to await word from an Islamic State member in Syria, allegedly Yousr Mouelhi, whom she planned to marry.
READ MORE:From GI Jane to Jihad Judy? Colorado teen arrested en route to assist ISIS militants
Conley said she intended to become a nurse in an Islamic State (formerly ISIS) camp, and is currently a Colorado-certified nurse's aide. The 19-year-old, now Amatullah Maureen Conley, has struck up an online relationship last year with a Tunisian man, Yousr Mouelhi, whom the FBI alleged in court documents was a member of IS.
Shannon Maureen Conley arrested at Denver airport as she prepared 'to join ISIS' | Mail Online http://t.co/HyZqD1wIQb

— Amil Imani (@ImaniAmil) September 10, 2014
IS has been designated a terrorist organization by the United States government, and Conley pleaded guilty to the charges.
READ MORE:Ohio man arrested for 'plotting' ISIS-inspired attack on Capitol
Wearing a black and tan headscarf with her jail uniform, Conley tearfully told the judge that she has rejected jihad and that the people who influenced her misconstrued the Koran, according to the Huffington Post.
Judge Raymond Moore told the court that the sentence had been meant to deter others with similar intentions. The judge said he doubted Conley had disavowed jihad because of a letter she wrote while in jail, in which she ridiculed other inmates for denouncing terrorism. He added she had a history of defiance and the girl needed some emotional help.
"Defiance has been a part of her fabric for a long time. She has been defiant before this," the judge said. "This is not the exceptional act. This is Shannon being defiant yet again."
Conley could have faced a longer sentence, but she agreed to share information with the FBI about other people with similar intentions.
READ MORE:3 Denver girls escape from home to join ISIS, stopped in Germany
Authorities became aware of Conley's growing interest in extremism in November 2013, after she started talking about terrorism with employees of a suburban Denver church. They had seen her wandering around and taking notes on the layout of the campus, according to court documents. They met Conley repeatedly to persuade her from leaving and suggested humanitarian work as an alternative. She told them she was intent on waging jihad and believed it was her only answer to correcting what she saw as wrongs perpetrated against the Muslim world.
El FBI arrestó a Shannon Maureen Conley por apoyar al Estado Islámico en Irak y el Levante; buscaba casarse co... http://t.co/Ue6jgwJPzz

— Samuel Ledesma (@Sami_Ledesma) July 3, 2014
When Conley was sentenced in court, two of the few attendees had been her parents. They said IS is extremely savvy with its internet propaganda, and her daughter is a victim. Her mother worries about other impressionable young Americans.
"She was clueless. She's just a teenager, young, with a big mouth," AnnaMaria Conley told CNN last year. "I think another time, another place, she would just be another kid with a big mouth."
You can share this story on social media: