Teacher asks 13yo black Muslim girl if she has bomb in her bag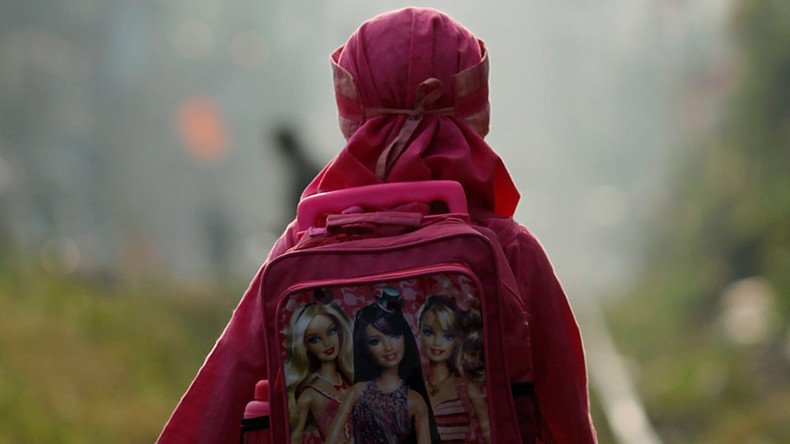 A Georgia teacher is in hot water after asking a 13-year-old black Muslim student whether she had a bomb in her backpack. As the girl's parents expressed frustration, Shiloh Middle School said the teacher had no "ill intent" and she will not be punished.
The unnamed teenage daughter of Abdirizak Aden, who also happens to wear a hijab, said that a Shiloh Middle School teacher stopped her on a way to a class and asked if there was a bomb in her bag. The girl remained silent, but then texted her father to tell about the incident, the Atlanta Journal-Constitution reported.
"My daughter wanted to know why she was asking her that," Aden told the newspaper. "We are from Africa, we are Muslims, we live in America," he added. "I didn't teach my children to hate people or to think they are better than other people. I don't want nobody to treat them like that."
Abdirizak Aden was born in Somalia, but now lives and works in in Snellville. "I was upset," he said about the incident. "I was going to take my daughter out (of that school)."
The girl, who is not being named due to her age, said, "It was very disrespectful".
"I came there to learn… At the end of the day I will still get my A or B and leave her class," the teen said.
The teacher has not been publically identified, but Gwinnett County Public Schools has confirmed that the incident did take place.
"The remark was not appropriate," spokeswoman Sloan Roach said to the paper. However, school officials don't believe that it was made with "ill intent".
According to Roach, the teacher was apparently trying to make students put their backpacks away when she rhetorically asked the student, "basically, what do you have in there, a bomb?" the AJC reported.
The school's principal, Eli Welch III, has spoken to both the teacher and the Adens. Welch III has also expressed apologies to the girl and her father. The family said they forgave the teacher.
As the girl told the AJC, the teacher realized that her joke went too far, especially because of "the things happening in the world right now."
The incident comes amid concern over growing Islamophobia in the US, following attacks in Paris and San Bernardino. US Republican presidential hopeful Donald Trump's comments about banning Muslim immigration earlier this week triggered a burst of indignation across the globe.
You can share this story on social media: