Suspicious threat: Sikh woman's breast pump causes terror alert before Delta flight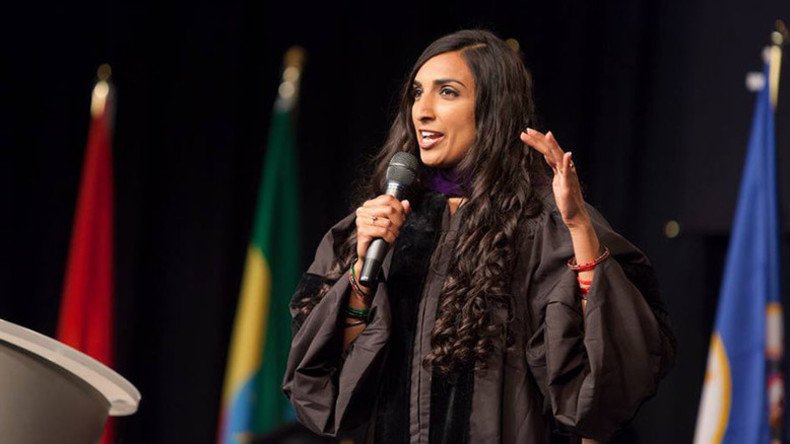 A Sikh activist and nursing mother's simple preparation to gain access to a breast pump as she boarded a Delta flight caused passenger hysteria over terrorism. The incident left the mother "angry and shaken and sad."
The panic began when Valarie Kaur removed a luggage tag from her on-air bag so that she could more easily access a breast pump during a Delta flight from Minneapolis to Los Angeles. The move alarmed a passenger behind her, who then confronted her.
"The passenger behind me raised his voice. I turned around. He was a white man and his face was angry. He asked why I removed the tag. I offered to explain but he said he didn't want to know," wrote Kaur in a Facebook status update on Thursday.
Kaur said the passenger then told other passengers in the line, causing a flight attendant to arrive, who was equally alarmed and angered.
"I explained that I was a nursing mother, but she still didn't let me board with my bag. Her face was just as angry. I had to pull out the breast pump to show her. Only then was I allowed to take my seat. All the passengers in first class watched and I smiled weakly to show them I wasn't a terrorist," added Kaur.
The Sikh attorney, filmmaker, and interfaith leader has regularly appeared on MSNBC and her commentary is often quoted by CNN, NPR, PBS, the Washington Post, the Huffington Post, The Hill and the New York Times. Her work has focused on hate crimes against Sikh and Muslim Americans, racial profiling, immigrant detention and solitary confinement.
Kaur said she was "angry and shaken and sad" as she flew home to celebrate her son's first birthday. "I'm thinking of the countless subtle acts of profiling of Muslim, Sikh and brown bodies in the last 14 years," she said.
Kaur updated her post to note that a Delta representative had contacted her through Twitter and offered an apology, and she pointed out that the rest of the flight crew had been professional and respectful.
In a related incident, a Spirit Airlines flight made an emergency landing at Fort Lauderdale International airport on November 20 after officials said a bomb threat had been made. Officials said the threat was made by a person on board but "no apparent threat" was ever identified, and no bomb was found on board the aircraft.
The same airline hit news headlines on November 17 for escorting a woman and three men off a plane for questioning. They were aboard a flight due to leave Baltimore for Chicago O'Hare International Airport.
The flight's departure was interrupted after a witness reported alleged "suspicious activity" to the flight crew, according to Maryland Transportation Authority police.
Police said the "suspicious activity" was one of the passengers watching a news report on a smartphone. Other passengers told the Baltimore Sun the four passengers were of Middle Eastern descent, but police would not release any information about them.
The Council on American-Islamic Relations said the passengers were targets of racial profiling, and has sought an apology from the airline.
You can share this story on social media: