Muslim group CAIR's HQ evacuated after powdery substance found in envelope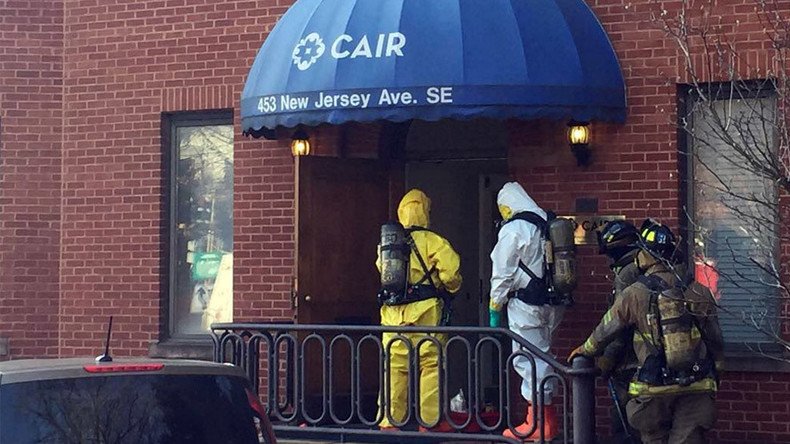 The headquarters of Muslim advocacy organization Council on American-Islamic Relations (CAIR) in Washington, DC was evacuated Wednesday after receiving an envelope filled with a suspicious substance. The substance was later found to be not dangerous.
"We're all outside the building," says Ibrahim Hooper, CAIR's National Communications Director, according to DCist. The exception was two staffers who came in contact with the white, powdery substance, who remain quarantined inside the building located on Capitol Hill.
At 3:08 p.m. local time, CAIR made a Facebook post saying that "[p]reliminary field tests indicate the substance is not dangerous, letter is now in the hands of the FBI for more extensive tests and investigation."
After opening a piece of mail, they experience headaches and coughing fits, CAIR Executive Director told the BBC.
Police and emergency personnel in hazmat gear responded to the scene.
"We receive hate messages daily because of our advocacy on behalf of the American Muslim community. It's frightening to experience the hate manifest itself to such a real level," CAIR Staff Attorney Maha Sayed said in a statement. "This will not deter us from continuing to protect the civil rights and liberties of all Americans."
Police have closed off the area, which is located only a half-mile (0.73km) from the United States Capitol building.
You can share this story on social media: