'Poor door': 90K apply for affordable units with separate entrance inside glitzy NYC high-rise
Published time: 21 Apr, 2015 17:23
Edited time: 21 Apr, 2015 17:41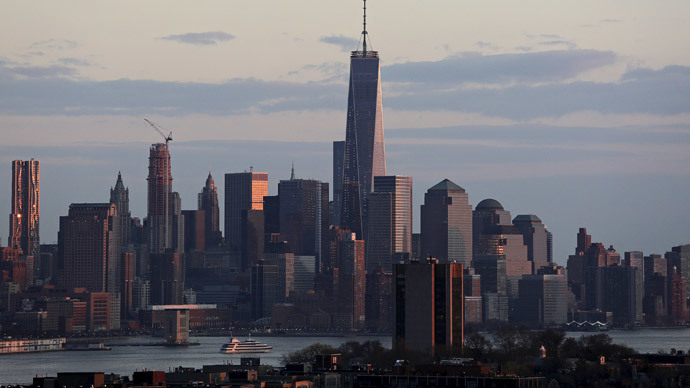 Nearly 90,000 people have applied for affordable apartments available in a new 33-story luxury condo building in Manhattan. The building made news last summer for its "poor door," or separate access for those that will live in its 55 below-market rentals.
Monday was the deadline to apply for the 55 units. Now, the Housing Partnership, a nonprofit group that's screening applicants, will randomly select those to be interviewed in order to verify their eligibility based on income, family size, disabilities, and other criteria, according to reports.
While wealthy residents will be able to enter the building from its designated front entrance, affordable housing tenants will be required to go in through a back alley.
The affordable two-bedroom units require tenants to not earn more than $50,304 a year for a family of four. The most expensive rent for one of those 55 units is $1,082 a month. These apartments will be lower in the building – 'street views' - with access to a community room and bike storage.
READ MORE: 1 in 3 US families classified as 'working poor,' higher for minorities
The building, on Manhattan's gilded Upper West Side, will also include about 219 luxury condos that will sell for $1 million to $25 million apiece. These units will come with views of the city skyline and much more. Condo residents will have access to a pool, bowling alley, rock climbing wall, a golf simulator and a screening room.
Last summer, New York City's Department of Housing Preservation and Development approved plans for the 33-story high-rise, which was designed by Extell Development Company. Extell did not comment on Monday's application deadline.
The 'poor door' arrangement, while not novel in America's most expensive city, has drawn accusations of income segregation amid ongoing discussions of the New York's steep income inequality.
Oh New York City, you're so progressive and forward-thinking. http://t.co/hhRxNyYO2V#poordoor#NYC#realestate

— Eric Martin (@EricJMartin) April 21, 2015
"This 'separate but equal' arrangement is abominable and has no place in the 21st century, let alone on the Upper West Side," Linda B. Rosenthal, a New York State assemblywoman who represents the district, said last July to local news outlet West Side Rag.
"A mandatory affordable housing plan is not license to segregate lower-income tenants from those who are well-off. The developer must follow the spirit as well the letter of the law when building affordable housing, and this plan is clearly not what was intended by the community."
READ MORE: Income inequality increasing in major US cities
apartments, while critics say that actively blocking some rent-regulated residents from using facilities acts as a clear signal for them to move out.
New York City Mayor Bill de Blasio has criticized 'poor door' complexes.
"We oppose so-called 'poor doors' and will change the necessary rules so that when affordable housing is provided on-site, we will not allow separate entrances based on income," said Wiley Norvell, a spokesman for the mayor.
Some city developers have claimed that new amenities are there to attract tenants willing to pay higher prices for apartments, while critics say that actively blocking some rent-regulated residents from using facilities acts as a clear signal for them to move out.
I'm just thrown af at the existence of a "poor door" without riots.

— Terrence Trill Darby (@weian_fu) April 21, 2015
New York City is a hotbed for income inequality in an America increasingly divided by uneven wealth distribution. The median rent in New York City for a newly-listed one-bedroom apartment in January 2015 was $3,000 per month, the second-highest sum after San Francisco.
READ MORE: America's wealthiest families smash income ceiling, middle-class left far behind
As RT previously reported, one-third of New Yorkers spend at least half of their annual income on housing. What's more, only one percent of the city's population is responsible for earning about 45 percent of its income, as of 2007.
One in 25 New Yorkers is a millionaire, according to a July 2014 study, which ranked the Big Apple fourth in the top 20 global cities for high earners. The city also remains a prime favorite for the super-rich, as it's one of the top five cities for housing billionaires.