Inequality gap between super rich and poor continues to widen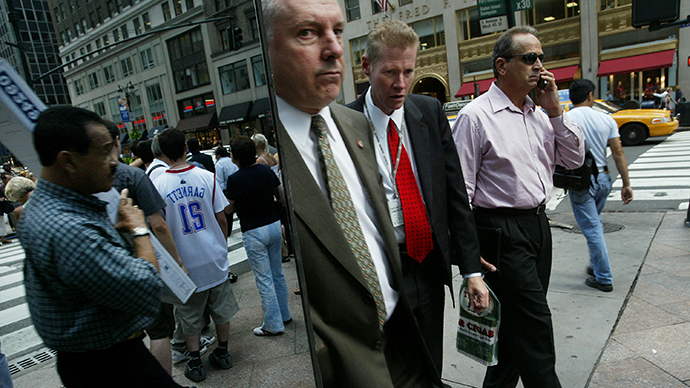 Things aren't getting much better for the gap between America's rich and poor: a new study reveals that inequality within the United States is only getting worse.
The Sadoff Investment Research firm of Wisconsin has released the results of a recent report, and it indicates that the ongoing issue of inequality is continuing to keep America's poor vastly separated from the more financially fortunate.
According to the investment group's recent findings, the top one percent of wage-earning households in the US were reaping in around $1,264,065 in 2012 — or around 41-times as much as the average income for all wage-earners, who pulled in a comparable meager mean income of $30,997 that year.
The greatest demonstration of inequality is most evident in the income generated by not the top one percent, though, but by the sliver of the US population that makes more than 99.9 percent of the country. According to the firm's research, the top 0.1 percent of Americans earned around $6,373,782 during that same 12-month span — or around 206 times what the average family in the US earned.
"The 'top one percent' might be the primary target of the masses' ire and envy, but it's actually the top 0.1 percent who are grabbing a bigger slice of wealth," Matt Krantz wrote for USA Today this week.
Of course, even that small chunk of the population has an even more exclusive group to be jealous of: according to the group's report, the top 0.01 percent of the nation's top-earning households brought in more than $30 million apiece in 2012 — or around one thousand times what the average American earned.
With regards to the .1 percent, the researchers found that nearly a quarter of those wealthy Americans earned their money through work in the nation's financial industry. Around 40 percent are either executive, managers and supervisors, the study found, and the "vast majority" of them live in New York, Los Angeles, San Francisco, Chicago, Washington D.C. or Houston.
And while efforts to raise the minimum wage across the US have been rekindled in recent months, it likely won't give those outside of the financial industry a particularly big boost: Think Progress writer Bruce Covert wrote this week that gap between rich and poor has been growing steadily since the 1970s, but is now at a level that hasn't been seen since the Great Depression.
"Since the 1980s, the top 0.1 percent of the wealth distribution, or those who have more than $20 million in assets, has seen big increases, and the top 0.01 percent, or those with more than $100 million, has seen even bigger ones. But there hasn't been a big jump in wealth inequality for people below the 0.1 percent," Covert wrote.
You can share this story on social media: