Take guns away from minority males - former NYC Mayor Bloomberg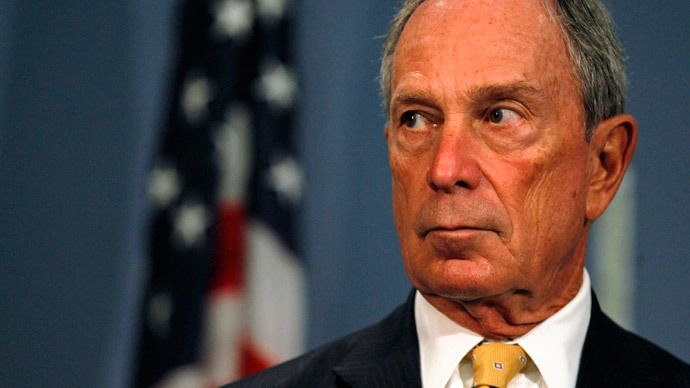 To keep them alive, young minority males should not be allowed to possess firearms, former New York City Mayor Michael Bloomberg said before a sold-out crowd at the Aspen Institute.
During his 12 years in office, the former mayor of America's most unequal city by income was an ardent defender of a police program known as stop-and-frisk. The practice was deemed by a federal judge to be a systemically racist strategy that violated constitutional rights. Bloomberg maintained that 95 percent of murders in the US involved a minority male aged between 15 and 25. While he indicated that access to education remains a glaring problem in America, the former mayor chose to discuss gun ownership when asked by a moderator what the US can do for kids "who have been failed."
"These kids think they're going to get killed anyway because all their friends are getting killed," Bloomberg said on Friday, according to The Aspen Times. "They just don't have any long-term focus or anything. It's a joke to have a gun. It's a joke to pull a trigger."
Mayor Bloomberg Should Apologize For Racist Remarks on Blacks & Guns, says NYSRPA http://t.co/ozvL0g7eGg#gunfail#nra

— Tom Wellborn (@TLW3) February 9, 2015
The deep-pocketed Bloomberg is funding the gun-control advocacy group Everytown for Gun Safety that is currently pushing gun reform legislative proposals across the US.
Bloomberg also called for increased vocational education so that schooling in the US can boost self-sustainability and self-dignity in children. He said opting to become a plumber is more practical and may be a better long-term decision than trying for Harvard.
"The Harvard graduate on average will never catch up to a plumber," Bloomberg said. "Partially because the first four years -- instead of spending $60,000, you make $60,000."
READ MORE: Bloomberg: NYPD officers 'disproportionately stop whites too much and minorities too little'
He touted New York's service- and tourist-based economy, claiming that waitresses at the Waldorf Astoria Hotel, a landmark for rich visitors, can make $150,000 a year, and a waitress at a decent city restaurant can earn up to $60,000 a year.
"It's always the poor that get screwed," Bloomberg said before the Aspen Institute. He added that he'd like to write a book about the cycle of poverty.
New York City is a hotbed for income inequality in an America increasingly divided by uneven wealth distribution. The median rent in New York City for a newly-listed one-bedroom apartment in January was $3,000 per month, the second-highest sum after San Francisco.
READ MORE: Bloomberg and NYPD sued for spying on Muslims
One in 25 New Yorkers is a millionaire, according to a July 2014 study, which ranked the Big Apple fourth in the top 20 global cities for high earners. The city also remains a prime favorite for the super-rich, as it's one of the top five cities for housing billionaires.
Bloomberg himself was worth more than $37 billion as of September 2014, according to Forbes, making him the tenth-wealthiest individual in the US.
As New York City has become perpetually more difficult to afford in recent decades -- including Bloomberg's three terms in office from 2002 to 2014 -- the city's policing policies, including stop-and-frisk, have become more aggressive.
While in office, Bloomberg and New York Police Department officials of his era said the stop-and-frisk program targeted minorities more often because they were responsible for a higher percentage of crime. However, only 11 percent of stops in 2011 were based on a description of a violent crime suspect. Furthermore, no research to this day has shown that stop-and-frisk has reduced violent crime. In fact, as stop-and-frisk policing has become more limited under Bloomberg's successor, Mayor Bill de Blasio, violent crime has decreased as well.
READ MORE: Bloomberg seeks mandatory fingerprinting for NYC public housing residents
"Your safety and the safety of your kids is now in the hands of some woman who does not have the expertise to do it," Bloomberg said in August 2013, after federal Judge Schira Scheindlin ruled that the "stop, question and frisk" program instituted by the NYPD in 2002 was unlawful and "racially discriminatory."
According to the NYPD's 2012 statistics, while 84 percent of those stopped were black or Latino, the likelihood that an African American would have a weapon during a stop-and-frisk was half that of white New Yorkers stopped. When it came to discovering contraband, officers were a third more likely to find illegal items on a white suspect.
"Make no mistake, this is a dangerous piece of legislation and anyone who supports it is courting disaster," Bloomberg said in April 2013, in response to the city council's legislative efforts to reform stop-and-frisk. "If you end street stops looking for guns, there will be more guns on the streets, and more people will be killed. It's that simple."
Yet, statistics have shown that stop-and-frisk was lousy at recovering guns, as 0.2 percent of all stops yielded a firearm.
While in Aspen, Bloomberg, 72, also slammed the trend of legalizing marijuana. He said the drug was more detrimental to the developing minds of children than alcohol.
"What are we going to say in 10 years when we see all these kids whose IQs are 5 and 10 points lower than they would have been?" he said. "I couldn't feel more strongly about it, and my girlfriend says it's no different than alcohol. It is different than alcohol. This is one of the stupider things that's happening across our country."
this person said that colorado legalizing marijuana was a terrible idea http://t.co/fHsxWRYGI3pic.twitter.com/hCllpJKTbS

— desaparecido (@Tvrzan) February 9, 2015
You can share this story on social media: