Bloomberg and NYPD sued for spying on Muslims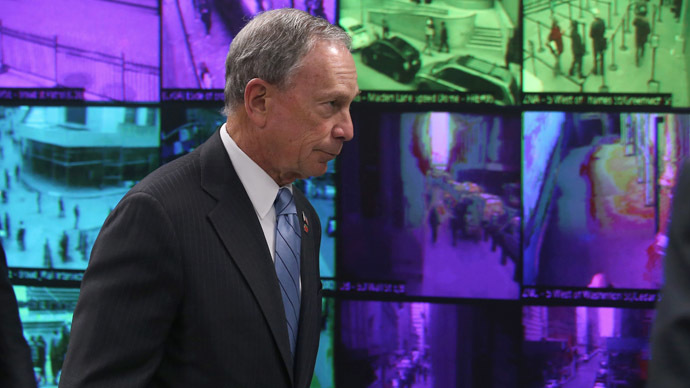 A lawsuit filed against the NYPD accuses the city's police of regularly violating the civil rights of Muslims. The suit claims that the NYPD unconstitutionally profiles and intimidates them, thereby discouraging them from practicing their religion.
Civil rights lawyers filed the lawsuit in a federal Manhattan court on Tuesday. Shortly thereafter, supporters of the suit formed a rally outside of the New York Police Department's headquarters to reinforce their complaints.
"Our mosque should be an open, religious, spiritual sanctuary, but NYPD spying has turned it into a place of suspicion and censorship," Hamid Hassan Raza, an imam named as a plaintiff in the case, said at the rally.
The lawsuit was filed by civil rights lawyers on behalf of numerous religious and community leaders, mosques, and a charitable organization that were victims of the NYPD's  surveillance of Muslim New Yorkers. The lawsuit requests the court to declare such spy initiatives unconstitutional and order the destruction of records related to the program.
The suit is the third major legal action filed against the NYPD for its surveillance of Muslims, since information about the spy program was first revealed in 2011. The document lists Mayor Michael Bloomberg, police commissioner Raymond Kelly, and deputy commissioner of intelligence David Cohen as defendants. Bloomberg has long defended the controversial spy program, claiming that it helps thwart terrorist attacks. But victims of the surveillance believe the NYPD has gone too far, prompting them to change their lifestyles to avoid becoming a target.
"When a police department turns law-abiding people into suspects because they go to a mosque and not a church or synagogue, it violates our Constitution's guarantees of equality and religious freedom," Hina Shamsi, director of the ACLU National Security Project, said in a press release announcing the suit.
"No one questions that the NYPD has a job to do, but spying on innocent New Yorkers because of their religion is a wrong and ineffective way to do it," Shamsi added.
The suit describes the fears held by Muslims like Raza, who works as a spiritual leader of Brooklyn's Al-Ansar mosque. Afraid that he would be misquoted or that his sermons would be taken out of context and scrutinized by the NYPD, Raza has been recording them for years. He avoids bringing up controversial topics and has witnessed a lagging attendance at mosques, due to the Muslim Surveillance Program.
"I don't talk to my congregants about current affairs or religious subjects the NYPD may find objectionable because I'm afraid of further police attention," Raza said. "The surveillance program has prevented me from fulfilling my duty as an imam. I cannot believe this has happened in the country that I know and love."
The lawsuit accuses New York City of violating the First and Fourteenth Amendments. It was filed at a time when the National Security Agency is under scrutiny for its extensive domestic spy tactics first revealed by contractor Edward Snowden.
From the federal government to Big Apple's police force, widespread domestic surveillance initiatives have left some Americans terrified, particularly Muslims whose daily activities are being secretly monitored by the NYPD.
You can share this story on social media: