Furious Bloomberg claims NYPD is 'under attack' over stop-and-frisk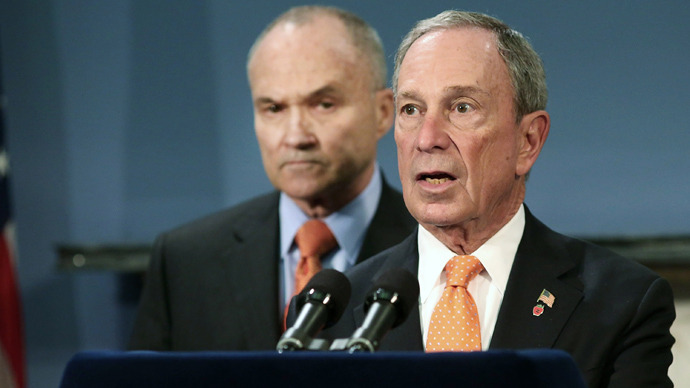 During a Tuesday speech to New York City Police Department brass, Mayor Michael Bloomberg equated critics of the controversial stop-and-frisk policy, which is the subject of an ongoing federal lawsuit, with an unruly mob.
Stop-and-frisk was enacted in 2002, but has drawn public ire in recent months after a federal judge ruled in January that the practice of searching pedestrians without probable cause is unconstitutional.
The NYPD has also been the subject of a civil lawsuit in federal court meant to determine whether patrol officers target minorities and are required to meet monthly arrest quotas. Current and former officers have testified in the affirmative to both counts.
The scrutiny has apparently incensed Mayor Bloomberg, who spent almost an hour Tuesday morning assailing proponents of a bill proposed by mayoral candidate Christine Quinn that would appoint an inspector general to oversee the NYPD. Bloomberg argued the legislation is an example of "putting ideology and election-year politics in front of public safety."
"Hard to believe, but the NYPD is under attack," Bloomberg said during the speech on the second floor of police headquarters in downtown Manhattan. "Probably because this is an election year. The attacks most often come from people who play no constructive role in keeping our city safe, but rather view their jobs as pointing fingers from the steps of City Hall."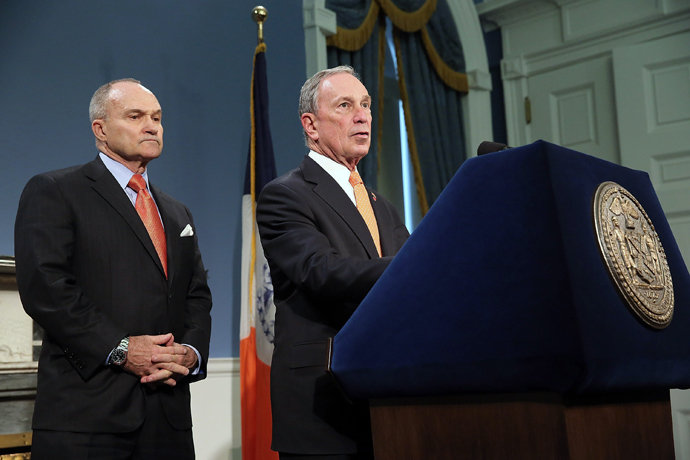 Bloomberg's third mayoral term comes to an end this year, but the 71-year-old billionaire is going out swinging. He's spent months denouncing candidates who have criticized his stance on major issues, although Quinn – a former underling and City Council speaker – largely avoided his scorn before turning face on the administration's stance on stop-and-frisk.
"Some of them scream that they know better than you how to run the department," he continued. "Some have even sued the NYPD and demanded a federal monitor over NYPD operations. They've also drafted politically driven legislation that is a reaction to two NYPD practices: Stop, Question and Frisk; and counter-terrorism intelligence gathering."
"Make no mistake, this is a dangerous piece of legislation and anyone who supports it is courting disaster," Bloomberg went on. "If you end street stops looking for guns, there will be more guns on the streets, and more people will be killed. It's that simple." 
Also drawing the mayor's contempt was the American Civil Liberties Union, which has been a Bloomberg target dating back to his initial election; and The New York Times, which has published a string of editorials scolding the stop-and-frisk policies advanced by the mayor and Police Commissioner Ray Kelly.
Ironically, Bloomberg levied the same critique against the Times that the NYPD is so often charged with. He accused Times editors of selecting their coverage based on race, a reference to the paper's recent decision to ignore the shooting death of Alphonza Bryant, a black teen living in the Bronx.
"Four days after Alphonza Bryant's murder went unreported by the Times, the paper published another editorial attacking stop-question-and-frisk," he said Tuesday. "Do you think if a white 17-year-old prep student from Manhattan was murdered, the Times would have ignored it? I think not."
Danielle Rhoades Ha, a spokeswoman for the newspaper, told Politico Bloomberg's assertion was "absurd."
"Mayor Bloomberg is trying to deflect criticism of the city's stop-and-frisk practice by accusing The New York Times of bias," Ha said. "Among those critical of the practice is The New york Times' editorial board, which is separate from the news side of the newspaper. The Times aggressively covers violence in the city's neighborhoods, and to select one murder as evidence to the contrary is disingenuous. His claim of racial bias is absurd."
You can share this story on social media: