1 in 3 US families classified as 'working poor,' higher for minorities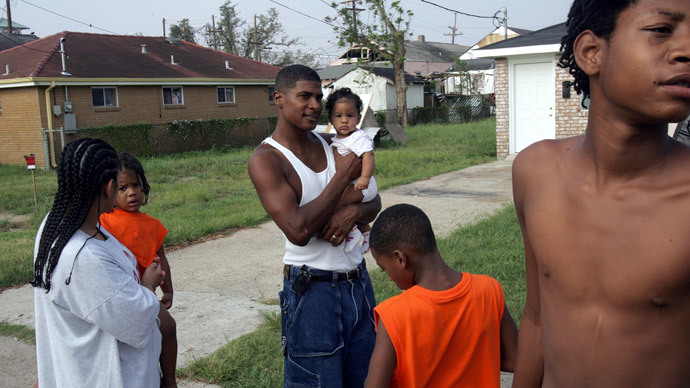 Almost a third of American families are low-income, with racial and ethnic minorities far more likely to be poor, according to a new report. Activists advise more education, training, health and child care to close the gap.
US Census bureau data for 2013 shows that 10.6 million out of 32.6 million US working families have incomes under 200 percent of the official poverty level, according to the new report by the Working Poor Families Project (WPFP). Black, Latino and Native American working families make up 58 percent of these working poor, although their share of the overall workforce is 40 percent.
"With more than 10 million working families in the United States not making enough money to cover basic household expenses, states can and should take action," the report urged.
Black and Latino working families are twice as likely as others to be low-income http://t.co/25moVvgaR6

— Washington Post (@washingtonpost) March 16, 2015
"This is a moral as well as economic issue that's defining the fairness of our society," said Brandon Roberts, one of the study's authors.
White Americans still made up the largest single group among the working poor, at 4.4 million, or 23 percent. But 55 percent of working Latino families, and almost half of African-American and Native American families, were low income. Furthermore, over a third of African-American and Latino working families fell into the lowest income bracket, earning less than $32,000 a year. There was a 25 percentage point gap between white and minority low-income families, an increase of two percentage points since 2007.
Younger families had an even harder time, with 76 percent of working minority families led by 18-24 year-olds considered low-income, compared to 47 percent of families led by workers ages 25-54. A much higher percentage of African American low-income families were single-parent, 73 percent compared to 46 percent of white families.
Of the 24 million US children that live in poverty, 14 million – three out of five – are "children of color," says WPFP. "Eliminating racial/ethnic poverty gaps would potentially reduce the number of children in poverty by 45 percent in 2050, compared with the projected number of poor children if current disparities persist," the report claims.
24 million U.S. children are in working poor families. 3 in 5 are racial or ethnic minorities http://t.co/3PSJSi2MDEpic.twitter.com/nEO7XAG7st

— Sudeep Reddy (@Reddy) March 16, 2015
Geographically, the WPFP report showed that minority working families had higher income in parts of the Northeast, the Mid-Atlantic, Alaska and Hawaii, compared to the minority families in the upper Midwest and the Mississippi Delta.
Education was a major factor in disparate poverty rates. While 16 percent of white working families had at least one parent without a high-school diploma or GED, the figure for Latino working families was over 50 percent.
The WPFP deemed the statistics particularly alarming given that racial and ethnic minorities are expected to make up the majority of the US population and labor force in by mid-century.
"Minority workers will play a critical role in keeping Social Security and Medicare solvent," says the report. "But if current levels of inequality persist, younger workers and their families will not be able to move into the middle class and replace retiring baby boomers in the workforce. "
You can share this story on social media: