NYPD commissioner: Officers turning backs on mayor at funeral 'very inappropriate'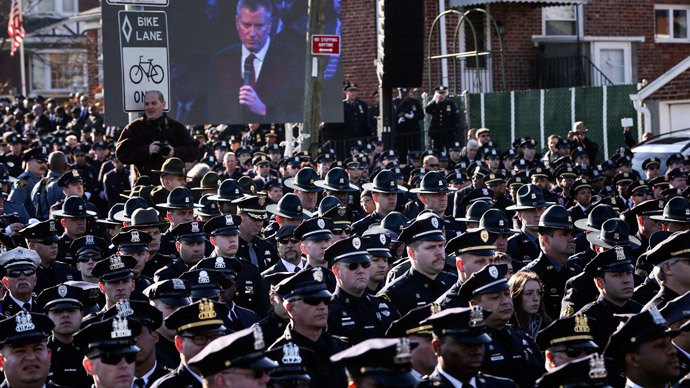 New York Police Department Commissioner Bill Bratton criticized the officers under his command for protesting a perceived lack of support from New York Mayor Bill de Blasio. He also defended the NYPD to city residents rallying against police brutality.
After the August death ofEric Garner‒ who died when he was placed in a banned chokehold byNYPD Officer Daniel Pantaleo‒ and several otherhigh-profilepolice brutalityincidentsandofficer-involved shootings, city residents haveprotested the use of forceby police officers throughout the Big Apple.
The NYPD is now facing a second schism, this time with the city administration. The result is that Bratton "has been thrust into the role of a peacemaker between rank-and-file officers furious over what they see as disrespect from City Hall, and Mayor Bill de Blasio, who has spoken about trying to bring about a city in which minority residents feel they are being treated fairly by the police," according to The New York Times.
Officers' anger boiled over during the mayor's speech at the funeral of Rafael Ramos, one of two NYPD officers killed in an 'execution-style' attack. Attending police turned their backs to the screen in protest.
On the Sunday talk shows, Bratton condemned the silent protest.
"I think it was very inappropriate at that event," the commissioner said on CBS' Face the Nation. "That funeral was held to honor Officer Ramos, and to bring politics or to bring issues into that event, I think was very inappropriate, and I do not support it. He is the mayor of New York. He was there representing the citizens of New York to express their remorse and their regret at that death. It was inappropriate, and at the same time, it is reflective, unfortunately, of the feelings of some of our officers."
READ MORE:Black NYPD cops expose climate of rampant racial profiling in force
But, he said he understands their frustrations. "Morale in the department at this time is low, there's no getting around that," he noted, citing a number of factors – including contract negotiations with the city, as well as national discussions about race and policing. Yet he also praised officers for showing "remarkable professional restraint when so much of the invective is directed directly against them, personally against them."
"In policing...sometimes it's difficult to see those [concerns]. And I made comments yesterday in my eulogy about seeing each other to understand," Bratton said on NBC's Meet the Press. "Right, when I say 'see each other,' that means to not look past each other, but to really see what is motivating what we're experiencing."
"I think it's probably a rift [with the mayor] that is going to go on for a while longer," he told host Chuck Todd. "However, we will be making efforts to sit down and talk with the union leaders in particular to deal with their issues."
Bill Bratton: Police Officers 'Feel Under Attack from Federal Government...: http://t.co/SCnsyUn1Iv via @YouTube

— marina borisova (@marinab62998008) December 29, 2014
Bratton also weighed in on the feeling of some police officers that they have been attacked by President Obama and Attorney General Eric Holder.
"They really do feel under attack, rank-and-file officers and much of American police leadership," he told Todd. "They feel that they are under attack from the federal government at the highest levels. So, that's something we need to understand also, this sense of perception that becomes a reality."
"So, it's going to be a painful process. It has to be an open process. But the process that has to be engaged in, my mayor, myself, we are committed to engaging in it," the commissioner added.
Despite Bratton's efforts, however, NYPD protests against the mayor continued Monday when de Blasio presided over the graduation of nearly 900 police cadets at a ceremony in Madison Square Garden. Boos and catcalls greeted the mayor when he was introduced, along with just a smattering of polite applause, ABC News reported. A few audience members in plainclothes stood with their backs to him during his speech, Newsday noted.
Watch: De Blasio Booed at Police Graduation: The New York mayor is booed at a graduation ceremony for new pol... http://t.co/x7BE7e0f4G

— Sound Around (@_SoundAround_) December 29, 2014
At one point de Blasio told the cadets: "You will confront all manner of problems...problems that you didn't create." Someone in the crowd then shouted, "No, you did!" to which audience members responded with laughter and applause.
De Blasio went on to cite poverty and mental illness as such problems, according to Newsday. He then told the cadets: "You can be part of the solution and that is a blessing." Earlier in the speech, the mayor praised new cops for "choosing what is a noble calling" and joining "the greatest and finest police department on this Earth."
He promised them, "We have a responsibility to you to keep you safe...that begins with giving you the very finest training, the most rigorous training and you have received that at the academy."
De Blasio was met with applause at the end of his brief remarks, the New York Post reported.
Bratton previously served as the NYPD's head from 1994 to 1996. The 67-year-old stepped back into the role at De Blasio's request, yet hoped to stay in the background this time around.