Father of six dead following NYPD street choking incident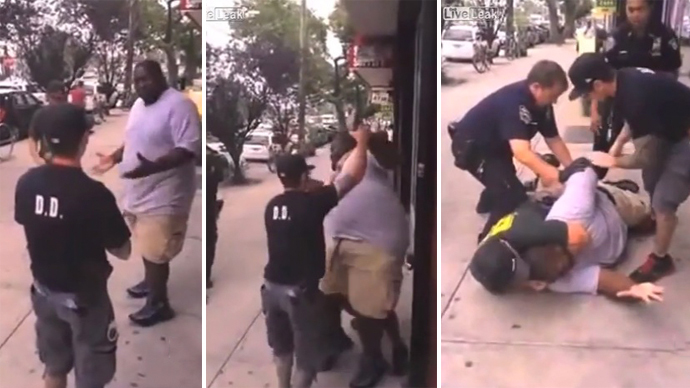 A New York City man is dead after an attempted arrest went horribly wrong, with police triggering a heart attack when placing the man in a chokehold and hitting his head on a sidewalk.
According to the New York Daily News, at least five New York Police Department officers took 43-year-old Eric Garner, a Staten Island father of six, to the ground in an attempted arrest on Staten Island. One put Garner in a chokehold that caused Garner – who suffered from asthma – to lose consciousness and reportedly go into cardiac arrest. He was declared dead at the Richmond University Medical Center.
The incident – much of which was caught on film by a witness – began when NYPD officers questioned Garner about selling untaxed cigarettes. According to Ramsey Orta, the 22-year-old who recorded the footage, Garner had just broken up a fight that took place in the area when police walked up and said they saw him selling cigarettes.
Police told the Associated Press that Garner had a history of run-ins with the law. He has been arrested 31 times since 1988 for infractions such as drug possession, assault, and selling untaxed cigarettes. Most recently, he was arrested in May for peddling cigarettes, but on this occasion Garner insisted he did nothing wrong.
"I didn't do s---!" the 6-foot-4 Garner can be heard saying in the video, which was obtained by the Daily News. "I was just minding my own business."
"Every time you see me you want to mess with me. I'm tired of it. It stops today!" he yelled.
In the video, officers can be seen moving in to arrest Garner while he tells them not to touch him. At this point, an office can be seen placing Garner in a chokehold from behind and multiple other officers moving in and helping to take him to the ground. Once down, an officer can be seen pressing Garner's head against the pavement, with Garner yelling multiple times, "I can't breathe! I can't breathe!"
Shortly afterwards, the man stops moving and stops responding.
Despite claims by the police, Garner's wife Esaw believes the NYPD acted with excessive and unnecessary force.
"They're covering their asses, he was breaking up a fight" she said to the Daily News. "They harassed and harassed my husband until they killed him."
That allegation was echoed by Orta, who told the AP, "Before they even grabbed him, he told them he wasn't feeling good and that's why I pulled the camera out and started recording. They could've just hopped out on the guys who were fighting, but they didn't bother to ask. They just jumped straight on him."
As a result of Garner's unfortunate death, the Staten Island District Attorney said his office has opened an investigation into the incident. New York City Mayor Bill de Blasio also issued a statement on the matter.
"We are harnessing all resources available to the city to ensure a full and thorough investigation of the circumstances of this tragic incident," he said.
According to the New York Times, the Civilian Complaint Review Board, which looks into police abuse accusations, received 233 complaints regarding chokeholds in 2013 – more than four percent of all excessive force complaints in New York.
You can share this story on social media: