Anti-police protesters in NYC reject call for moratorium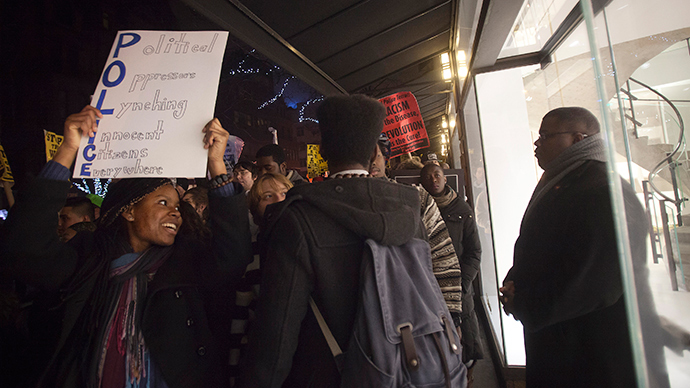 Hundreds of activists ignored pleas from the mayor's office to suspend protests against excessive police force following the shooting deaths of two officers. Meanwhile, activist groups plan a large demonstration for New Year's Eve.
Since the murders of police officers Wenjian Liu, 32, and Rafael Ramos, 40, who were shot dead as they sat in their patrol cars in Brooklyn on Saturday, the atmosphere has been tense between anti-police protesters and New York City authorities.
Following a moment of silence at New York's City Hall on Tuesday for the slain police officers, demonstrators took to the streets again, defying a call from the mayor for a moratorium on the protests until after the funerals of the two officers.
We don't have to choose between police or protests. #BlackLivesMatter#NYPDLivesMatter#DeBlasio#PoliceLivesMatterpic.twitter.com/tvi6o3JXuN

— Talbert Swan (@TalbertSwan) December 23, 2014
The protesters marched down 5th Avenue – with police officers lining the sidewalk to prevent them from blocking traffic, carrying signs, many of them accusing the cops of being 'racist.'
RT correspondent Alexksey Yaroshovsky reported live on the protests from Manhattan, where he provided a first-hand account of what the protesters are demanding.
"The chants that the people are shouting here have not changed," Yaroshevsky reported. "They are still demanding justice for Eric Garner and Michael Brown. They are still demanding the resignation of the NYPD Commissioner [Bill Bratton]."
Meanwhile, activists defended their right to take to the streets, despite the killing of the police officers.
"It's not as a disrespect to any life," Sumumba Sobukwe of the activist group, Occupy Wall Street, which has come out in support of the protest, told AFP. "But it's also to say we've had countless people killed by the police, and there's been no calls for a suspension on that."
"These actions are being used as a pretext to attack our movement and constitutional right to free speech and assembly," he said.
Imagine if the entire #NYPD came down with the #BlueFlu until #DeBlasio was forced to resign. #TurnYourBack#DeBlasioResign

— James Woods (@RealJamesWoods) December 21, 2014
Protesters wove their way down 5th Avenue carrying a large banner that read "Stop Racist Police Terror" as they passed store windows decorated for the Christmas shopping season.
Answer Coalition, organizers of the march in Manhattan, called the mayor's request to put a moratorium on protests an attempt to "chill" their freedom of speech, Reuters reported.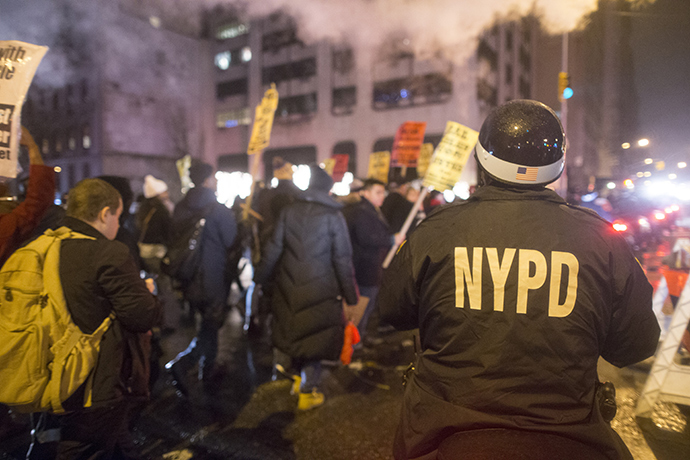 New York Mayor Bill de Blasio, who has been criticized by both protesters and police for his handling of the crisis, has attempted to defuse the situation.
"There's a lot of pain right now that we have to work our way through," de Blasio said. "We have to keep working to bring police and community together. We have to put the divisions of the past behind us."
"Right now, I want everyone to focus on these families, on their pain. Put yourselves in their shoes. Be there for them and be there for the extended family of the NYPD," he said.
#DeBlasio and #Obama are similar liberals, in that they BOTH promote LAWLESSNESS and diminish MORAL AUTHORITY of their respective offices..

— David Higgins (@dhiggins63) December 23, 2014
Before the killings of the two NYPD officers, de Blasio, who is married to a black woman, came under heavy criticism after telling reporters he had warned his teenage son to use discretion when dealing with police officers.
Protesters have taken to the streets in cities across the country to express their outrage over a series of incidences involving the killing of black men by white police officers – notably 18-year-old Michael Brown from Ferguson, Missouri who was shot and killed by a white officer in August, and Eric Garner, a father of six, who died after being placed in a choke hold by a police officer in New York in July.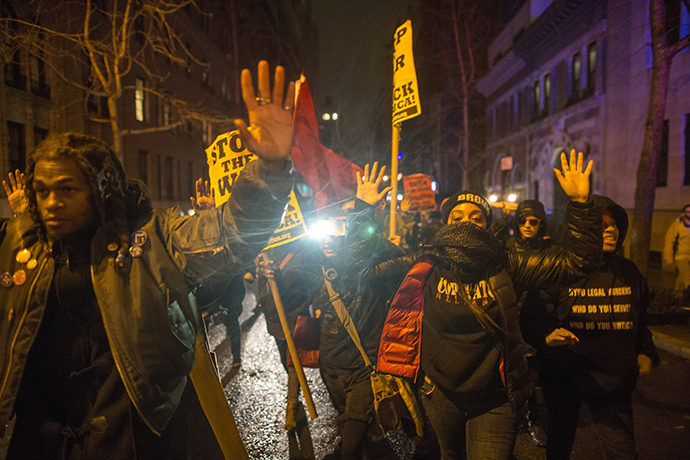 The officers have since been acquitted of any wrongdoing in the deaths.
US Vice President Joe Biden is expected to be in New York City on Saturday to attend the funeral service for Ramos, a White House spokesman said, as quoted by Reuters. No date has yet been announced for Liu's funeral with relatives expected to arrive from China.
You can share this story on social media: