Plainclothes NYPD officer hits teen subdued by other cops (VIDEO)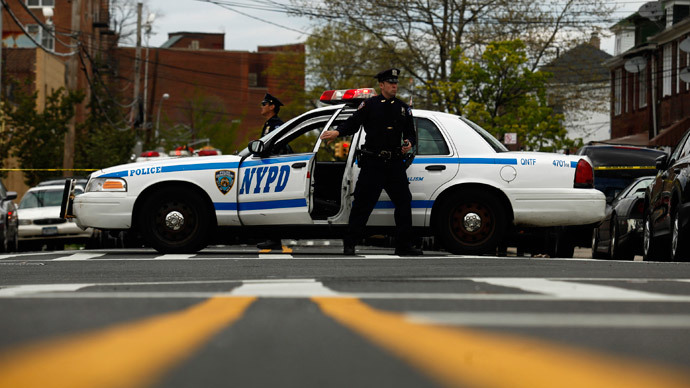 The New York Police Department said it has launched an internal investigation of a plainclothes police officer caught on video punching a young suspect as three uniformed cops tried to subdue and handcuff him during an arrest.
The video shows a young black man surrounded by NYPD officers when a white man in a camouflage jacket sprang from nowhere to punch multiple times in the stomach.
"Hey! Hey! Hey! Stop it! Get off of him!" yelled Sarah Doneghy, who recorded the incident and uploaded the video to YouTube. The video does not indicate the date or time of the incident.
Another bystander, who said she was a lawyer, claimed the suspect was only 12 years old.
"I can't believe he just did that after everything that's happened," she said, possibly referring to the NYPD killing of Eric Garner in July, which has set off local and nationwide protests over racial profiling and police brutality. Garner was questioned for illegally selling cigarettes, though he was not aggressive during the encounter. He was ultimately choked to death by a police officer. The incident was caught on video, yet a Staten Island grand jury chose not to indict Officer Daniel Pantaleo.
"You need a different profession," the lawyer bystander added, directed at the cops. "Go to war. This is not a war. This is a 12-year-old kid."
"Like you would go and do that to a little blonde, blue-eyed kid, come up from behind him and twist his arm like that?" the woman said later.
NYPD said its Internal Affairs division is investigating the plainclothes officer, according to the New York Daily News.
Police said the two suspects were arrested for allegedly assaulting a person with a cane.
"What did I do?" one of the arrested teens asked. "Can I hear what I did? Can you say what I did?"
"Take it easy," a bystander told the teen. "Don't give anybody a reason to do anything."
You can share this story on social media: