Amber Vinson's family says she is Ebola-free; CDC, hospital refuse to confirm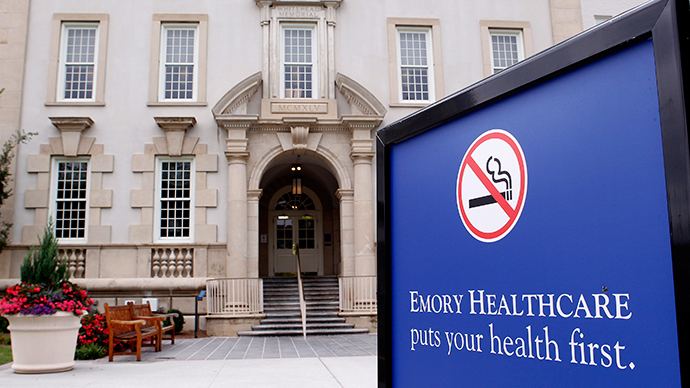 Amber Vinson, the third person to be diagnosed with Ebola in the US, is free of the disease, her family says. But the Centers for Disease Control and Prevention (CDC) and the hospital where the nurse is being treated won't confirm that determination.
"We are overjoyed to announce that, as of yesterday evening, officials at Emory University Hospital and the Centers for Disease Control are no longer able to detect virus in her body. She has also been approved for transfer from isolation," the family said in a statement. "Amber remains under treatment within Emory's Serious Communicable Diseases Unit" in Atlanta, Georgia.
Although the disease may no longer be able in Vinson's blood, she will still require treatment to regain her strength, her mother, Debra Berry, noted. The statement did not say when the 29-year-old might be released from the hospital.
Family: Doctors Don't Detect Ebola in Amber Joy Vinson's Body http://t.co/bdgiB5WSchpic.twitter.com/FVwgfSMDfB

— AFRO News (@afronews) October 23, 2014
"Amber and our family are ecstatic to receive this latest report on her condition," Berry said in the statement. "We all know that further treatment will be necessary as Amber continues to regain strength, but these latest developments have truly answered prayers and bring our family one step closer to reuniting with her at home."
But the results of Vinson's blood tests don't necessarily mean that she is free of Ebola, a source with knowledge of her case told NBC News.
Both Emory and the CDC said they were "not aware of" any test results, their respective spokespeople told the Dallas Morning News.
"Healthcare provider will determine by diagnostic whether a patient is free of Ebola virus," CDC spokesman Jason McDonald said via email. "We have criteria we ask medical staff to meet but the determination is made by medical care provider."
Previously, Vinson's family had not allowed Emory or the CDC to comment on her condition, the Morning News reported.
Contracting the disease
The nurse was among those who cared for initial Ebola patient Thomas Eric Duncan at Texas Health Presbyterian Hospital. Vinson came down with a fever on October 14, and was taken into isolation at the hospital where she works, even before tests confirmed she had contracted the virus. She was transferred from Presbyterian Dallas to Emory on last Wednesday.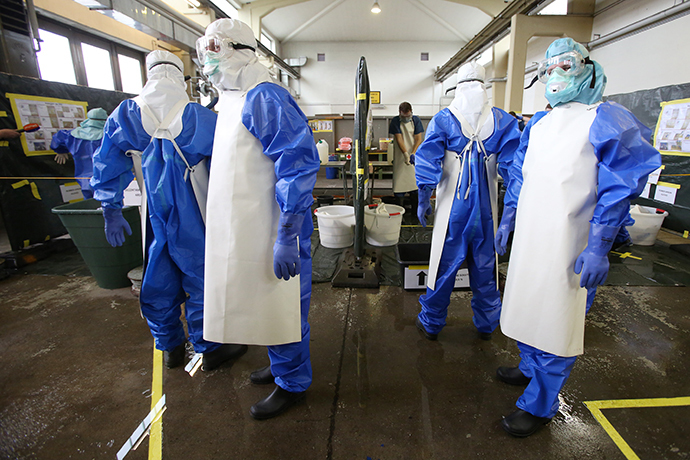 Another nurse who had "extensive contact" with Duncan, Nina Pham, was diagnosed with Ebola October 12. She was transferred to the National Institutes of Health (NIH) in Bethesda, Maryland late last Thursday night. The 26-year-old was upgraded from fair to good condition on Tuesday, the government research agency said.
While it is still not clear how the two Presbyterian Dallas nurses became infected, their co-workers and a national nurses union claim that officials there weren't properly prepared to handle the deadly Ebola virus when Duncan, a Liberian national with the disease, was admitted late last month. Duncan died October 8.
"I believe they should have known they were not handling this well, this Ebola crisis," Dallas nurse Briana Aguirre told 'The Today Show' last Thursday, while flanked by her attorney. "They should have known that it was getting out of hand. They should have called in more help, even to make a public plea and say, 'Help us. Help us get the supplies we need. Help us get the nurses the education and training they need.'"
"I watched them violate basic principles of nursing care, of medical care," she added.
National Nurses United, a union that does not represent any health care workers at Presbyterian Dallas, accused the hospital of not providing the correct equipment for treating Ebola patients and not properly training staff on how to avoid putting themselves at risk by coming into contact with infected bodily fluids.
"No one knew what the protocols were or were able to verify what kind of personal protective equipment should be worn and there was no training," the union's statement read in part.
"For their necks, nurses had to use medical tape, that is not impermeable and has permeable seams, to wrap around their necks in order to protect themselves, and had to put on the tape and take it off on their own," it continued. "Nurses had to interact with Mr. Duncan with whatever protective equipment was available, at a time when he had copious amounts of diarrhea and vomiting which produces a lot of contagious fluids."
All of those accusations go against CDC guidelines on handling Ebola specimens and treating people who may potentially have the disease. Those guidelines were subsequently tightened on Tuesday.
Consequences of mishandling Duncan case
Presbyterian Dallas began dealing with the disease on September 24, when it mistakenly sent Duncan home ‒ despite his showing Ebola-like symptoms and telling hospital staff he had recently traveled from disease-ravaged Liberia. Duncan was later admitted on the 28th. The hospital has apologized for mishandling his case, but that did not comfort its nurse, Aguirre.
"Knowing what I know, I would try everything and anything to refuse to go there to be treated," she said on national television. "I would feel at risk by going there. If I don't actually have Ebola, I may contract it there. I would do anything to refuse to go there."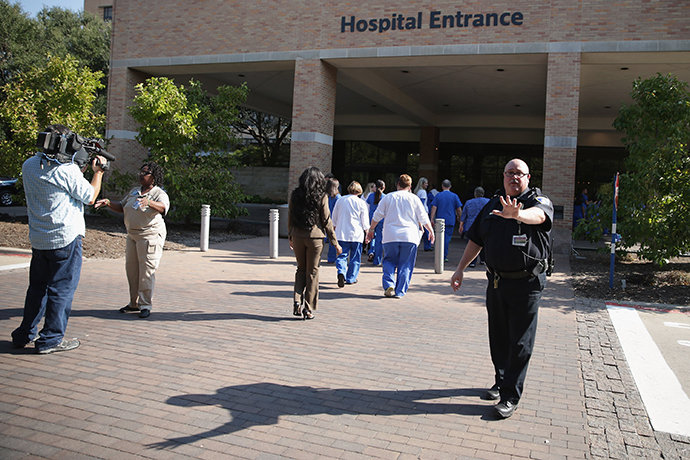 Though the hospital has denied the allegations, it has affected the company's bottom line. Revenue declined by 25.6 percent ‒ $8.1 million ‒ and emergency room visits plummeted 53.3 percent ‒ or 2,336 visits ‒at Presbyterian Dallas over the first 20 days in October when compared to the first nine months of the year, the Morning News reported, citing new financial disclosures. Operating surgeries also declined by 165 cases, or 25 percent.
The hospital blamed the lost revenue on the emergency department being placed on diversionary status from October 12 to 20.
You can share this story on social media: