'I would do anything to refuse to go there' – Dallas nurse lashes out at hospital over Ebola response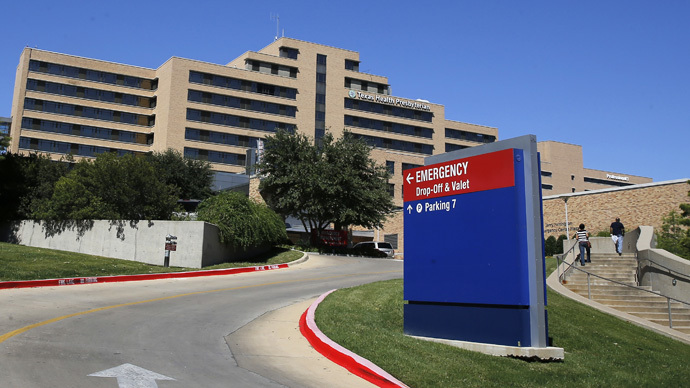 Concerns are being raised further still about how health care officials have handled the presence of Ebola in the United States, with one Dallas, Texas nurse now directly blaming a local hospital for failing to halt the spread of the disease.
On Thursday, Dallas nurse Briana Aguirre told "Today" show host Matt Lauer that she "can no longer defend" the facility where she works, Texas Health Presbyterian Hospital, from allegations that officials there weren't properly prepared to handle the deadly Ebola virus when a Liberian national with the disease was administered late last month. Two nurses have since contracted the deadly virus.
"I believe they should have known they were not handling this well, this Ebola crisis," Aguirre told Lauer while flanked by her attorney. "They should have known that it was getting out of hand. They should have called in more help, even to make a public plea and say, 'Help us. Help us get the supplies we need. Help us get the nurses the education and training they need.'"
"Knowing what I know, I would try everything and anything to refuse to go there to be treated,"she said. "I would feel at risk by going there. If I don't actually have Ebola, I may contract it there. I would do anything to refuse to go there."
"I watched them violate basic principles of nursing care, of medical care," Aguirre said.
Thomas Eric Duncan, 42, visited Texas Health Presbyterian Hospital on September 26 after traveling from West Africa and was soon after discharged with antibiotics despite telling health officials that he had just been in the epicenter of the current Ebola outbreak. Duncan was administered again on Sept. 30 and died from the disease last Wednesday, October 8. Two nurses from Dallas who cared for Duncan have since contracted Ebola and fears of further cases worsened this week when it was revealed on Wednesday that one of them, 29-year-old Amber Vinson, flew on a commercial airliner from Cleveland to Dallas the day before she was diagnosed, but not before first informing health officials.
On Wednesday evening, the director of the Centers for Disease Control and Prevention again downplayed concerns of a full-blown epidemic erupting in the United States and said the CDC was working diligently to contain the virus.
Yet both the CDC and Texas Health Presbyterian Hospital are continuing to be heavily blamed for their alleged ineptitude, and new accusations suggest that officials may indeed have ignored several warnings that would have helped them contain the disease had they acted appropriately.
2003 yearbook photo of Amber Joy Vinson, the second Dallas nurse diagnosed with Ebola: http://t.co/VgL7HILIgBpic.twitter.com/pHeZMgbBM8

— The Boston Globe (@BostonGlobe) October 16, 2014
According to CNN, Vinson, the second Dallas nurse to contract Ebola from Duncan, informed the CDC that she planned to fly by air from Ohio to Texas last Friday, two days after the Liberian died at Presbyterian, but was concerned because her temperature was 99.5 Fahrenheit (37.5 Celsius). Since that reading was below the CDC's temperature threshold of 100.4F (38C), CNN first reported, a source claims "she was not told not to fly."
"She wasn't bleeding or vomiting," Frieden explained after the news surfaced on Wednesday. "The level of risk around her would be extremely low, but because of the extra margin of safety, we will be contacting [all those who were on the flight."
Nevertheless, allegations of misconduct directed at multiple health offices continue to mount, and now authorities in Texas have even offered an official apology ahead of an emergency hearing being held in Washington on Thursday.
"We did not correctly diagnose his symptoms as those of Ebola. We are deeply sorry," Dr. Daniel Varga, the chief clinical officer for Texas Health Services, said in written testimony to the House Energy and Commerce Committee.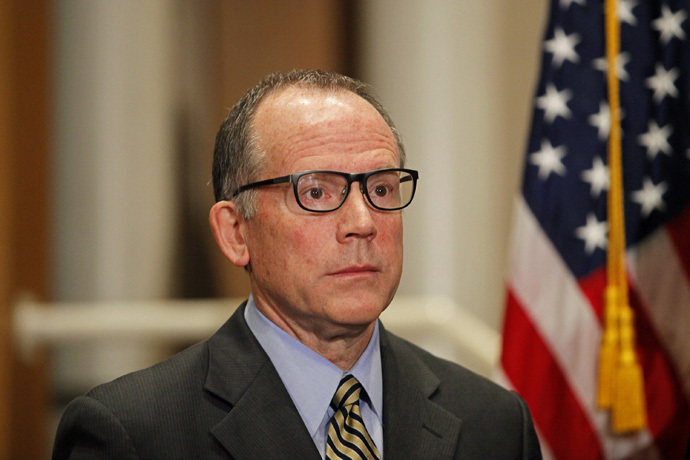 "Unfortunately, in our initial treatment of Mr. Duncan, despite our best intentions and a highly skilled medical team, we made mistakes," reads the prepared testimony from Varga, which was released in advance of Thursday's hearing since he will not be in attendance.
Apologies out of Texas come not only after the "Today" show raised new concerns during Thursday morning's interview with Aguirre, but also on the heels of a statement released this week by the group National Nurses United concerning the situation at Presbyterian when Duncan arrived.
"No one knew what the protocols were or were able to verify what kind of personal protective equipment should be worn and there was no training," the statement reads in part.
"For their necks, nurses had to use medical tape, that is not impermeable and has permeable seams, to wrap around their necks in order to protect themselves, and had to put on the tape and take it off on their own," it continued. "Nurses had to interact with Mr. Duncan with whatever protective equipment was available, at a time when he had copious amounts of diarrhea and vomiting which produces a lot of contagious fluids."
The hospital fired back by saying this week that "All specimens were placed into closed specimens bags and placed inside a plastic carrier that travel through a pneumatic system," and that, "At no time did Mr. Duncan's specimens leak or spill – either from their bag or their carrier – into the tube system."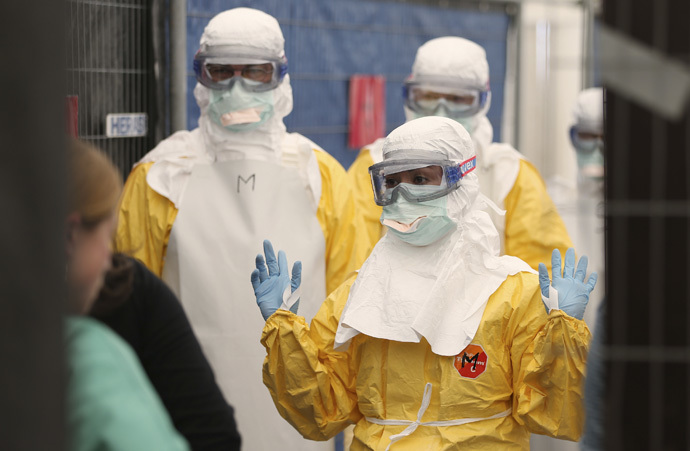 "Patient and employee safety is our greatest priority and we take compliance very seriously," hospital spokesman Wendell Watson said in a statement. "We have numerous measures in place to provide a safe working environment, including mandatory annual training and a 24/7 hotline and other mechanisms that allow for anonymous reporting."
"Our nursing staff is committed to providing quality, compassionate care, as we have always known, and as the world has seen firsthand in recent days. We will continue to review and respond to any concerns raised by our nurses and all employees."
"Clipboard guy" seen at Ebola patient transfer works for air ambulance company http://t.co/ipBOnmA052pic.twitter.com/Qox7nthb5D

— New York Post (@nypost) October 16, 2014
Meanwhile, how exactly Vinson is being handled by health officials continues to prompt criticism: when the nurse was moved from Dallas to Emory University Hospital in Atlanta on Wednesday, she was accompanied by a team of individuals in haz-mat suits and, bizarrely, a man in a button-down shirt holding a clipboard and wearing seemingly no protection at all.
"'You need a hazmat suit? Nah, I'm good. I got a clipboard" former US congressman and radio host Joe Walsh opined, according to the Telegraph. On Thursday, Phoenix Air Vice President Randy Davis told NBC News that the man's role was to "oversee the process of transport including on the tarmac," and that, "Part of our protocol is to have 1 person NOT in a bio-Hazard suit. "
In addition to Vinson, another nurse, Nina Pham, is currently being treated for Ebola after caring for Mr. Duncan. A cameraman for NBC News who contracted the disease in West Africa is also receiving treatment at a facility in Nebraska, but at this point the two Dallas nurses remain the only US citizens to be diagnosed with the disease on American soil.
You can share this story on social media: