'No skin exposure': US tightens guidance for Ebola protective gear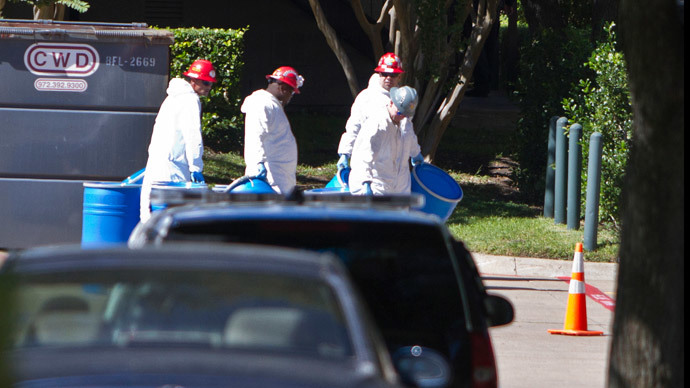 New, stricter infection control guidance has been issued by the Centers for Disease Control and Prevention (CDC) to ensure that US health workers treating Ebola patients are protected from the deadly virus from head to toe.
The health officials opted to introduce amendments to the previous set of instructions for protective gear after two nurses at a Dallas hospital contracted the disease as they were taking care of Thomas Eric Duncan, the first Ebola patient and first Ebola fatality in the US.

The 42-year-old Liberian man was admitted to hospital with Ebola symptoms in late September and died of the virus on October 8.

It is still not clear how the two nurses at Texas Health Presbyterian Hospital in Dallas, who as claimed followed the previous CDC guidance, became infected.

"We may never know exactly how that happened, but the bottom line is the guidelines didn't work for that hospital," said CDC Director Tom Frieden as he announced the revision.

"We need to increase the margin of safety," Frieden stressed.
PPE guidance centered on 3 principles: rigorous & repeated training, no skin exposure w/PPE, & a trained monitor http://t.co/nMhk0a3s2X

— Dr. Tom Frieden (@DrFriedenCDC) October 21, 2014

The enhanced guidance instructs health workers to undergo "rigorous training" in using their personal protective gear (PPE), including taking it on and off "in a systematic manner."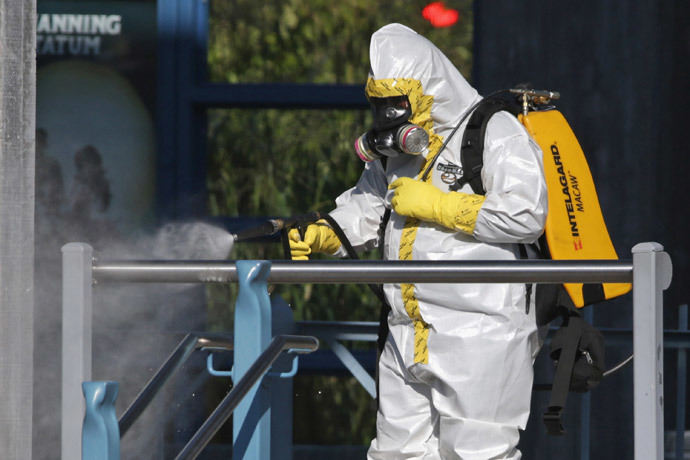 It calls for full-body garb and hoods to protect worker's head and neck, allowing "no skin exposure when PPE is worn."

Double gloves, waterproof boot covers, respirators and disposable full-face shields are also mentioned as essential protective gear.

The American hospitals are also advised to establish special areas for putting on and taking off equipment, which may be a room adjacent to an Ebola patient's ward or a hallway area cordoned off with a plastic sheet.

Qualified monitors are advised to be placed in those areas to watch each worker getting in and out of the PPE.

The rules for removal of equipment that came into contact with an Ebola patient are also toughened by the federal health officials.

The CDC guidance isn't binding – being more of an official advisory – however it is usually followed by hospitals across the US.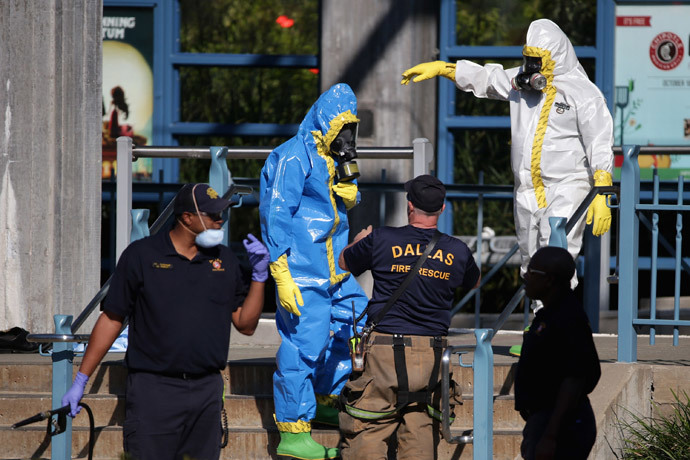 Medics criticized the previous set of rules for protective gear, calling them "confusing and inadequate."

Earlier CDC advice was based on treatment of Ebola patients in Africa, which on many occasions took place in medical tents.

It allowing hospitals too much flexibility in wearing protective garb while dealing with suspected, but not yet confirmed, cases of the virus.

The new guidance is based on the positive experience treating Ebola patients at Emory University Hospital, Nebraska Medical Center and National Institutes of Health Clinical Center.

Over 4,500 people have already died and over 9,200 were infected in the Ebola outbreak, which began in West Africa in December 2013.

The majority of the victims of the virus – for which there so far no cure – came from Liberia, Sierra Leone and Guinea, with the illness also speeding to Nigeria and Senegal.

Outside Africa, random cases of Ebola have been registered in the US (1 case/1 death), Spain (3/2), Germany (3/1), Norway (1/0), France (1/0) and UK (1/0).
You can share this story on social media: