Ebola themed toys selling like hot cakes, supplies finished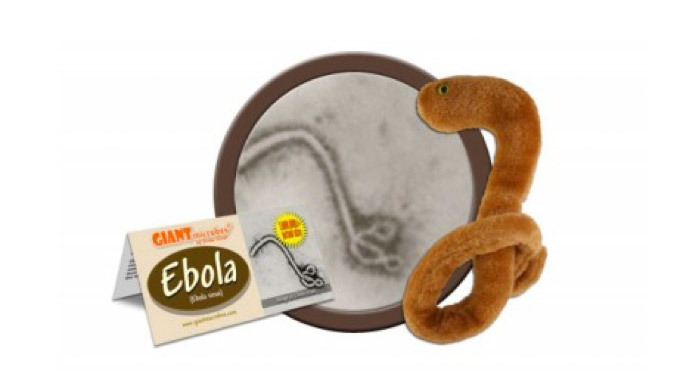 A US toy maker specializing in stuffed versions of some of the deadliest microbes known to mankind has sold out of its stockpiles of Ebola virus, amid the worst recorded epidemic of the Ebola disease.
The producer, the Connecticut-based Giant Microbes, sells toy killer bugs for educational purposes and as gag gifts. It has over a hundred products selling at prices starting at $9.95 for the smallest versions all the way up to $29.95 for a giant size plush microbe.
Ebola, which looks like a brownish snake-shaped doll with cat's eyes, is marketed as "the T. Rex of microbes" causing a "fearsome frontpage disease." Anthrax is called "the mail-order mother of all biological weapons" while the influenza virus responsible for "swine flu" epidemic of 2009 is said to be perfect for "anyone who loves bacon."
I think we've found a prize for tomorrow @OneMinuteBriefs - Ebola soft toy! pic.twitter.com/7MCnHzp9sg

— Adam & Jack (@IdcircoCreative) September 23, 2014
Apparently, the cheeky ad style combined with an epidemic, which has already killed more than 4,500 people, mostly in Western Africa, worked magically to fuel demand for plush Ebola. The company is out of stock worldwide and "making it as fast as we can." Another batch is due this week, Laura Sullivan, vice president of marketing at Giant Microbes, told the Toronto Star.
"Microbes have a huge impact on our lives. People want to learn about them and understand them," she said, by way of explaining the buying rush. "With Ebola and everything that is going on, people are interested about learning more and this product provides a way for people to learn about it."
READ MORE:Ebola: Viral hysteria, media craze and fear mongering infect the globe
It's not like the company is deliberately capitalizing on the epidemic. The Ebola toy has been around for five years and has always been popular, Sullivan said.
"Sales are exceptionally high now because so many more people want to learn about it," she said.
She admits that with the outbreak killing thousands of people, selling a toy version of the virus requires some tact.
"People are buying it to talk about it and if we ever felt it was being used inappropriately, we would reconsider it."
In addition to various pathogens, including exotic prions causing mad cow disease, Giant Microbes sells less sinister dolls. There are yoghurt bacteria, sperm cells, lab mice and a homo sapiens embryo.
You can share this story on social media: