CNN tweets pic mocking Ebola panic, sparks backlash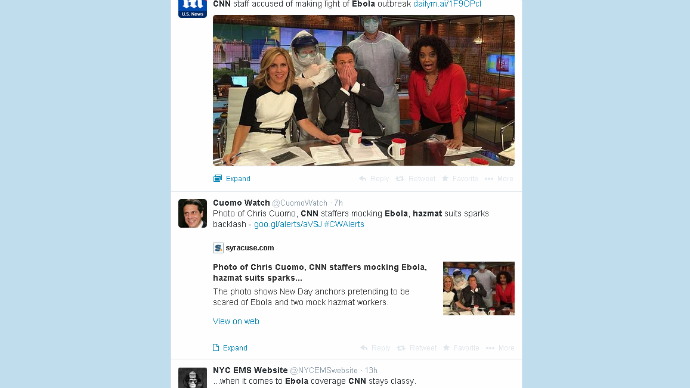 A Twitter firestorm erupted after CNN tweeted a photo mocking the fear of Ebola while a congressional hearing took place on the crisis. It comes as 1,000 people are being monitored for symptoms in the US.
The photo was posted by John Griffin, a senior producer at CNN, and shows three New Day anchors – Chris Cuomo, Michaela Pereira, and Alisyn Camerota – pretending to be scared while two men in protective gear stand over them. The post has since been removed.
Social media users, particularly on Twitter, did not waste time reacting to the questionable post. For example, Addictinginfo.org slammed CNN for tweeting an image mocking the Ebola crisis.
CNN Tweets Ridiculous Pic Of News Anchors Mocking Ebola Crisis (PHOTO) http://t.co/D8AdLLhggj

— AddictingInfo.Org (@AddInfoOrg) October 17, 2014
Meanwhile, Twitter user @JillAMackie wondered whether news media should be poking fun at Ebola.
Media Mocking Ebola: A-Ok or No Way? (photo) http://t.co/r7zsmB0czQ#CNN#mediafail

— Jill (@JillAMackie) October 16, 2014
In another case, user @KazJester commented on CNN's motives and its responsibility as a media outlet.
CNN's put up a story mocking the fear of ebola in people while also putting out articles designed to put the fear of ebola in people.

— KazJester (@KazJester) October 16, 2014
Read More:5 things about Ebola you should know
The tweet happened the same day that US lawmakers used a congressional hearing on Ebola to ask whether adequate provisions were being taken by the Obama administration to protect the American public. The hearing came after a Liberian man, Thomas Eric Duncan, died of the disease in Dallas, Texas, and two of the nurses that treated him contracted the virus. At least 12 others are being held in quarantine.
Read More:WHO admits fudging Ebola response, blames 'incompetent staff', swine flu experience
As of Friday, a pool of about 1,000 people in the US are being watched for symptoms of Ebola, either monitoring themselves or checking in with a counselor at the Centers of Disease Control and Prevention, reported The Los Angeles Times. The group includes people ordered into quarantine, those having their temperatures taken daily, and travelers who may have flown on a Frontier Airlines jetliner used by one of the diagnosed Texas healthcare workers who treated Duncan. So far, no one in the group has exhibited signs of Ebola.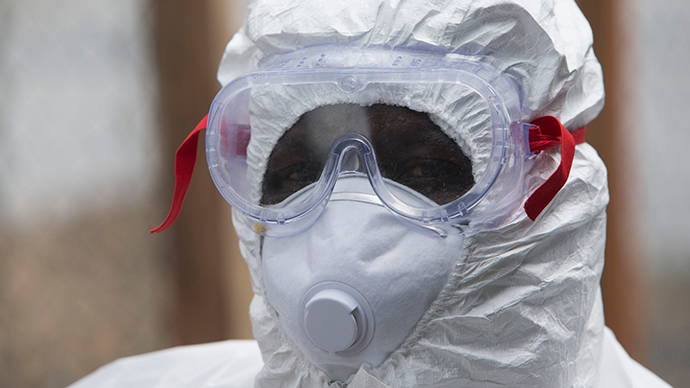 Read More:Obama appoints Ebola 'czar' charged with coordinating fight against epidemic
Following the news, a Reuters/Ipsos poll released Friday showed that travel fears have taken a toll on the American public. One-third of those surveyed said they are avoiding travel on trains and crowded public spaces, while 37 percent said they are avoiding domestic air travel.
Read More:Ebola epidemic might trigger major food crisis - UN
Republicans have been pushing the Obama administration to ban all travel from West Africa, where Ebola has already claimed more than 4,500 lives.
You can share this story on social media: