Ebola epidemic might trigger major food crisis - UN
The United Nations and non-governmental organizations believe an Ebola crisis that continues to strengthen in the coming months will cause food shortages that could devastate regions in West Africa hit hardest by the virus.
The UN World Food Program (WFP) said it is ramping up efforts to feed more people in Liberia, Guinea, and Sierra Leone, the trio of nations at the epicenter of the latest Ebola virus outbreak that has claimed over 4,000 lives. Border and market closures, restricted movements, and fear of the virus threaten food access in these areas, experts say.
Bettina Luescher, WFP's chief North American spokesperson, told AP the agency needs to reach 1.3 million people in these nations. WFP has gotten food to 534,000 people thus far, and plans to reach another 600,000 to 700,000 this month.
"The world is mobilizing and we need to reach the smallest villages in the most remote locations," Denise Brown, WFP's regional director for West Africa, said in a statement Wednesday, according to AP. "Indications are that things will get worse before they improve. How much worse depends on us all."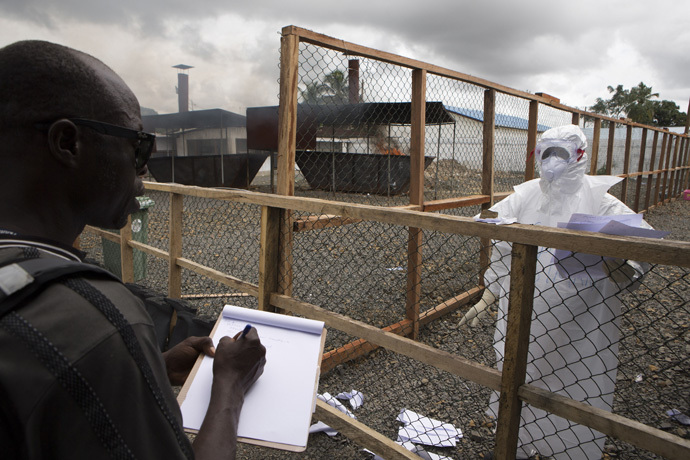 WFP has provided food to patients at Ebola treatment facilities, those who have survived Ebola and were discharged, and communities that have gone through mandatory quarantine or where the virus has run rampant. The agency also helps humanitarian workers shuffle between the affected countries and nearby Senegal and Ghana.
"We are assessing how families are coping as the virus keeps spreading," Luescher said. "We expect to have a better understanding of the impact of the Ebola outbreak on food availability and farming activities by the end of October."
Through a mobile phone survey, WFP found that people in areas of Sierra Leone most impacted by Ebola are resorting to more desperate measures to find food. Overwhelming majorities reported that that had reduced their food intake and ate less expensive food.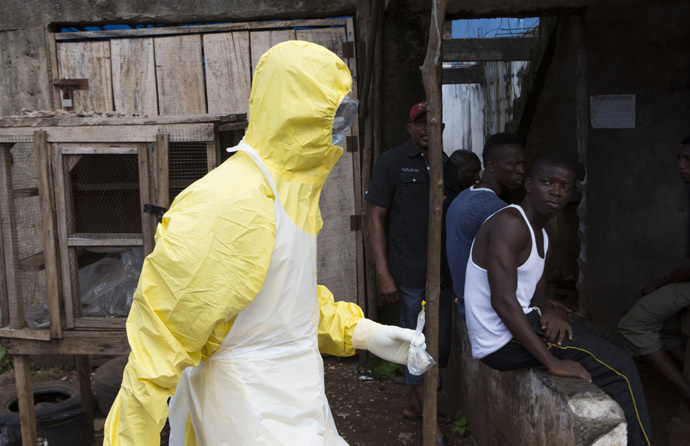 In Lofa County, the most affected rural area of Liberia, food and commodity costs went up from 30 to 75 percent in August, according to the UN Food and Agriculture Organization.
"The fertile fields of Lofa County, once Liberia's breadbasket, are now fallow," World Health Organization Director General Margaret Chan told the UN Security Council in September, Reuters reported. "In that county alone, nearly 170 farmers and their family members have died from Ebola."
Forty percent of farms in the most-affected areas of Sierra Leone have been abandoned thanks to Ebola worries while food shortages threaten the entirety of West Africa based on disrupted regional trade, according to Kanayo Nwanze, president of the UN International Fund for Agricultural Development.
Early data suggest that "trade volume in these markets is half of what it was at this time last year," Nwanze said.
Meanwhile, non-governmental organizations have pledged to combat food shortages in the Ebola-ravaged region. Andrea Tamburini, CEO of Action Against Hunger, said his organization will conduct a survey to monitor malnutrition rates, adding that "seeds and tools will definitely be there as a first step."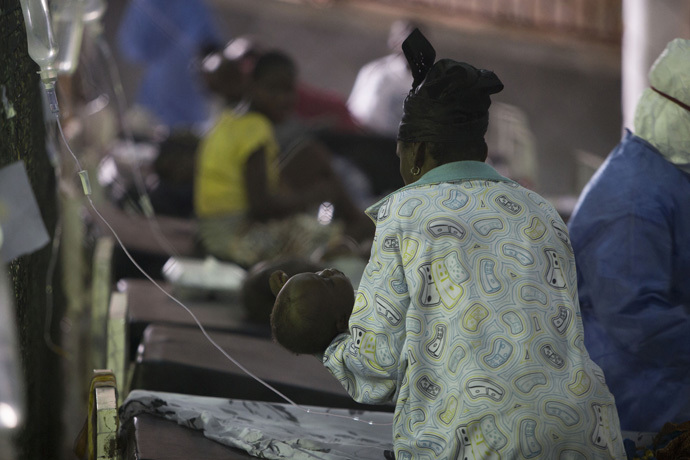 Tamburini told AP that spikes in food prices and a lack of manpower on farms, based on restricted movements and fear of the virus, are his top concerns. His organization said in Monrovia, Liberia's capital, the price of staple food cassava went up by around 150 percent in early August.
In a report released on Oct. 10, the Famine Early Warning Network (FEWS NET) warned that if the Ebola epidemic hits 200,000 to 250,000 cases by mid-January, many in the three most-affected West African nations would be hit with moderate to extreme food shortfalls.
Trade would slow significantly at that level of the crisis, FEWS NET said, inflicting losses in household income and food access at local markets.
"Contingency planning for an expanded emergency food assistance response is urgently needed given that the size of the food insecure population could be two to three times higher than currently planned," FEWS NET said, according to AP.
You can share this story on social media: