First to contract Ebola in US: CDC confirms Texas health care worker's diagnosis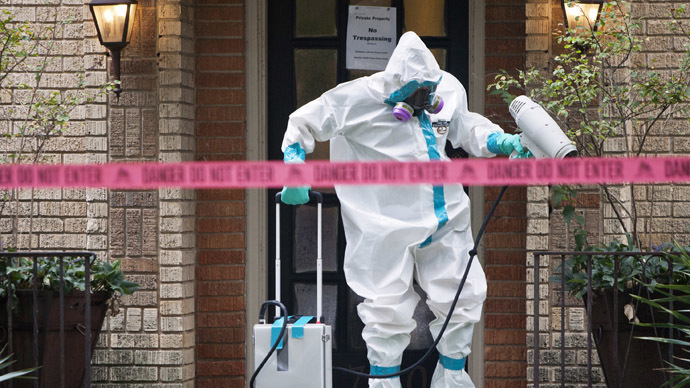 A Texas health care worker who treated the first state's Ebola patient, has been tested positive for the virus, officials said blaming a breach in of treatment protocols for the new case.
"A health care worker at Texas Health Presbyterian Hospital who provided care for the Ebola patient hospitalized there has tested positive for Ebola in a preliminary test at the state public health laboratory in Austin," said a statement from Texas Department of State Health Services.
According to the state's health services, the woman had "a low grade fever Friday night and was isolated and referred for testing." The Texas Health Presbyterian Hospital worker has tested positive for Ebola in a preliminary exam later confirmed by the CDC.
"Today, the Centers for Disease Control and Prevention (CDC) confirmed test results reported late last night by the Texas Department of State Health Services' public health laboratory showing that a healthcare worker at Texas Presbyterian Hospital is positive for Ebola," the CDC said in a statement released on Sunday afternoon.
CDC lab tests confirm that the healthcare worker at Texas Presbyterian Hospital is positive for #Ebola. http://t.co/uAa9QNFzID

— Dr. Tom Frieden (@DrFriedenCDC) October 12, 2014
The patient, who remains in isolation, and the hospital was notified of the confirmatory test results, CDC said.
The heath care officials "remain confident" that wider spread in the community can be prevented with "proper public health measures", such as "ongoing contact tracing, health monitoring among those known to have been in contact with the index patient, and immediate isolations if symptoms develop."
US President Barack Obama, who was briefed about the diagnosis of a second case of Ebola in Texas, has ordered authorities to "take immediate additional steps to ensure hospitals and healthcare providers nationwide are prepared to follow protocols should they encounter an Ebola patient," the White House said in a statement.
"We knew a second case could be a reality, and we've been preparing for this possibility," said Dr. David Lakey, commissioner of the Texas Department of State Health Services. "We are broadening our team in Dallas and working with extreme diligence to prevent further spread."
Health officials have interviewed the patient to find out who he had been in contact with, or whether there were any potential exposures. They said that those who had contact with him "will be monitored based on the nature of their interactions and the potential they were exposed to the virus."
CDC says it has so far identified one "close contact" who is now being monitored for potential exposure.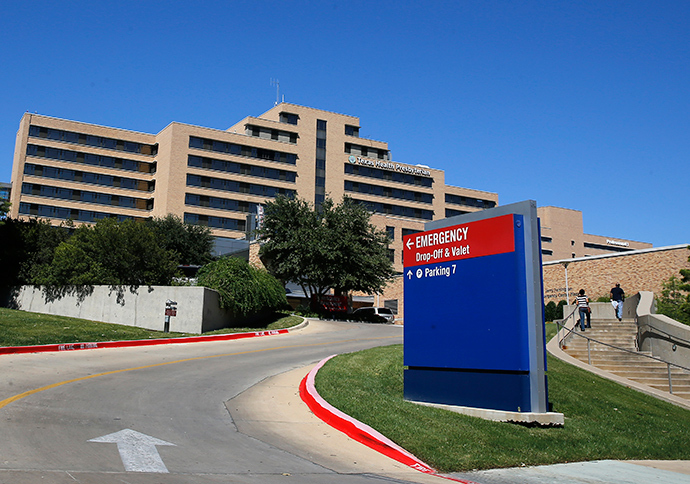 The care worker had been treating the Liberian national, Thomas Eric Duncan, who became the first man to be diagnosed in the United States with Ebola. The man died October 8 in the Texas Health Presbyterian Hospital in Dallas.
Although no further cases of the often fatal disease have been discovered yet in the US, health officials in Texas were still monitoring 48 people on Wednesday who might have been previously exposed to the virus through Duncan.
"This is a very critical week," Dr. David Lakey, the Texas health commissioner, told the Associated Press. "We're at a very sensitive period when a contact could develop symptoms. We're monitoring with extreme vigilance."
A total of 18 employees are currently being monitored, officials at the Texas Health Presbyterian Hospital in Dallas said at a briefing.
READ MORE:'Ebola protocol in place': Suspected case transferred to Boston hospital
A top federal health official said that the Ebola diagnosis in a health worker shows there was a clear breach of safety protocol.
Dr. Tom Frieden, head of the Centers for Disease Control and Prevention, says the worker had treated Duncan multiple times after the Liberian man was diagnosed.
All those who treated deceased Duncan are now considered to be potentially exposed. Testing of the second Ebola patient in Dallas will be completed later Sunday. CDC will further look for possible breaches during Duncan's dialysis and incubation, Frieden said.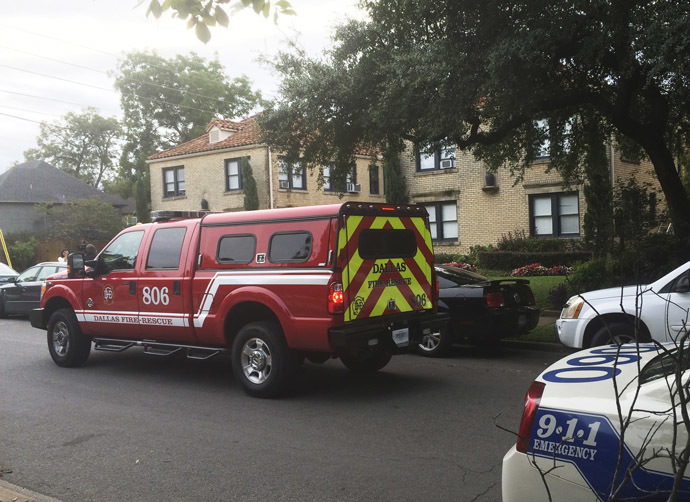 As of October 8, a total of 4,033 people have died out of a total of 8,399 registered cases in seven countries, the World Health Organization (WHO) has reported. For now, Liberia is the worst-hit of all affected countries, with 4,076 cases and 2,316 deaths. It is followed by Sierra Leone, where there are 2,950 cases and 930 deaths.
According to the World Health Organization, the fatality rate associated with Ebola averages roughly 50 percent, but has ranged from 25 to 90 percent in past outbreaks.
In the meantime, Duncan's relatives may sue Texas Health Presbyterian Hospital in Dallas for his treatment, Saymendy Lloyd, a spokeswoman for Thomas Eric Duncan's family said Friday.
The family say that Duncan was sent home the first time he asked treatment at the hospital. The records show he had a fever and abdominal pain. He also told medical personnel that he had recently arrived from Liberia where the virus is spreading.
"They should have done something better than sending him home," Lloyd said. "There was no explanation at all of why they were sending him home with a 103-degree temperature."
The doctors did not administer the experimental drug brincidofovir until his supporters called the hospital.
"That's what we had to do. We had a phone chain — 'Treat Eric Duncan, treat Eric Duncan' — and that's when he got the experimental drug," she said.
"You cannot make a decision to give him medication, but you can make a decision to put him on dialysis? After you have experimented and had him lay there without any medication and his organs are dying away," she said.
You can share this story on social media: