Cringe factor! 10 most awkward moments of #GE2017 (VIDEO)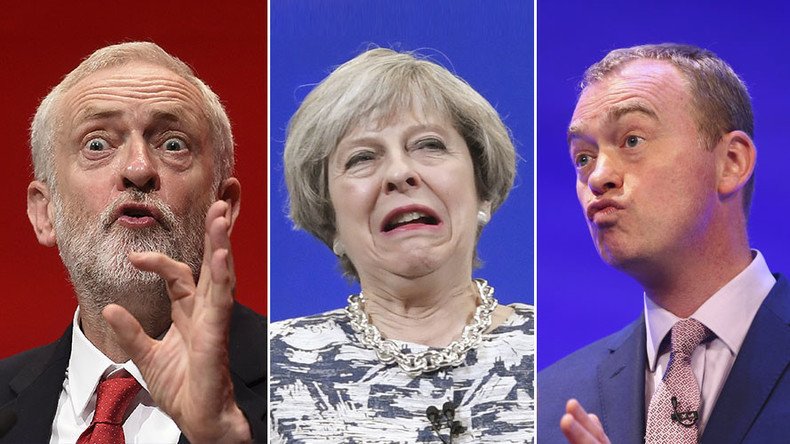 What's a general election without a few gaffes, blunders and car-crash interviews? Here are the top 10 most cringe-inducing moments in the race to Number 10.
1. Diane Abbott exits stage… left?
Labour's former Shadow Home Secretary Diane Abbott has had a tough ride throughout the election campaign, stepping aside on Wednesday on the grounds of ill health.
One moment that stands out, however, was her blunder while speaking at the Police Federation national conference.
It wasn't her speech that made the headlines, however. Abbott struggled with the stage set, getting lost trying to exit on the wrong side. It looked rather slapstick.
Cringe factor: 5/10
2. Theresa's Scottish nightmare
Sky News had a field day when it was invited to follow Prime Minister Theresa May doorknocking around Scottish constituencies - every house she targeted was either empty or told her to leave.
Fast-forward footage of the PM going from door to door in Aberdeenshire soon surfaced... Benny Hill style.
Cringe factor: 9/10
3. Farron's fall
Also through Sky News, and live from the Liberal Democrat battle bus, came one of the election's most giggle-inducing mishaps.
A cheeky Tim Farron is seen walking towards political correspondent Darren McCaffrey, who was delivering a piece to camera on the moving bus. The Lib Dem's smile was quickly wiped off his face when he lost his footing.
Cringe factor: 3/10
4. Kezia Dugdale calls it for the Tories
This was a cringeworthy moment, but without the LOLs. Scottish Labour leader Kezia Dugdale got so worked up about the Scottish National Party (SNP), she ended up calling on voters in certain marginal seats to vote Conservative.
SNP and Labour voters alike were outraged.
Cringe factor: 4/10
5. IDS raps Eminem
Iain Duncan Smith, a former Conservative leader, is not what anyone would define as 'cool,' but he knows enough of the lyrics of Eminem's 'Lose Yourself' to sing them on morning television.
ITV Good Morning Britain host Piers Morgan egged IDS on to rap live on TV, in a verse dedicated to Labour frontbencher Diane Abbott.
Cringe factor: 8/10
6. 'Smell my Spaniel'
Also caught on camera was Farron's most extraordinary moment, when during a heated discussion with voters on the campaign train, Farron is heard shouting: "Smell my Spaniel."
No explanation given.
Cringe factor: 7/10
7. Jeremy fudges his numbers
Equally cringey was Jeremy Corbyn's interview on BBC Radio 4 Woman's Hour.
The Labour leader's confidence had been bolstered by the previous night's performance, where he tackled Jeremy Paxman's grilling during the Battle for No.10 program with some panache.
But BBC's Emma Barnett had Corbyn in a corner, leaving the socialist scrabbling for the childcare costing figures of his own manifesto.
Cringe factor: 8/10
8. Continuous headshake
Theresa May found herself in a similar situation, when she was quizzed over the Conservatives' U-turn on their social care policy, also known as the 'Dementia Tax.'
In footage of the press event, May is seen shaking her head one too many times, making it look as if she really does not know what to say to explain the policy blunder.
Cringe factor: 6/10
9. Chips A'Hoy!
Indeed, the PM might have been the biggest source of awkward moments on the campaign trail.
Her photo-op in Cornwall with a cup of tea and a cone of chips echoed images of then-Labour leader Ed Miliband eating a bacon butty in 2015.
May was still able to look angry while eating, which would baffle anyone who's had chips by the sea.
Cringe factor: 7/10
10. One very stiff show
But perhaps the most embarrassing moment of the entire two months leading to Thursday's election was the time Theresa May and her husband Philip went on the One Show.
The stunt was meant to make May sound more relatable, a woman like any other. But the PM's performance was robotic and ill at ease, especially as she referred to "boy jobs and girl jobs" when talking about house chores.
Her use of the words "strong" and "stable" through much of the casual interview set social media abuzz with cringe.
Cringe factor: 10/10
You can share this story on social media: