Why did British tabloids savage Miliband's bacon gaffe but not May's trouble with chips?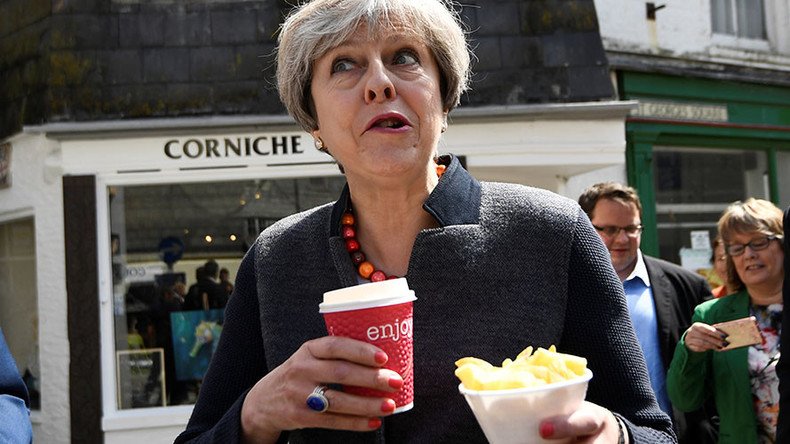 Embarrassing pictures of Theresa May eating chips on the campaign trail have been widely mocked, but critics ask why the PM came off so lightly compared to ex-Labour leader Ed Miliband, who was ridiculed in 2015 for clumsily munching a bacon sandwich.
Many argued at the time that the picture of Miliband awkwardly eating the sandwich cost Labour the 2015 general election. How Miliband eats, the tabloid media reasoned, made him unsuitable for the office of prime minister.
how does Theresa May manage to look so constantly annoyed, I mean she's eating chips there, chips are happy food, come on pic.twitter.com/7S7y9rkq3h

— Marie Le Conte (@youngvulgarian) May 2, 2017
"This is the pig's ear Ed made of a helpless sarnie. In 48 hours he could be doing the same to Britain," read the front page of the Sun two days before the May 7 election.
The pictures were used alongside cruel monikers for Miliband, including "Mr Weirdo."
Suggesting Theresa May eating chips awkwardly is 2017's bacon sandwich moment ignores the coded anti-semitism inherent in the Miliband smear

— Calum Sherwood (@CalumSPlath) May 2, 2017
Yet May's own gastro-gaffe was met with far more benevolent commentary. The Sun labeled the photos "a bit awkward," while the London Evening Standard said the PM had simply "enjoyed" the fries at the seaside town of Mevagissey, Cornwall.
"If I said how Theresa May eats chips shows she's unfit to govern, Tories would call me bonkers. It's literally what happened to Ed Miliband," Labour-supporting journalist Owen Jones tweeted.
"Remember how a balanced & objective media monstered Miliband for how he ate a bacon sarnie? Here's the PM eating chips with utter contempt," added columnist Anthony Vickers.
The acting executive editor of the Birmingham Mail, Graeme Brown, also quipped: "Theresa May looked daft eating chips. Now [we] have an election on our hands."
Had the unflattering pictures been of current Labour leader Jeremy Corbyn, some argued, the mainstream media would have been ruthless with its scorn.
"It's a sad fact that this is completely irrelevant and yet, if this was Corbyn, he would be given the Miliband treatment," author Richard Seymour tweeted.
Miliband himself seized the opportunity to quip on Twitter: "Theresa May we should talk…"
The Labour backbencher has enjoyed success as something of a sarcastic social media pundit since resigning as leader, often taking a crack at former Tory chancellor-turned-editor of the Evening Standard George Osborne.
"Breaking: I will shortly be announced as editor of Heat magazine…," Miliband joked when Osborne's new job was announced.
Campaigning in his Doncaster constituency, Miliband tweeted pictures of himself door-knocking and even mowing a potential voter's lawn.
"Following instructions for grassroots strategy in Doncaster North," the MP joked.
You can share this story on social media: