Return of 'Red Ed': Miliband tipped for Labour shadow cabinet…but will he accept?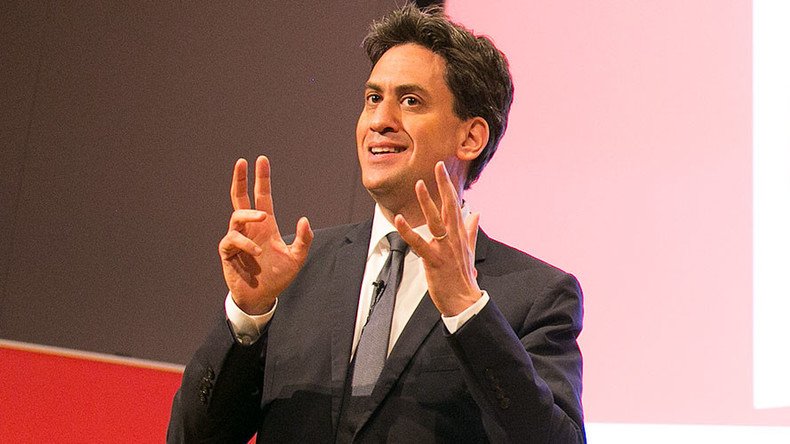 Former Labour Party leader Ed Miliband has been tipped to be Jeremy Corbyn's next shadow cabinet appointment, but sources close to Miliband say the one time Downing Street hopeful will decline any offer.
The Westminster rumor mill has been abuzz since Thursday when it emerged Miliband may soon replace Clive Lewis as shadow business secretary.
Lewis, who has been a staunch Corbyn supporter to date, is considering to resign over the Labour leader's decision to back the government's Brexit bill.
Friends close to Miliband believe he would never take the job, arguing 'Red Ed' "has said consistently that he wants to make his contribution supporting Jeremy and the party from the backbenches."
Despite having once been tipped as a possible replacement for Corbyn, Lewis is now reportedly to have fallen out of favour with the Labour leader for insisting on opposing triggering Article 50 without party amendments.
"If they're [Conservatives] determined to go ahead with this in the way that they are... then I won't in all good conscience be able to vote for it," he told ITV on Wednesday.
"And if that means I walk from the Shadow Cabinet - I don't want to, but this is a point of principle."
The government's Brexit Bill is having its third reading next week, but the Labour leadership is yet to announce its strategy. It is not known if a three-line whip will be called for its next session in Parliament.
Three of Lewis' fellow frontbenchers resigned from their shadow cabinet roles during the week over the same issue.
Shadow minister for diverse communities Dawn Butler, shadow environment secretary Rachael Maskell and shadow Welsh secretary Jo Stevens confirmed they would defy Labour's three-line whip over the EU (Notification of Withdrawal) Bill debate in Parliament.
"Been an honor to serve in shadow cabinet doing a job I love. Can't let down future generations voting against poor excuse of a Bill," Butler wrote on Twitter on Wednesday evening.
However, Corbyn's tapping of Miliband were strongly denied by another Labour source, who said "no such discussions have taken place" and that "people are getting ahead of events."
You can share this story on social media: