'Fat & lazy' businesses rant backfires for trade minister Liam Fox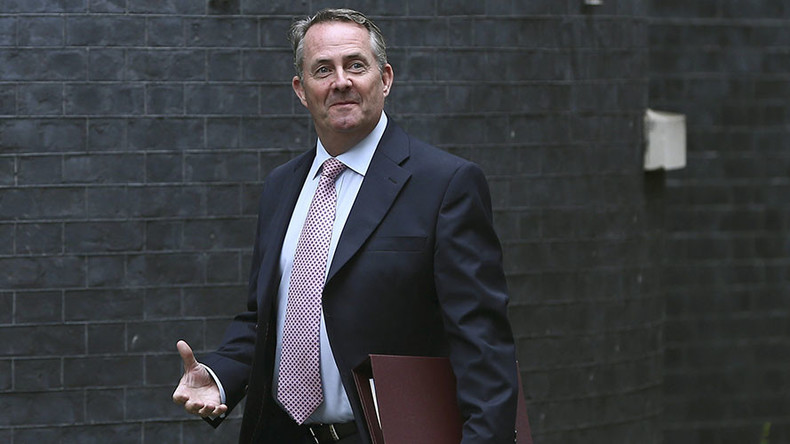 British Trade Secretary Liam Fox is facing a furious backlash from politicians and social media after accusing national businesses of being "too lazy" to maintainsuccessful export trade, with executives "playing golf" instead of doing their "duty."
Fox made the controversial remarks at a Conservative Way Forward event for business leaders in parliament while urging the UK's businesspeople to adapt to the new post-Brexit reality.

"This country is not the free-trading nation that it once was. We have become too lazy, and too fat on our successes in previous generations," Fox said, as quoted by The Times.

"What is the point of us reshaping global trade, what is the point of us going out and looking for new markets for the United Kingdom, if we don't have the exporters to fill those markets?" he added.
The minister urged businesses "to change the culture in the country" and "to stop thinking about exporting as an opportunity and start thinking about it as a duty." He went on to add that playing "golf on a Friday afternoon" is not an excuse to neglect "contributing to our national prosperity."

The comments caused a storm on social media.

Politicians from across the spectrum attacked Fox on Twitter.
A former shadow business secretary, Chuka Umunna, said that with "friends like these who needs enemies" and that Fox's comments "are a complete disgrace."
The present shadow justice minister, Jo Stevens, called Fox's comments "ignorant and rude."
Former business secretary, Vince Cable, said business is "handicapped by Brexit uncertainty not golf clubs."
Remark on playing golf did not pass unnoticed, as users pointed out that Liam Fox plays the sport himself.
An alleged document then surfaced claiming that Fox once took a taxi to travel 90 meters.
Even The Chief Mouser to the Cabinet Office got offended.
Meanwhile, English comedian David Schneider prepared an all-purpose press release for any potential similar future blunders.
Liam Fox resigned as defence secretary from David Cameron's government over a scandal which suggested he offered to grant his friend and unofficial adviser Adam Werritty. Theresa May, however, gave him the post of international trade secretary in her new government. He's one of the high-ranking Eurosceptics tasked with dealing with the consequences of the Brexit vote.
You can share this story on social media: