What's at stake as British Parliament votes on the future of Trident nuclear weapons?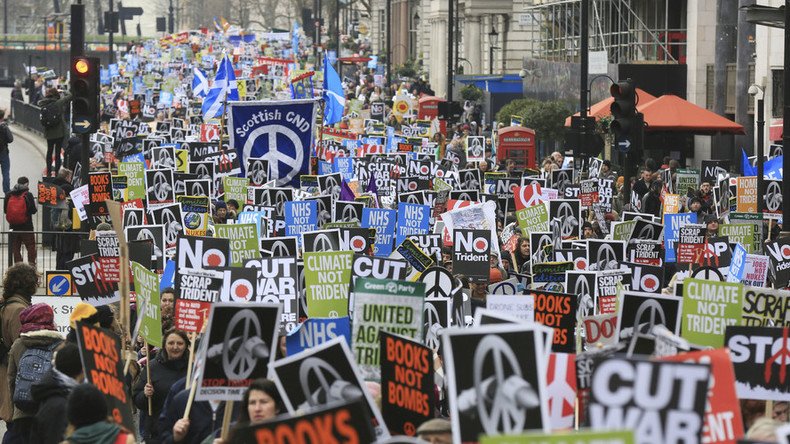 British Members of Parliament will vote on whether to renew or scrap the nation's Trident nuclear weapons after a marathon debate in the House of Commons on Monday, with the pro-nukes faction expected to win out.
Newly appointed PM Theresa May will open the seven hour debate and is expected to back the renewal of Britain's 24 hour at-sea deterrent to the hilt.
The debate is due to begin at 3.30pm (BST) and the vote is expected to take place by 10pm Monday evening.
'Misplaced idealism'
May is expected to say: "It is impossible to say for certain that no extreme threats will emerge in the next 30 or 40 years to threaten our security and way of life."
She will tell those who oppose the project "we cannot compromise on our national security" on the basis of "misplaced idealism."
"That would be a reckless gamble: a gamble that would enfeeble our allies and embolden our enemies. A gamble with the safety and security of families in Britain that we must never be prepared to take."
'Militarily useless'
The largest campaigning organization opposed to renewal is the Campaign for Nuclear Disarmament (CND). To that end CND have called a 6pm (BST) emergency protest outside Parliament as the debate takes place.
CND brands Trident a "militarily useless weapon of mass destruction."
The group says the debate presents an opportunity "for MPs to have a complete rethink about how Britain responds to the 21st century security threats we face. Simply replacing an extortionately expensive cold war relic will not do."
Their position is likely to be reflected by some in Parliament, though the vote appears to have been watered down by a call for abstentions by some traditionally anti-Trident figures.
Labour divisions
Opponents of the vote have argued it has been timed by the ruling Conservatives to further highlight the splits in the Labour Party.
While Labour leader Jeremy Corbyn has said he will vote in line with his long record of opposition to nuclear weapons, his newly appointed shadow foreign and defense ministers told the Guardian on Monday they will not play the Conservative's game.
Emily Thornberry and Clive Lewis – who are both opposed to nuclear weapons – said in a think piece that Parliament should be discussing the recent Nice terror attack, rather than taking part in a poorly detailed, opportunistic vote designed to wrong-foot Labour. Both said they would be abstaining from the vote.
Besides the abstainers and the anti-Trident camps, a large swathe of MPs – centred on the rebels who oppose Corbyn's leadership – are likely to vote with the Conservatives for renewal.
Among those who will back the government is John Woodcock MP, whose Barrow-in-Furness constituency relies on the nuclear submarine industry.
Writing on the Labour List website he said Monday "is the day that Labour, for all its current troubles, can fulfil its manifesto promise to maintain 'a minimum, credible, independent nuclear capability, delivered through a Continuous At-Sea Deterrent.'"
'A dangerous signal'
The Scottish National Party's (SNP) 54 MPs will oppose the renewal of Trident, which is operationally based on Scottish soil in the Faslane naval base.
The party, which holds the majority of seats in Scotland having stormed to power on a partially anti-Trident platform, called in vain for Theresa May to delay the vote on Sunday.
The party's Commons leader Angus Robertson said at the time: "Having spent the best part of a month engaged in backstabbing, score-settling and navel-gazing, neither the Tories nor Labour are in any fit state to be giving proper scrutiny to decisions as important as this."
The Green Party's sole MP Caroline Lucas will also oppose renewal. Writing in the Daily Mirror on Sunday she warned: "A new generation of nukes will not only fail to make Britain more secure, but will increase the dangers we're facing."
"Keeping nukes also sends a dangerous signal to the rest of the world that security means owning weapons of mass destruction," she added.
How much will it cost?
Trident's cost is hotly contested. Official figures recently stated by Defence Secretary Michael Fallon put the cost of Trident to the taxpayer at around £31 billion.
CND takes issue with that figure, arguing it only refers to the cost of the next generation of submarines.
In a blog on its website, CND claims: "In addition to the submarines there is a £10 billion contingency fund. Then there's the missile extension programme (£350 million), replacement warheads (£4 billion), infrastructure capital costs (£4 billion), in service costs (£142 billion), conventional military forces directly assigned to support Trident (£1 billion), and decommissioning (£13 billion)."
If accurate, this would put the figure at well over £200 billion for a deterrent many opponents argue is outdated, dangerous and almost entirely dependent on the US.
Independent?
Trident has always been framed by its proponents as an "independent" nuclear deterrent, a claim long contested by those who argue its existence hinges on US support and subject to its control.
This claim has again been articulated in a new report by academics at London's SOAS University.
The Centre for International Studies and Diplomacy's Dr Dan Plesch, lead author of the study, attempts to lay to rest the myth of a British-run deterrent.
"This report demonstrates that there is no British bomb, and that Trident is an American system that the Americans can prevent Britain from using independently. So the Parliament in London is discussing spending tens of billions of pounds on something that does not exist," the report argues.
It reiterates the view that Britain rents and collects it bombs from the US, that the system would become useless within months if American technical support was withdrawn and that the US would even shoot down British fired missiles in flight if the targets were not in line with US aims.
The study, titled 'Trident: Strategic Dependence & Sovereignty,' claims British control over its own nukes was handed to Washington by the then-ruling Tory party 50 years ago, where they have been under effective US management ever since.
You can share this story on social media: