Party leaders make final election dash armed with pleas, policies & promises (VIDEO)
Published time: 7 Jun, 2017 16:16
Edited time: 8 Jun, 2017 13:43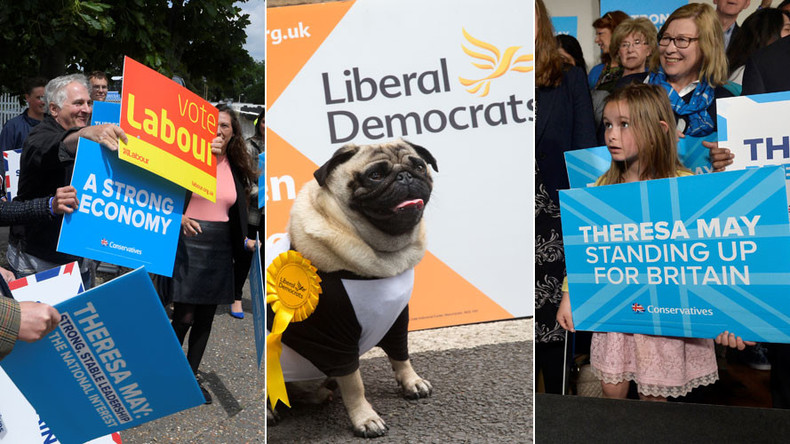 Party leaders took to the streets one last time pushing some of their most popular and most controversial policies on the final day of campaigning.
Conservatives
Prime Minister Theresa May and her husband, financier Philip, spent the day visiting a meat market in London and a bowling club in Southampton. Indeed, for the PM it was all about Conservative strongholds in the South East and the Midlands.
Not all went smoothly for the Conservative leader, however, who was met with shouts of "vote Labour" and "end police cuts" at Smithfield Market, at the heart of the City.
Several butchers were seen booing and jeering as the PM and her husband strolled through the premises, talked to workers and posed for photos.
At Southampton's Atherley Bowling Club, May had a cup of tea with members – but a woman passing round a plate of biscuits was heard saying: "I know you are not allowed." It's believed the remark was made in reference to the prime minister's type one diabetes.
The PM has spent most of the final day pushing her agenda on 'hard Brexit' and employment, as well as questions of security. On Tuesday night, May had already floated the idea of limiting human rights provisions for terrorist suspects if she returns to power on Thursday. The controversial proposal was criticized by most of the opposition.
"The message is the same since the beginning of the campaign – that there's a very clear choice for people when they come to vote," May said, ahead of flying from Southampton to Norfolk on Wednesday afternoon.
Asked whether she had any regrets about calling the snap election, May insisted it was "right that the British people had the opportunity to have an election now so they can make a choice of who they want to see taking them through the Brexit negotiations."
Labour
Labour leader Jeremy Corbyn in turn went to Scotland for the final day ahead of polling, holding a rally in central Glasgow for hundreds of supporters.
"They underestimated us didn't they?," an upbeat Corbyn said of the initial 20-point gap between his party and the Conservatives, which he was able to slash to an average of eight in just over two months.
"They underestimated the good sense of ordinary people, ordinary people all over Britain."
He then returned to England, where the socialist went on to visit four Tory-held marginal seats. He was again met by scores of supporters who cheered him on with chants of "Corbyn, Corbyn, Corbyn."

"Either we go down the arid road of Tory cuts, Tory closures, Tory privatization, Tory inequality," he said to a thousand-strong crowd at Phoenix Park in Runcorn.
"Or you take the other road - those bold and brave people that led our party in the desperate days after the Second World War had that vision of a National Health Service, of an inclusive society.
"This Labour in the 21st century has that vision, that vision that you share the wealth, you share the ability, you contribute to your society and your community and you leave no one, no community, and no place behind."
Lib Dems
The Liberal Democrats too went for a last merry-go-round of English constituencies, with a six-stop tour on the eve of the elections.
Their leader, Tim Farron, came back to the party's flagship cause – stopping a hard Brexit.
"We are saying to people in areas where you know the Liberal Democrats are the main challengers, as we seek to minimize Theresa May's majority, then backing the Liberal Democrats is a powerful way that you can send a message that she does not have a blank check to bring in the dementia tax, cut the police and do the damage that she is going to do to our health service," he told the Press Association during breakfast in Solihull.
"Our bid is to ask people to lend us their vote so that we can get out there and prevent Theresa May taking the country for granted."
The party's nine seats are not certain, with more than half of them taken by a majority of under 5 percent. But Farron has high hopes for six constituencies where his party comes not only second, but also within a 10 percent margin of the incumbent MP.
Places such as Bath and Lewes came under Conservative rule at the 2015 election, but voted in favor of Remain during the Brexit referendum. Both lie within reach for the Lib Dems, with Bath's incumbent MP Ben Howlett winning for the Tories with a 6.4 point margin, and Lewes' Maria Caulfield by just over 1 percent.