Theresa May's pledge to 'rip up human rights laws' won't stop terrorism – critics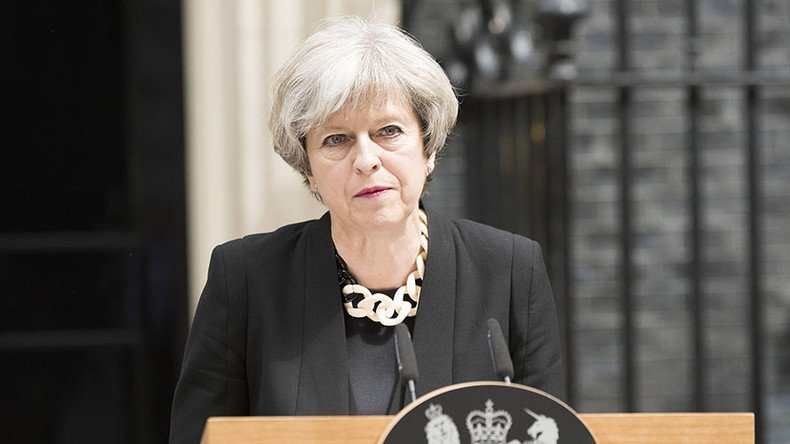 Prime Minister Theresa May is facing a fierce backlash over her election pledge to scrap human rights laws in order to fight terrorism.
The PM sparked widespread condemnation among campaigners and opposition parties, who accused her of creating a "diversion" from "searing" questions over national security and her record as home secretary.
They also sparked warnings by the EU that the UK would have to declare "a state of emergency" in order for May to scrap human rights laws stipulated in the European Convention of Human Rights (ECHR).
The Council of Europe confirmed that "the right to derogate can be invoked only in time of war or other public emergency threatening the life of the nation."
Amnesty International also hit out at the PM's comments, branding them "reckless and misinformed." The human rights organization argued that now is the time when such rights should be "cherished" rather than "undermined."

"Amnesty International will not stand by silently when threats are made to 'rip up human rights laws.' Human rights are there to protect all in society – that is just pure common sense," said Kate Allen, director of Amnesty International UK.
"Whoever is in government after the June 8 election must ensure our human rights are protected."
Amnesty's statement comes after Labour leader Jeremy Corbyn said terrorism will not be defeated by "ripping up" democracy. He also said he would not support "executive orders."

"We will not defeat terrorism by ripping up our basic rights and democracy ... but by our communities, our vigilance and by police action to isolate and detain those who would wish us harm," he told the BBC Breakfast show.
Freedom from Torture also joined the criticism, arguing that while action is needed to tackle "appalling terrorist atrocities, this should not mean overturning those laws that uphold our values and provide vital safeguards for all of us.
"It is these values that terrorism seeks to weaken.
CEO Susan Munroe said:"We must stand by our values and reinforce that the foundations of our society are based on justice and respect for human rights," Munroe said.
Speaking on the BBC's Today program, Labour shadow Brexit secretary Keir Starmer also blasted May's call to scrap human rights laws.

"There is nothing in the Human Rights Act that gets in the way of effectively tackling terrorists," he said.
He accused the PM of "diversion," and said the real problem is "people just coming onto the radar" and the issue of how they are being risk-assessed, as well as the resources available to prevent and tackle terrorists.
Speaking at a campaign event in Slough on Tuesday evening, May said she would go all the way to scraping laws enshrined in the ECHR to restrict the liberties of terrorism suspects.

"I mean longer prison sentences for those convicted of terrorist offenses.
"I mean making it easier for the authorities to deport foreign terrorist suspects back to their own countries," May said.
"And I mean doing more to restrict the freedom and movements of terrorist suspects when we have enough evidence to know they are a threat, but not enough evidence to prosecute them in full in court.

"And if our human rights laws get in the way of doing it, we will change the law so we can do it."
The Tory leader also came under fire, however, as her proposals seem to be at odds with the party's 2017 manifesto, which pledges the UK will stay in the ECHR for the duration of the next parliament.
Labour said it "looks like" another U-turn, but Tory sources denied the accusations, saying they are merely seeking "opt-outs" rather than to withdraw from the convention.
May has previously said she would back leaving the ECHR, and replace the 1998 Human Rights Act with a British Bill of Rights, something first proposed by former PM David Cameron.
The Tory leader, however, said she would put her plans on the backburner as she believes she will fail to win sufficient support in Parliament.
Former Liberal Democrat leader Nick Clegg also hit out at May's intent to scrap human rights laws, saying it "is not the right way to keep us safe."
Speaking on BBC Radio 4 on Wednesday morning, he slammed May's suggestion that human rights laws are interfering with security as an "explosive claim, free from any evidence, that the problem lies with human rights legislation."
You can share this story on social media: