'Choking now, joking now!' Iain Duncan Smith raps Eminem to mock Diane Abbott (VIDEO)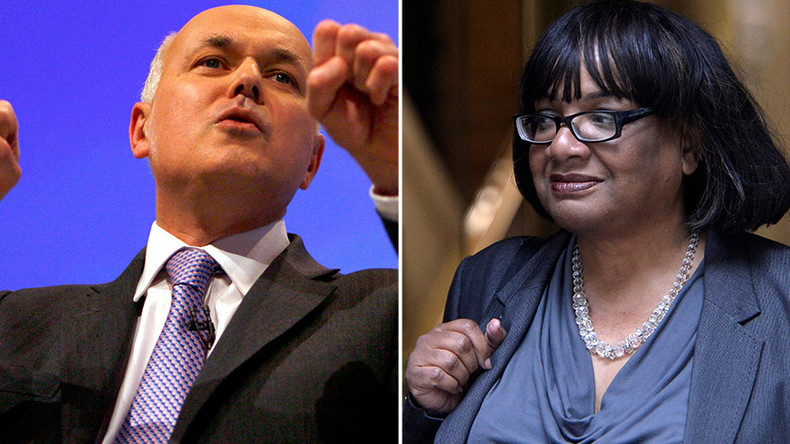 Former Tory leader Iain Duncan Smith has "rapped" Eminem lyrics on live TV in a cringeworthy dig at Labour's Diane Abbott.
Duncan Smith, who was work and pensions secretary from 2010 to 2016, used the US rapper's 2002 chart topper 'Lose Yourself' to mock the shadow home secretary.
Abbott came under fire last week following a car crash interview in which she muddled her numbers and claimed police officers could be paid as little as £30 (US$39) a year under Labour.
After last week's dismal local election result for Labour, Abbott got into another math-related gaffe when she said Labour lost just 50 seats, when they had in fact lost 125. She changed her answer from 50 to 100 in a matter of seconds.
During an appearance on Good Morning Britain on Monday, Iain Duncan Smith was urged by host Piers Morgan to repeat the Eminem lyrics he had first used during a commercial break.
Rising to the challenge, he said: "Well you were talking about Eminem earlier on, and I said that of course in those Lose Yourself lyrics there's some lyrics for Diane Abbott."
He then began to rap: "He opens his mouth but the words don't come out / He's choking now / Everybody's joking now / and the clock's run out."
Morgan clapped and laughed, and described the incident as "one of the greatest iconic cultural moments I've probably ever experienced on this sofa."
Twitter went into meltdown, with Duncan Smith trending on Twitter.
Duncan Smith has followed in the footsteps of his fellow ex-Cabinet colleague Michael Gove, who last year rapped the lyrics from the Wham! Rap.
It comes as a battle continues to rage in New Zealand about whether an election campaign broadcast by the country's National Party, allegedly based on the hit 'Lose Yourself,' infringed on copyright.
The party's lawyers insist it was a track called 'Eminem-esque' which they purchased from a stock music library.