Has 'May-bot' malfunctioned? PM's popularity ratings crash under election pressure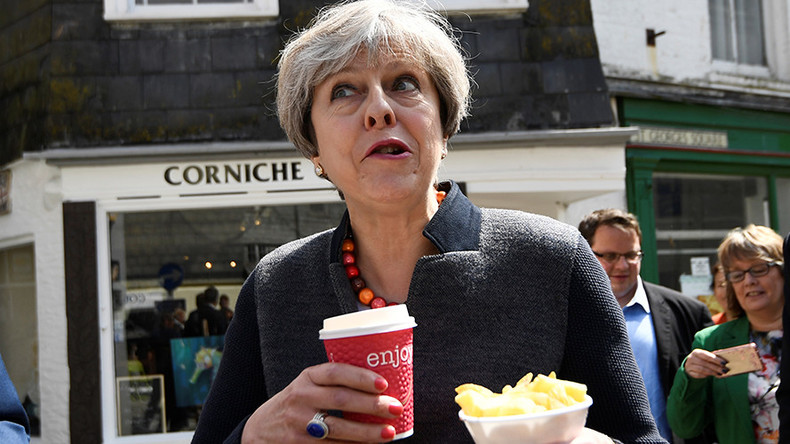 Dodging local radio interviews, skipping a televised leaders' debate, dwindling popularity in the polls: there's growing speculation that Prime Minister Theresa May is buckling under the pressure in the run-up to next week's general election.
The Tory leader has continued to lose ground in the latest polls. Her party's lead over Labour has shrunk from 15 points two weeks ago to just five, according to an opinion poll that came out on Friday conducted by Ipsos MORI for the Evening Standard.
Moreover, the prime minister's personal ratings have fallen to their lowest level yet. The poll shows more voters are now dissatisfied with May as prime minister (50 percent) than those who say they are satisfied (43 percent.)
Her personal ratings are down 11 points. Meanwhile, Labour leader Jeremy Corbyn has gained 23 points on May in the last month.
The findings come at the end of a tough week for May, who has been criticized for refusing to take part in a series of local radio interviews in the lead up to the election. She is also said to have canceled interviews with regional political editors at the BBC.
A BBC employee, who wished to remain anonymous, contacted Guardian columnist Owen Jones with the news on Thursday. The source said leaders of other parties had agreed to be interviewed and staff had been told not to comment publicly about the prime minister's withdrawal.
May has also declined to appear on BBC Radio 4's Woman's Hour, sending Secretary of State for Education Justine Greening instead.
The prime minister has already been accused of avoiding political discussion by refusing to participate in the BBC leaders' debate earlier in the week and sending Home Secretary Amber Rudd instead.
Many took to social media to criticize May for opting out of the debate, with #wherestheresa trending on Twitter during the event.
May has also angered journalists by not directly answering what appeared to be straightforward questions, attracting the nickname "May-bot" for her stock responses.
A regional reporter from the Plymouth Herald on Thursday described his interview with May as "three minutes of nothing." He says his discussion with her was so vague he was left wondering whether he had interviewed her at all.
Later in the day, she was confronted about her apparent refusal to respond to questions without employing sound bites – only to answer with more sound bites.
One journalist told the PM her reliance on a small set of catchphrases led some people to worry "there's nothing there" and that the Tories are doing "so badly" because she so often resorts to clichés.
May responded to the criticism with a range of stock answers that she has frequently used throughout her election campaign, including being committed to making "hard choices" and "addressing big challenges."
Former UKIP leader Nigel Farage told Sky News that May is the Tory party's "biggest liability."
"I think as the campaign has gone on, [May] has gone from being her biggest asset to their biggest liability. It's quite tough to believe anything she says," he said.
Speaking on the BBC's Daily Politics show, commentator Paul Mason wondered if there was something wrong with May's health.
"I think we're entitled to ask, is she unwell? What's wrong with her?" he asked.