McGregor charges reduced for 'phone attack' – but UFC star still facing up to 6 years in jail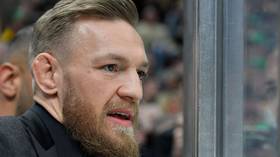 Former UFC champion Conor McGregor will face reduced charges over his alleged altercation with a fan outside a Miami nightclub, although he could still receive a maximum of six years' jail time.
McGregor was arrested in Miami Beach last month after allegations were reported to police that he had smashed a fan's phone after leaving a nightclub at approximately 5am local time.
READ MORE: UFC superstar Conor McGregor arrested on strong-arm robbery charge in Miami
It was also alleged that McGregor picked up the damaged phone and failed to return it to the fan, who maintains that he was seeking a 'selfie' with the world famous fighter. Part of the supposed altercation was captured on camera.
Also on rt.com
Miami heat: Video shows Conor McGregor 'phone attack' in Florida
However upon reviewing the case Miami prosecutors have reduced the charges against McGregor, with one felony being charge lowered and another downgraded to a misdemeanor.
This reduced the maximum prison sentence time to which McGregor is liable to from 20 years to 6 years.
"After reviewing the facts of the incident, the prosecutor realized that there wasn't enough evidence to support the original felony charges," former assistant US Attorney David S. Weinstein told USA Today.
Court records indicate that the phone which was damaged was valued between $200 and $1,000, figures which mandate a criminal mischief charge as opposed to a felony.
The one felony McGregor remains to answer for was initially a second-degree felony, though that has since been changed to a third-degree felony after prosecutors decided that the lesser charge of 'robbery by sudden snatching' was more applicable than the original 'strong armed robbery' charge.
Also on rt.com
'I just want justice': McGregor 'phone attack victim' suing UFC star (VIDEO)
It was the second time in less than a year that McGregor has been arrested in the US and came a little less than a year since the now infamous 'dolly' incident in Brooklyn, New York, in which he attacked a bus containing a host of UFC fighters including rival Khabib Nurmagomedov.
"Like his other arrest, his biggest problem is the effect that a conviction will have on his immigration status," Weinstein added.
"A conviction for this offense qualifies as an aggravated felony. It remains a privilege to enter the US and not a right. So if there is a conviction, that will allow US immigration authorities to prevent him from entering the US on a visitor or work visa."
Also on rt.com
All smiles: Conor McGregor shares grinning cop car pic after arrest
Any visa issues related to the Irishman's legal status could be potentially disastrous for his combat sports career, as it would mean that the UFC would be forced to book McGregor to fight solely outside of the United States - a move which would have a far-reaching impact on pay-per-view buy rates and broadcast times.
McGregor recently reaffirmed his commitment to continue his fight career with the UFC after a short-lived, week-long retirement.
READ MORE: 'See you in the Octagon': Conor McGregor offers truce, confirms end of short-lived retirement