'See you in the Octagon': Conor McGregor offers truce, confirms end of short-lived retirement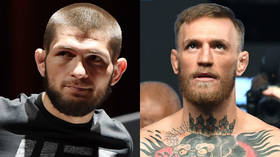 Conor McGregor appears to have drawn a line under his recent social media feud with Khabib Nurmagomedov, saying he wants to move forward 'with my fans of all faiths and backgrounds' and continue with his UFC career.
The ugly war of words between McGregor and UFC lightweight champion Nurmagomedov escalated on Wednesday to the point where UFC President Dana White issued a statement, saying that the organization had begun to undertake measures to mediate the situation between the two fighters and their teams.
READ MORE: 'Unacceptable!' UFC boss Dana White vows to break Khabib-McGregor sparring on Twitter
"I am aware of the recent social media exchange between Khabib Nurmagomedov and Conor McGregor," White said.
"The ongoing situation has escalated to a level that is unacceptable. As such, we are taking the necessary steps to reach out to both athletes' camps and this situation is being addressed by all parties internally."
READ MORE: 'Your wife is a towel' - McGregor attacks Khabib's spouse with insensitive tweet, then deletes
This came after a series of insulting tweets between McGregor and Nurmagomedov, which had extended past the generally accepted line of fight promotion and into both fighters' personal lives and beliefs. Two particularly inflammatory tweets directed at Nurmagomedov have since been deleted from McGregor's Twitter timeline.
Nurmagomedov has so far opted not to delete relevant tweets from his own account, including one from late on Wednesday which appeared to stoke religious tension.
"If you think that [by] insulting an entire religion you [will] be safe, you are mistaken," he wrote.
Nonetheless, it appears that the matter is closed – for now, at least. McGregor, who announced his retirement from mixed martial arts last week, has been hinting on social media that his short-lived exodus from the sport was coming to an end. He appeared to emphasize that point in an overnight tweet.
While it can't be described as an apology in the traditional sense, it appears to suggest that McGregor is keen to move on from this particularly dark back-and-forth with his Russian rival, while also confirming his interest in fighting again.
"I want to move forward, with my fans of all faiths and backgrounds. All faiths challenge us to be our best selves. It is one world and one for all," he wrote.
"Now see you in the Octagon."
The Tweet echoes statements that McGregor has made in recent days, which suggested that he had ended his retirement. Neither Nurmagomedov nor his manager Ali Abdelaziz have commented on the matter since McGregor's most recent message.
READ MORE: 'Rapist. You are a hypocrite. Justice will find you!' Khabib in scathing retort to McGregor
Nurmagomedov remains suspended for attacking members of McGregor's corner following his UFC 229 victory against the Irishman in October, but has recently confirmed that he is looking to return to action in September. McGregor's suspension for the same incident is due to end in the coming days.
The former UFC 'champ champ' had been in discussions with the UFC about fighting in July but those broke down, temporarily at least. However, with McGregor reaffirming his commitment to the fight game overnight, it seems the time is right for him, as well as his bitter rival, to draw a line under this incident and for both of them to move forward.
You can share this story on social media: