'Your wife is a towel': McGregor attacks Khabib's spouse with insensitive tweet, then deletes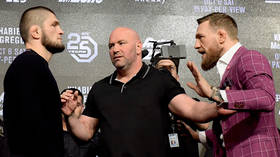 Conor McGregor's war of words with the UFC lightweight champion Khabib Nurmagomedov is showing no signs of abating after the Irishman was slammed overnight for a now-deleted, religiously insensitive tweet aimed at the Russian.
In an apparent response to comments by Khabib Nurmagomedov in which he addressed McGregor's recent retirement announcement as being like a "jealous wife who says 'I will leave' all the time but then comes back," the Irish fighter took aim at the Russian in an overnight Twitter frenzy, which also saw his rival Paulie Malignaggi come under considerable fire.
READ MORE: 'Conor's like a jealous wife who leaves and then comes back' - Khabib slams McGregor on retirement
In the tweet, which has since been deleted, McGregor posted a picture of Nurmagomedov and his wife, who was dressed in traditional Muslim wedding wear, along with the text: "Your wife is a towel mate."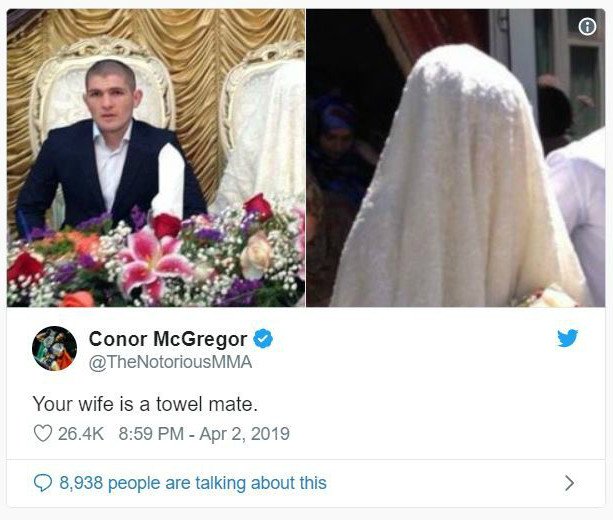 The tweet was online not for very long, suggesting that McGregor had a change or heart or was advised by his management to take the message down.
This is the latest in a series of incidents between the two rival fighters. While both men appeared to be on an inevitable collision course with each other, Nurmagomedov escalated matters by confronting McGregor's friend and teammate Artem Lobov a year ago today in Brooklyn, New York, along with several members of his entourage.
McGregor flew to New York shortly after that incident, leading to the now infamous bus attack which saw the Irishman placed under arrest.
Also on rt.com
Khabib Nurmagomedov reveals UFC 'working on Abu Dhabi in September' for Russian's next fight (VIDEO)
The bad blood culminated in their UFC 229 main event bout last October, which was won by Nurmagomedov by fourth round submission. Afterwards, though, the Russian was heavily criticized for jumping out of the cage to attack members of McGregor's coaching team – actions which led to a significant fine and suspension.
McGregor's recent retirement announcement hasn't been formally addressed yet by either the fighter or his management, though two further messages on his official Twitter account appear to suggest that he is chasing a rematch with Nurmagomedov and another which suggests that this retirement, his third overall, is set to end sooner rather than later.
Don't be scared of the rematch you little scurrying rat. You will do what you are told like you always do.

— Conor McGregor (@TheNotoriousMMA) April 3, 2019
You can share this story on social media: