'Rapist. You are a hypocrite. Justice will find you!': Khabib in scathing retort to McGregor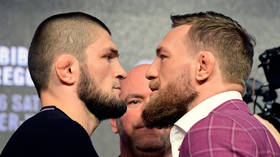 UFC lightweight champion Khabib Nurmagomedov has posted a scathing response to bitter rival Conor McGregor's tweet likening his wife to a "towel", by labeling the Irishman a "rapist" and a "hypocrite".
The Dagestan native wrote on Wednesday: "Rapist, you are Rapist. You are a hypocrite who is not responsible for your actions. Justice will find you. We will see."
READ MORE: Conor McGregor being investigated by Irish police over sexual assault - reports
The tweet was accompanied by a photo in which McGregor is posing with a young lady, though this is understood to not be the complainant in a sexual assault that allegedly occurred in a Dublin hotel in December, a case in relation to which McGregor is under investigation.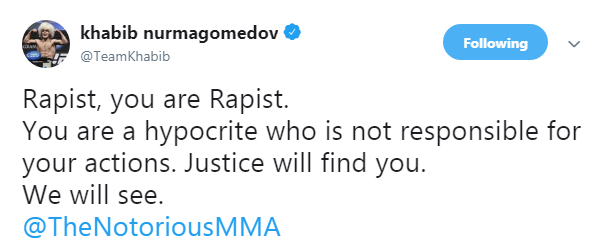 McGregor was arrested and questioned by police in connection to the accusations of the assault, before being released without charge in January this year. The allegations have yet to be proven and McGregor's questioning does not imply guilt on his part.
Earlier the same day, 'The Notorious' had posted images of Nurmagomedov's wedding, which included a picture of his wife wearing a Muslim veil. "You're wife is a towel mate," McGregor sneered in the caption, before the post was deleted altogether.
That tweet was part of a larger back and forth, as Khabib had on Tuesday likened McGregor to a "jealous wife", as reported by RT Sport, in reference to the latter's announced retirement.
Also on rt.com
'Your wife is a towel': McGregor attacks Khabib's spouse with insensitive tweet, then deletes
Many fans and journalists expressed revulsion at McGregor's words, accusing him of having crossed a line with the insensitive post that has unsurprisingly struck a nerve with Russian Nurmagomedov.
Before their UFC 229 fight at Las Vegas' T-Mobile Arena in October, the two engaged in a bitter slanging match, in which McGregor consistently berated Khabib, calling his father a "sniveling coward" and a "rat", and offering Nurmagomedov Jr. - a devout Muslim and teetotaler - a sip of his own brand whiskey.
McGregor returned to those old jibes in a later post, seemingly goading Khabib into a rematch and announcing his retirement all in one tweet with the words: "Don't be scared of the rematch you little scurrying rat. You will do what you are told like you always do."
Don't be scared of the rematch you little scurrying rat. You will do what you are told like you always do.

— Conor McGregor (@TheNotoriousMMA) April 3, 2019
Once considered an unnecessary and uninteresting rematch, a second fight between the pair has certainly got a lot more intriguing, and could shelve plans Khabib himself revealed to RT Sport about the UFC working on his next fight to be held in Abu Dhabi in September should that intrigue grow and force the fight into fruition.
Also on rt.com
'Uneducated racist mutt!': Conor McGregor admonished for 'towel' tweet attacking Khabib's wife
You can share this story on social media: