'Uneducated racist mutt!': Conor McGregor admonished for 'towel' tweet attacking Khabib's wife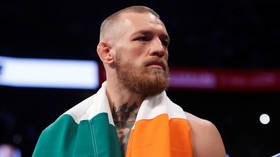 Conor McGregor has been admonished online for an "indefensible" tweet, later deleted by the Irishman, in which he called UFC lightweight champion Khabib Nurmagomedov's wife a "towel", with many believing the post crossed the line.
After Dagestan native Khabib mocked McGregor's recent retirement announcement by likening his rival to a "jealous wife" at an annual meet and greet at a Moscow university, McGregor hit back by posting a personal picture of Khabib's wedding day on Twitter, which featured his wife wearing a Muslim veil.
"You're wife's a towel mate," he sneered in the caption, before deleting the post altogether.
Also on rt.com
'Your wife is a towel': McGregor attacks Khabib's spouse with insensitive tweet, then deletes
Former two-weight UFC titleholder McGregor is famed for his close-to-the-knuckle trash talk and vitriolic rants at opponents, but many observers believed the Dubliner to have gone too far and broken an unwritten rule among combat sports stars to never drag a competitor's spouse into their dirty dealings.
Social media users mused whether the post was "the most disrespectful tweet of all time", where others were quick to point out the sometimes blurred line between McGregor's 'banter' and downright racism.
Others believed Khabib already had the last laugh in advance in the form of his fourth-round submission win during his title defense against McGregor at UFC 229, the night one user joked Khabib made his bitter rival his wife.
Leading up to what was recognized as the biggest bout in the history of MMA, the two fighters were involved in a scathing war of words. McGregor consistently directed derogatory slurs towards Khabib, the people of Dagestan, and the fighter's father, calling him a "rat".
READ MORE: Khabib Nurmagomedov reveals UFC 'working on Abu Dhabi in September' for Russian's next fight (VIDEO)
McGregor repeated that insult, this time towards Nurmagomedov Jr. to refer to a potential rematch between the two, in an apparent announcement that he had predictably called time on his retirement.
"Don't be scared of the rematch you little scurrying rat. You will do what you are told like you always do," he taunted. Meanwhile, Khabib announced Tuesday the UFC are currently working on a September date for his next fight in Abu Dhabi.
You can share this story on social media: